How to Get Heard on the Hill
Why Hill staffers haven't finished reading that email newsletter yet.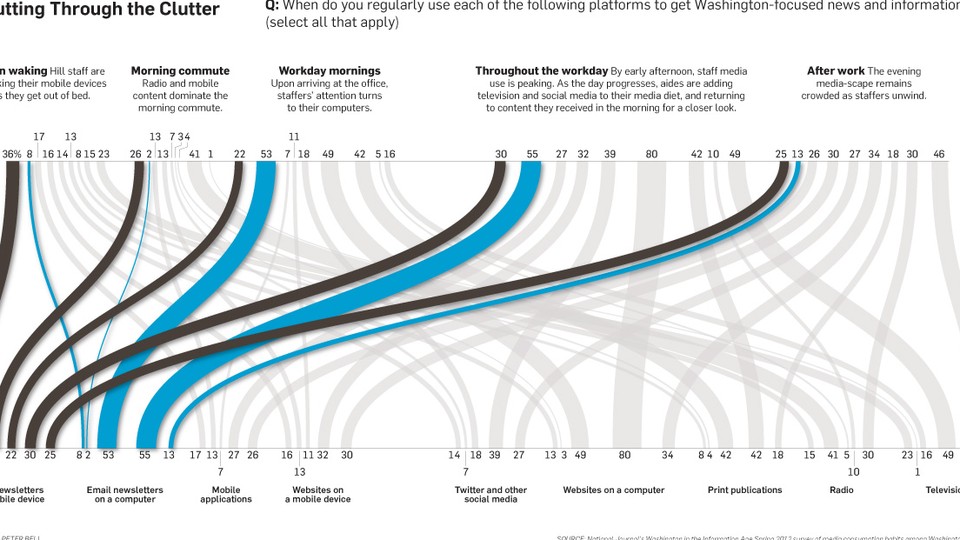 On a recent Tuesday, Michael Steel, press secretary to House Speaker John Boehner, received 543 emails in 14 hours. His first arrived at 4:47 a.m. "I've never counted before, but it seemed like a fairly normal day when we're in session," Steel says ... in an email.
His overstuffed in-box is hardly unique on Capitol Hill. "On the low end, I hear, are 200, 300 [messages a day] for a legislative assistant on the House side," says Brad Fitch, president of the Congressional Management Foundation, a nonprofit aimed at helping congressional offices operate more effectively. "On the high end — 500 for a Senate chief of staff."
It would be hard enough to cut through the clutter if email were staffers' only source of information overload, but that's far from the case. National Journal's strategic research team asked 273 Hill staffers when during the day they regularly used various platforms — from radio to social media — to get Washington-focused news and information. Fifty-one percent said they bounced among four or more types of media at a single point in the workday. So how does an organization help ensure that its dispatch gets read instead of deferred or deleted? A look at the behavior behind the numbers sheds some light not only on how and when email newsletters get read, but also on why.
At least some of the conventional wisdom appears to be right: Staffers check their email early and try to get through their must-reads before the day gets busy. They say that email received at odd hours or even after the initial in-box onslaught is less likely to be read. And they say they triage ruthlessly by subject line.
Communications staffers say their early-morning reading tends to focus on tip sheets sent by news outlets, but that they might open a newsletter from an advocacy group if it addresses a hot topic — particularly one on which their boss is focused. "Definitely it's the subject I'm looking for," says one House Democratic communications director. "If it's related to issues my boss is active on, I'll read it, regardless of where it's coming from."
Policy staffers look mainly for material relevant to their policy areas, but they sometimes browse newsletters that cover general political news as well. One Senate GOP policy staffer says he tries to skim relevant newsletters upon waking at 5 a.m., and continues to monitor them at the gym or during his commute. His list of must-reads includes newsletters from outside interest groups that are important in his boss's state, and those from Washington think tanks or advocacy organizations that are likely to touch on issues his boss will need to address. Beyond that, "unless it's breaking news on something that I recognize is a hot-button issue of the day, then I probably don't even open it," he says. A House GOP policy aide agrees that the morning, in his case between 8 and 9, is his best window for reading email newsletters, which he scans during his commute.
So sending an email with a carefully crafted subject line , before it is buried under 499 others, is a good start — but making sure that a newsletter is well timed and well pitched isn't necessarily enough. National Journal asked MailChimp, a mass-email marketing service, to run an optimization algorithm on the 3,798 @mail.senate.gov and @mail.house.gov addresses in its data set to see when staffers are most engaged with their mail. (MailChimp considers a recipient to be "engaged" with an email when he or she clicks on a link within it, regardless of when the message was originally opened.) The company found that a large number of its emails hit Hill in-boxes between 8 a.m. and 9 a.m. on weekdays, and engagement is high during that time — but it found that engagement spikes again at around 2 p.m.
Afternoon is also when those National Journal surveyed said they were most likely to use their computers to check in on social media and other websites, which suggests that staffers find time to sit and focus after lunch. But that isn't the only reason they might reengage at their desks with a newsletter they opened — and abandoned — earlier that morning.
Both the Senate and House staffers mentioned above, and several others, said that, while they typically read text-only newsletters immediately, when they're reading on their smartphones they treat emails that contain links or attachments differently. The devices, they say — particularly the BlackBerry — make viewing such content a slow, cumbersome, frustrating process. The House GOP policy aide says he forwards anything urgent that requires another click to his personal iPhone to be consumed right away; otherwise it has to wait until he can print it out and read it later. The Senate GOP policy staffer, who also uses a BlackBerry, agreed that the extra step is a barrier, saying anything that can be perused in the body of an email is more likely to get read. "The advantage of email is that my BlackBerry buzzes and I'm going to look at it in real time, whereas I have to wait for downtime to go on Twitter," the Senate staffer says. "But there is also a higher threshold to go from looking at the subject line to actually opening the article."
There are other reasons a newsletter might not be read right away, of course. One Senate Republican leadership aide says he tries to keep up with emails as they come in, but on days when he spends much time on the Senate floor — where electronic devices are banned — he simply can't read as many. He says he sometimes prints out documents sent to him through links or attachments and hauls them around, hoping for a chance to review them in the cafeteria, while he's waiting for a meeting or hearing to start, or on his ride home — although, by then, sports updates or "fluffier" political news might temporarily win out.
Given what he goes through just to read an email newsletter, it's not hard to see why he might need a break. As one recent former Senate Democratic communications director puts it: "Short and to the point was easiest for me or the most attractive. "¦ There's so much information out there and only so much time to read it."
. . . . . . . . . . .
For more from National Journal's strategic research team, go to our Presentation Center.