The Tea Party Blew It
National conservatives came up short Tuesday in Mississippi and Oklahoma. Maybe the Republican base just isn't as angry as they thought.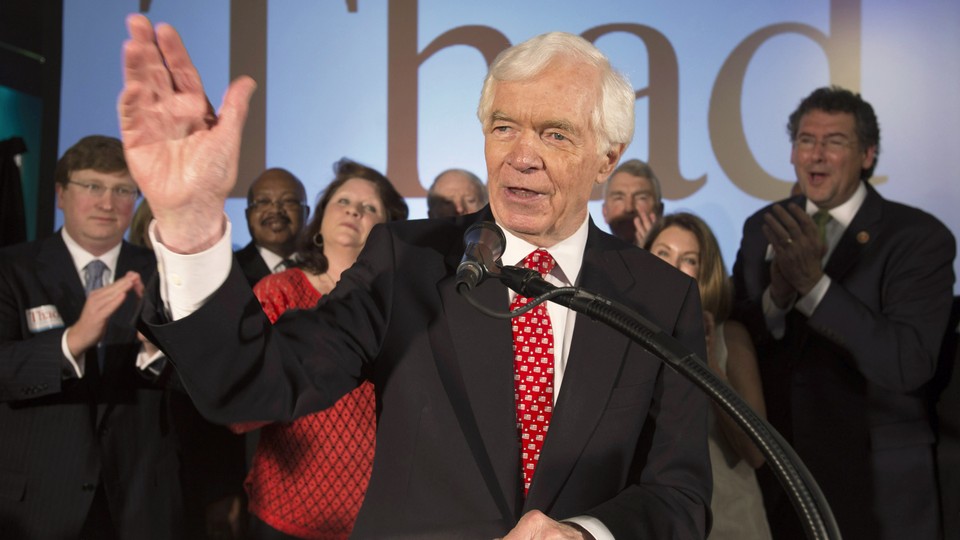 Tuesday's Republican primaries were the Tea Party's last chance. And the Tea Party struck out.
In Mississippi, challenger Chris McDaniel failed to dethrone six-term incumbent Senator Thad Cochran in the second round of their hard-fought contest. In Oklahoma, Representative James Lankford won by a massive margin over conservative favorite T.W. Shannon. The Tea Party industrial complex—groups like the Tea Party Patriots and FreedomWorks, figures like Sarah Palin and Ted Cruz—invested heavily in both races and came up short. Now both of these red states will almost assuredly send Republican senators to Washington who owe the national Tea Party nothing, and quite likely wish it ill.
Wasn't the Tea Party supposed to have come roaring back after then-House Majority Leader Eric Cantor lost his Virginia primary a couple of weeks ago? Conservatives hoped Cantor's toppling was a sign that there was more pent-up anti-incumbent sentiment than previously thought. But at this point, Cantor seems more an aberration than a portent. Part of the reason no one saw his defeat coming was that it cut so starkly against this trend.
In state after state this Republican primary season—particularly in Senate races—candidates acceptable to the party's business wing have defeated, co-opted, or marginalized right-wing populists. In Colorado on Tuesday night, another right-winger, former Representative Tom Tancredo, lost the gubernatorial nomination to former Representative Bob Beauprez, giving the establishment its preferred candidate to take on incumbent Democrat John Hickenlooper.
If there's any segment of the GOP that ought to have egg on its face, it's national Tea Party groups and figureheads. Dave Brat, the obscure college professor who took out Cantor, won largely without the help of these groups. Meanwhile, when they were the most heavily involved, in races that should have been favorable to them, they couldn't close the deal. The organizations claiming to speak for the Tea Party nationally do not appear to be plugged into the real grassroots or have the ability to mobilize effectively in support of the candidates they favor.
The purpose of all this measuring of what faction has the most power at any given moment isn't empty point-scoring. It's about discovering whether the Republican Party has within it a silent majority intent on taking the party back from its more extreme elements, and potentially becoming a national party again, or whether the angry fringe is dominant. It's about whether the tone-deaf party elites have managed to find candidates the rank and file can stand, or whether the grassroots are determined to keep fighting anything the establishment tries to sell. It's about whether the policymakers the GOP sends to Washington in the future will be more Ted Cruzes or more Thad Cochrans.
The answer seems to be neither. In Mississippi, the intense three-week runoff scramble pitted Brett Favre, who recorded an ad for Cochran, against Sarah Palin, who stumped for McDaniel. Cochran pulled off his comeback win by openly encouraging blacks and Democrats (the two are practically synonymous in Mississippi) to vote for him, which they could do in the state's open primary system as long as they had not cast a Democratic ballot in the first round of voting on June 3. Remarkably, turnout was higher in the runoff than the initial vote, yet the tally in both cases was so close—Cochran finally won by less than 2 percentage points, a little more than 6,000 votes—that the only thing to conclude was that, given the choice between a fiery right-wing ideologue and a quiet, past-his-prime insider, Republicans were split almost exactly in half.
Oklahoma was the undercard Tuesday thanks to the focus on Mississippi, but it may be the more telling contest. Conservatives including Palin and Cruz sought to elevate the part-black, part-Native American Shannon, a former state-house speaker, for the open seat vacated by retiring Senator Tom Coburn. In his two terms in Washington, Lankford has established himself as a levelheaded conservative, securing the fifth spot in House leadership as chair of the Republican Policy Committee. Before going to Congress, he ran the state's largest Baptist summer camp, giving him a built-in base with a large swath of social conservatives. He was helped in the primary by supportive statements from the popular Coburn, who didn't make an endorsement but vouched for Lankford's character against the calumnies hurled at him by Shannon and his supporters.
The race was expected to be close, but it was not. Lankford ran away with it, taking 57 percent of the vote, crushing Shannon by more than 20 points and avoiding a runoff. The very conservative voters of Oklahoma, a very conservative state, wanted the candidate with conservative positions but a responsible profile—someone who doesn't want to burn Washington down and might see fit to vote some other way than "no" once in a while. What Republicans want isn't more Thad Cochrans. It's more James Lankfords.