How Johnny Hernandez Became San Antonio's Top Chef
For this small-business owner, it all started in his dad's kitchen.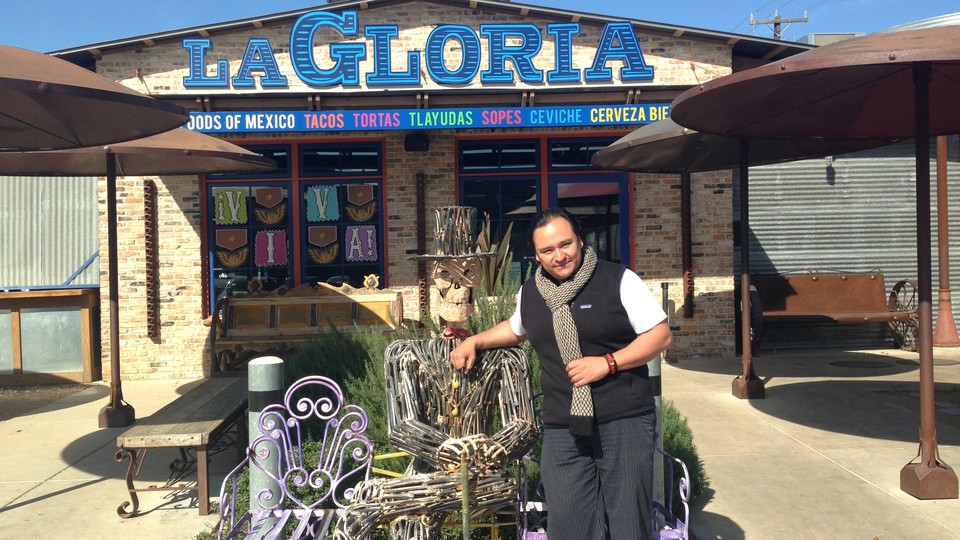 This profile is part of a weeklong Next America series on the experiences of minority small-business owners in the United States.
When Johnny Hernandez was a little boy, he used to help out in his dad's kitchen. Standing on milk crates to bring him level with the countertops, Hernandez would chop ingredients, make tortillas, and stir bubbling pots. His parents owned a neighborhood eatery in San Antonio that specialized in South Texas comfort food: meatloaf, mashed potatoes, chicken-fried steak, carne asada. When the three Hernandez children weren't in school, they were in the restaurant, working.
"I loved it," Hernandez says. Now 45, he's one of San Antonio's most famous chefs. Hernandez has an easy chuckle, a round face, tremendous personal warmth—and a passion for food. Occasionally, he told Saveur, he likes to stuff a cow's head with thyme, wrap it in banana leaves, and roast it in a pit in his backyard.
To understand how Johnny Hernandez Jr. came to preside over an empire of nine restaurants, a catering company, an event venue, and a contract at the San Antonio convention center—with more ventures on the way—you have to understand Johnny Hernandez Sr. and his small restaurant. You also have to realize that although Hernandez has Mexican grandparents, he didn't grow up eating the flavors he now serves.
Hernandez's father decided to open a restaurant partly because he loved to cook, and partly because he didn't want to be a migrant farmworker like his own immigrant parents. He wanted his son—who also loved cooking— to reach even higher. "He wanted me to learn fine dining," Hernandez says. For Johnny Sr.'s generation, European cuisine and white-gloved waiters were the pinnacle of culinary success. "He was constantly on me—where are you going, what's out there, you have to find a chef school, I don't want you working in a restaurant like this your whole life," Hernandez says of his dad.
Johnny Sr. also taught his children how to manage their money. He always paid them for helping out at the restaurant, even if it was just a dollar a day, and would encourage them to save what they earned. Hernandez found he loved this, too. He once asked permission to use some of his earnings to sell candy at the restaurant on weekends. His dad agreed, and helped Hernandez set up near the cash register.
Johnny Sr. died when Hernandez was in middle school, and the family business folded soon afterwards. But Hernandez carried his dad's lessons with him to the Culinary Institute of America in New York, and then to the kitchens of the Mirage Hotel and Casino in Las Vegas and the Four Seasons Biltmore in Santa Barbara. Hernandez saw each job as a step toward his goal: opening a high-end catering company in San Antonio.
After Santa Barbara, Hernandez came home and took a job at a restaurant group called the Old San Francisco Steakhouse. He was only about 25, but he had a management position that involved travel all over Texas. "After a year of that, I said: You know what? I got this. I'm ready to do it for myself," Hernandez says. He opened his catering company, called True Flavors, in 1994.
"Starting off was not that difficult for me, but it was because I invested six years of my career in education and learning this industry," Hernandez says. One restaurant in town, impressed by Hernandez's résumé, rented kitchen space to him at a low rate. The bigger challenge was learning how to balance what customers wanted (and could afford) with the reputation he wanted to establish. If a bride on a budget asked True Flavors for a not-so-fancy menu, Hernandez would still try to make his dishes look and taste like something served at the Mirage.
Around this time, Hernandez started joining his mom on service trips to Mexico. They'd volunteer at a summer camp in Aguascalientes, 12 hours from the Texas border. "I really fell in love with the people, the culture, and the food. I had never been exposed to that," Hernandez says. He started putting together menus, taking photographs, and researching the flavors of interior Mexico—flavors he felt weren't really being showcased in his hometown, a city famous for tourist-friendly Tex-Mex.
Hernandez opened his first restaurant, La Gloria, in 2010. The menu was Mexican street food: small plates of tacos, tortas, and tlayudas (the menu helpfully describes tlayudas as "Mexican Pizza"). Texas Monthly, in a review, said La Gloria was "not your father's Mexican restaurant." Hernandez definitely wasn't serving Johnny Sr.'s menu. He also didn't open his restaurant on the Hispanic west side of the city, as his parents had done. Instead, a developer recruited Hernandez to the Pearl Brewery complex, a hipster-friendly spot just off the highway between San Antonio's downtown and its wealthy, northern suburbs.
Hernandez's restaurant appealed to Anglos and Mexicans alike, and aligned with a bigger food trend: authenticity. Business took off. In 2013, he opened a café and bar, The Fruteria, inspired by Mexico's fruit stalls. He opened a second La Gloria location in the San Antonio airport. He opened two more Fruterias. This year Hernandez is busier than ever. He opened a restaurant called El Machito, which serves Mexican-style grilled meats. His company partnered with three other airport restaurants. And today, Hernandez manages a staff of some 250 employees. He's one of the 13 business leaders featured on San Antonio's city website, and has been a guest judge on the reality television show Top Chef.
"People say, 'How did you start off?' I say, well, I started off a long time ago!" Hernandez says. He showed me a sepia-tinged photograph of himself and his dad at an event he helped cater. Little Johnny looks like he's about 6 years old; he's dwarfed by big Johnny, who's sporting a very 1970s moustache. They're standing side by side, wearing matching white jackets, and smiling the same smile.