How a New Class of Activists Is Changing Immigration Politics
Immigration-reform measures targeted at young undocumented immigrants have proven the most popular.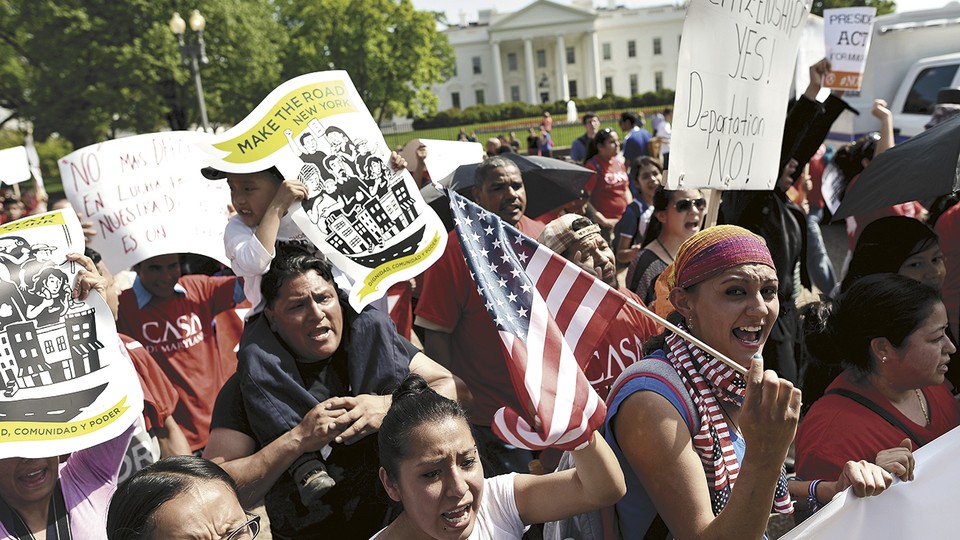 Three years ago, Maria Rodriguez stood in the rotunda of the Florida state Capitol crying tears of relief after the state Senate effectively killed a harsh immigration bill. Modeled on Arizona's controversial "show me your papers" law, the legislation was a top priority for Republican Gov. Rick Scott. And even though immigration advocates ultimately won the day when the Senate halted progress on the measure, it was too close a call.
Rodriguez's organization, the Florida Immigrant Coalition, spent most of its resources that year fighting the tough legislation. In preceding years, her group had beaten back similar ordinances in Avon County and the city of Palm Bay. They were constantly on the defensive, always scrambling simply to stop punitive measures, such as efforts to require deportation proceedings for nonviolent illegal immigrant offenders.
And then, improbably, the narrative flipped. Last month, Rodriguez stood in the same spot in the Capitol rotunda, cheering the Florida Legislature's passage of a bill to give in-state tuition rates to the state's undocumented high school graduates. Republican state leaders had shepherded the legislation, and Scott made it clear he intended to sign it into law. "It was just a really remarkable change," Rodriguez says of that moment. In 2011, immigrant advocates were lined up against the governor. "This time, the governor came out to be there with us."
Eric Cantor's loss Tuesday night demonstrates just how unlikely it is that Congress will pass comprehensive immigration reform anytime soon. But Florida may be the most dramatic illustration of the shifting political winds on immigration at the state level. Eleven states — including ruby-red Utah and swing-state Colorado — have passed laws allowing undocumented residents access to driver's licenses. "That was an issue that had been politically toxic just a few years ago," says Tanya Broder, a senior staff attorney for the National Immigration Law Center, which tracks state immigration laws. And in 20 states, students who are unauthorized residents now have access to in-state tuition rates.
Immigration-reform measures targeted at young undocumented immigrants have proven the most popular, both nationally and at the state level. High-profile figures such as former Washington Post journalist José Antonio Vargas put a face on an issue that is so often debated with stereotypes due to the understandable reluctance of many undocumented immigrants to "out" themselves. These young "Dreamers" (so named because most of them meet the requirements of the Development, Relief, and Education for Alien Minors — or Dream — Act) have established their own political and social movement, separate from the older and more established advocates who have pushed (unsuccessfully) for comprehensive immigration legislation in Washington.
Dreamers speak their minds, making even their allies uncomfortable sometimes. But their plight as offspring punished for the decisions of their parents makes them unusually sympathetic figures. Sen. Marco Rubio of Florida floated a plan to grant them legal status even as he was being considered as a potential running mate for Republican presidential nominee Mitt Romney in 2012. "That allows us to deal with these kids in a humanitarian way," Rubio said at the time. "To recognize that what we want to do is to give these kids a chance to get right what their parents got wrong."
For conservatives who support easing unauthorized immigrants' burden, the Dreamers' stories help provide justification for what has traditionally been an unpopular stand within the GOP. Such politicians are quietly emerging as a counterweight to a more boisterous group of Republicans who champion laws such as Arizona's, which allows local police to investigate suspected immigration violations — something critics contend leads to racial profiling.
As missteps on state immigration enforcement have piled up, Republican lawmakers who were never comfortable with such laws feel freer to speak out. And as politicians in Florida recently learned, they have a ready-made group of shrewd young advocates to help steer their states in a different direction.
A new generation of people impacted by the country's unsolved immigration problems has grown up. These children of immigrants — some legal, some not — speak English fluently and have an intimate understanding of American culture. They will not live in the shadows. They get politics. They get government. They refuse to be intimidated. If they are lucky enough to have papers, they have too many friends and family members who don't.
Dreamers think their situation is unfair — and they expect their country to correct that injustice. "Starting in eighth grade, I started telling people I was undocumented, because I thought somebody knew an answer, and if I kept it to myself then nobody could help me," says Gaby Pacheco, who helped found United We Dream, the largest activist group of undocumented youth in the country. She now runs the Bridge Project, another immigration-reform group.
Pacheco's parents brought her to the United States from Ecuador on a tourist visa when she was a child. The family stayed. The visas expired. She watched her two older sisters graduate from high school and then avoid college because they lacked the papers that would qualify them for in-state tuition. Out-of-state rates were out of reach. "That's when I said, 'Oh, man, this is going to happen to me,' " Pacheco says.
It is against the law for public schools to ask for immigration documentation when enrolling students, which is how Pacheco and other children without papers become educated as Americans. Especially in heavily Hispanic metropolitan areas such as Miami, Phoenix, and Los Angeles, these young people live in the same neighborhoods, speak the same language, and endure the same generational tensions of a steadily evolving ethnic community.
After graduating from high school, Pacheco obtained an international student visa that allowed her to attend Miami Dade College. "I had to pay out-of-state tuition. So four, five thousand a semester while my friends were paying one thousand," she says. "I was an international student this whole time. However, I identified as an undocumented."
Pacheco started pushing for in-state tuition for undocumented students in 2005, when she was the student-body president representing all of Florida's public universities. That's how she got to know many of the Republicans in the state Legislature. In 2010, she and three other classmates walked 1,500 miles from Miami to Washington to plead their case, calling their march the Trail of Dreams. Pacheco lost her student visa because she stopped taking classes, and again became undocumented.
In their activism, Pacheco and other Dreamers are irritatingly nonpartisan, at least to longtime immigrant advocates who have historically aligned with Democrats. The Democratic Party has been more willing to embrace immigration reform, and yet has proven unsuccessful in efforts to make changes at a national level. Seeing this, the Dreamers have focused their attention on finding conservative allies. Pacheco campaigned for Republican Sen. John McCain for president in 2008, arguing that he had a better chance than Democratic Sen. Barack Obama did of getting immigration reform over the finish line. (She did not feel the same way about Mitt Romney in 2012.)
The Dreamers are resigned to the fact that immigration reform stands little chance in Congress, which they see as the perfect reason for Obama to provide relief through executive actions. Cantor's upset loss in his primary election this week spurred Dream Action Coalition Codirector Cesar Vargas to declare that "there is no chance of getting anything done legislatively" this summer. As such, he said, Obama should offer deportation relief immediately.
The Dreamers also rallied around Rubio when he proposed a Republican version of the Dream Act. According to multiple accounts, it was their enthusiasm for Rubio that prompted President Obama to create a "deferred action" program to stop their deportations in 2012. But even in the midst of that significant victory, the Dreamers still wouldn't hitch their wagon to the Democrats or Obama: Pacheco insisted that the "watch party" for Obama's announcement take place at the American Immigration Lawyers Association, a nonpartisan immigration group, rather than at the Center for American Progress, which is closely aligned with the administration.
Executive Director Frank Sharry of the immigration-reform group America's Voice says Pacheco's demand is consistent with the Dreamers' approach to political action. "The Dreamers we've worked with break all the rules," he says. "They fiercely defend their independence and are creating their own distinct way of building and projecting power. It's not always comfortable, but it's almost always effective."
Indeed, the determined nonpartisanship of the Dreamers has paid off in candid conversations with Republicans who privately sympathize with their situation but don't know how to help them. Groups like Pacheco's and Rodriguez's have positioned themselves to support those lawmakers the moment an opportunity presents itself. In Florida this year, their members spent several weeks traveling to Tallahassee to meet with lawmakers — mostly Republicans — who were on the fence about the in-state tuition bill. On the day of the Senate's final vote, they sat in the public gallery wearing graduation caps.
Republicans like to talk tough about illegal immigration, but actually cracking down on it is a lot harder. Alabama, which enacted the country's harshest immigration-enforcement law in 2011, became an international laughingstock shortly thereafter. On two separate occasions, high-level foreign executives were arrested because they didn't have proper documentation. In response, the state Legislature moved to quickly pass revisions watering down the law. A federal court then rolled back the law's prohibitions on undocumented children in schools.
Situations like those in Alabama have caused the enthusiasm for state immigration-enforcement laws to die down relatively quickly, giving GOP reformers a chance to act. While more than a dozen states considered such legislation in 2011 and 2012, only four managed to get laws on the books: Alabama, Georgia, Indiana, and South Carolina. Then, in the 2013 and 2014 legislative sessions, more than a dozen states passed immigrant-friendly initiatives — some allowing in-state tuition for undocumented students, some approving driver's licenses for residents without papers. No state passed a broad punitive bill. "We have seen a difference around the country," says Broder. "States that thought a smart way to deal with immigration policy would be to target immigrants found that this was not a good solution politically, legally, or practically."
Florida's Gov. Scott is a perfect example. In 2010, he campaigned on bringing an Arizona-style immigration law to the state. He failed to meet that pledge after moving into the Governor's Mansion. Now up for reelection against an old rival, former Gov. Charlie Crist, Scott is changing his tune. He can't afford to talk tough on immigration like he did before. He needs the state's swing voters, many of whom are Hispanics, more than he needs the tea party. And Scott can read polls. Fully 84 percent of Hispanics in a 2011 Pew national survey supported making unauthorized immigrants eligible for in-state tuition.
Politics created an opportunity to shift the tide on immigration in Florida, but someone powerful still needed to take advantage of it. That person was state House Speaker Will Weatherford, who made tuition equity for undocumented Floridians a top priority this year. Here, the nonpartisan nature of the Dream movement made a difference. Weatherford says it was an elderly "Mother Teresa figure" in his community who inspired him. Late last year, he met with Margarita Romo, a longtime immigrant activist and a former nun. "She prayed with me and said, 'God give me the strength to do something for the kids,' " he recalls.
So he did. In January, he placed a heartfelt op-ed in the Tampa Bay Times arguing that young unauthorized residents should have in-state tuition just like their citizen classmates. He opened the House session in March with a plea to his fellow Republicans to pass tuition equity. He argued that Florida shouldn't lose out on the talent of thousands of young people schooled at state taxpayers' expense just because Washington couldn't figure out how to fix their legal status. "I got tired of waiting for the federal government to do something," Weatherford says. "We needed the right political moment for it. I didn't know if it was going to work."
Weatherford wasn't worried about his colleagues in the state House. Miami Rep. Jeanette Nuñez, a Republican representing a district she calls "Hispanic Ground Zero," introduced the bill, which rolled back automatic tuition rate hikes and allowed undocumented residents to qualify for in-state rates. Nuñez made a point to listen to the opponents from the beginning. She agreed to a change, for example, that ensured U.S. citizens would not end up competing with undocumented students for scholarships. "We really tried to provide as much help to this group of students as possible without being completely unreasonable to the opposing side," she says.
The state Senate was another story. Senate President Don Gaetz was unenthusiastic about the bill and fellow Republican Sen. Joe Negron, the chairman of the Appropriations Committee, was adamantly opposed. But then an unlikely ally stepped up. Sen. Jack Latvala, a veteran Republican with a reputation for being crusty and old-school, sponsored the bill in his chamber. He figured that if Weatherford was going to stick his neck out to help deserving kids, he might as well follow suit. "I'm a tough, mean, old bird that takes these kinds of things on," he says. "I don't kowtow to the tea party. They don't like me anyway, so I didn't have anything to lose."
Then the dominoes started falling. Two weeks into the session, Scott signaled his support for the bill, saying tuition rates needed to come down for everyone. Former Florida Gov. Jeb Bush began actively campaigning for it. Gaetz quietly told Weatherford and Latvala that he wouldn't stand in the way. Senate Rules Committee Chairman John Thrasher, a close friend of Jeb Bush's, figured out a way to bypass the Appropriations Committee and bring the measure directly to the Senate floor. In the end, the tally wasn't even close. The bill passed handily, 26-13, on May 1.
Latvala is proud that he helped the GOP shift its tune on immigration. "I think it's important for our party to be inclusive," he says. "We've got some ground to make up with certain ethnic groups." But, true to his tough-old-bird self, he won't speculate about next steps like legalization. "I don't believe people who came into this country illegally should be assisted by the government," he says. When it comes to other measures for undocumented children, he says only, "I've got to get elected first."
Pacheco isn't surprised to hear this. Changes in attitude don't happen overnight. "It took 10 years for me to get him to this spot, to feel this is the right thing to do," she says. She doesn't expect everything she wants to happen overnight. She believes the advocacy community should acknowledge the difficulties that Republicans like Latvala encounter when they champion proposals to help those who, rightly or wrongly, are still in violation of the law.
"We want to be right with the law, and they love to hear that," she says, adding that Republicans need to see "the human side" of the immigration problem. That's why Pacheco starts all of her interactions with lawmakers the same way: "I'm a Dreamer." With a whole generation of young undocumented immigrants saying the same thing, they could eventually make it easier for even the most conservative lawmakers to find a way to change the system.