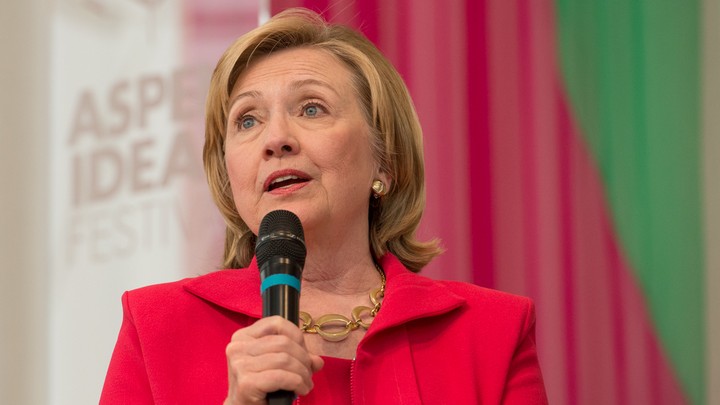 ASPEN, Colo.—Is it a book tour? A pre-campaign? Something in between? Trying to decide what exactly Hillary Clinton is up to at the moment has been something of a parlor—or green-room—game.
During a Facebook Live session at the Aspen Ideas Festival,  sponsored by the Aspen Institute and The Atlantic, the former secretary of state seemed to carefully straddle that line for the first 45 minutes, and she almost robotically found ways to use the title of her memoir, Hard Choices—nine times, by my count. Then moderator Walter Isaacson asked Clinton about the Supreme Court's hours-old Hobby Lobby decision, and suddenly she came alive, delivering a fiery and impassioned reply.
"I disagree with the reasoning as well as the conclusion," Clinton said, almost before Isaacson had his question out. "I find it deeply disturbing."
This wasn't the wishy-washy Hillary her detractors portray, a consummate, triangulating politician trying to play both sides of the issue. It was a true-believing liberal standard-bearer, drawing on her work in the cabinet to illuminate what's happening in America today.
"Part of the reason I was so adamant about including women and girls [in State Department efforts] is that they're often the canaries in the mine," Clinton explained. "It is a disturbing trend that you see in a lot of societies that are unstable, anti-democratic, and prone to extremism. Women's bodies are used as the defining and unifying issue to bring together people—men—to get them to behave in ways that are disadvantageous to women but prop up rulers."
Now, she said, something similar was happening in the United States, where religion was worming its way into government. "Many more companies will claim religious beliefs. Some will be sincere, others maybe not. We're going to see this one insurable service cut out for many women," she said. "This is a really bad, slippery slope."
Clinton wasn't done comparing the contemporary situation to theocratic societies. A few moments later, while discussing the persistent gridlock in Washington, she said anyone whose platform to run for office was a refusal to compromise ought to be disqualified from office. "That's the kind of language I heard from people in 112 countries, where they believed they had a direct line to the supreme leader or the divine."
It was Clinton at her best: speaking on an issue clearly dear to her heart and able to use her lengthy experience in government to help illuminate the issue. It was also the moment at which she seemed most clearly to be a presidential candidate. And the crowd in Aspen certainly seemed to be ready for Hillary.
Meanwhile, Clinton seemed to be taking pains to distinguish herself, however carefully, from President Obama. On Syria, she noted that there had been differences in opinion on how to initially handle the rebellion against Assad. She noted that she and others had favored vetting rebels for ties to terror and then aiding those who passed; she hardly needed to note, though she did, that Obama has only just now come around to that position. And discussing political dysfunction, she delivered a mild rebuke to those who say socializing with and talking to Republican leaders is pointless.
"My husband actually had some very serious problems with Congress," she noted. "They shut down the government twice and they impeached him once. But Bill never stopped reaching out to them." And she could point to results: a balanced budget, a surplus, and welfare reform.
As my colleague Peter Beinart has noted, Clinton is at her best when finding ways to draw on her long experience in government. She can't credibly run as an outsider candidate, but she can bring authority to her descriptions of her service. True to form, she seemed most at ease throughout the interview when telling stories about her diplomatic exploits. Her account of the negotiations over Chinese dissident Chen Guangcheng, who created an international incident when he escaped from house arrest and made his way to the American embassy in Beijing, was a gripping look at how diplomacy actually happens. (Needless to say, she was the hero of the story.) She was witty and humorous discussing sometimes tense experiences with Vladimir Putin and his foreign minister, Sergei Lavrov.
But Clinton still struggles with how to best articulate and defend her policy positions. Her account of her vote for the Iraq War remains muddled, and her explanation of why she took so long to repudiate that vote—a rambling tale about keeping faith with the troops—comes across as mealy-mouthed and opportunistically flag-waving.
She was on slightly more solid ground discussing income inequality. Clinton has been under fire recently for comments she made claiming that her family was "dead broke" when they left the White House, as well as a comment that seemed to suggest she did not see herself as "truly well off." (The quote is a little more nuanced than that, but the quote has haunted her anyway.) It seemed the book tour (or whatever it might be) had been a good chance to get in touch with normal Americans.
"It's great being out there, back in my own country," she said. "It's been eye-opening in lots of ways. There's a lot of anxiety and insecurity and concern across the country about our economy and our democracy."
Clinton spoke about the threat that income inequality poses to democracy and upward mobility, and she was particularly sharp in her condemnation of voter-ID laws and other restrictions that make it harder to vote. But Clinton will never be able convincingly to play the Elizabeth Warren-style populist, and she verged on parody when she spoke of her concern that her soon-to-be-born grandchild would see the same opportunities for upward mobility that she and Bill had—a perhaps laughable worry given her daughter's income.
But her trump card on economic policy is a strong one. "If we compare the eight years of the Reagan administration and the eight years of the Bill Clinton administration, we see 100 times more people being lifted out of poverty. We seen an economy that was creating jobs and we see a balanced budget with a surplus," she said. "People have to feel ... that the political system and economic system are not stacked against them."
As has become customary standard in such appearances, the interview closed with Clinton being asked (elliptically, in this case) whether she was running for president and Clinton politely demurring. But with her spirited answers Monday, she certainly wasn't doing anything to dissuade those who believe she is.
We want to hear what you think about this article. Submit a letter to the editor or write to letters@theatlantic.com.