Hillary Clinton on Benghazi Scandal: 'It's More of a Reason to Run'
6 things we learned from Hillary Clinton's interview with Diane Sawyer.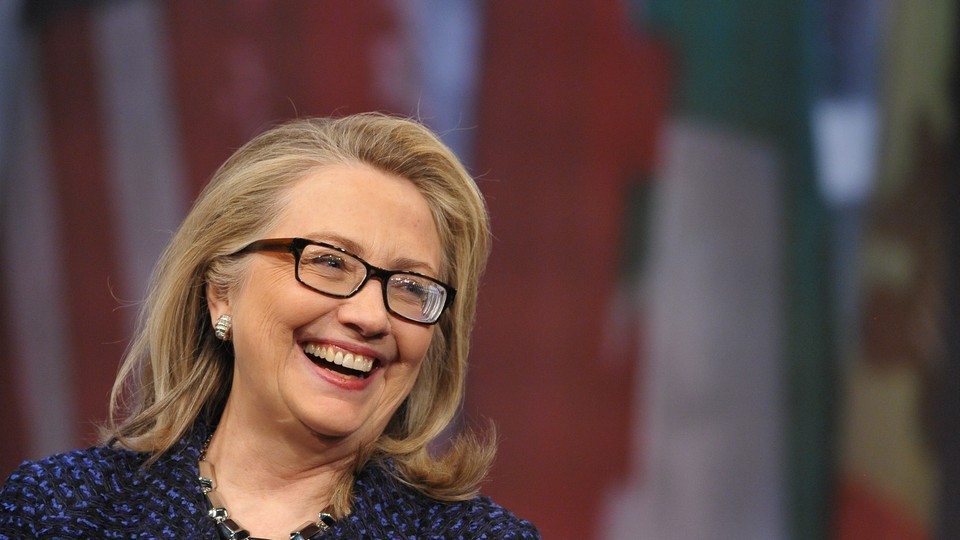 Get ready to hear a lot from Hillary Clinton.
With the release of her book, Hard Choices, Tuesday, Clinton will be running the media gauntlet, talking to reporters across the broadcast spectrum and on cable. Her first stop was an hour-long (pretaped) interview with Diane Sawyer on ABC on Monday night. Sawyer's questions covered a wide range: from Clinton's perspective on being a female presidential candidate, to her health, and, of course, her handling of the September 11, 2012, attack on the U.S. Consulate in Benghazi. Expect similar questions throughout the media tour. (Also expect similar answers.)
While Clinton said she would not be making a decision to run for president this year, 2016 was inescapable. In the D.C. TV market, at least, an anti-Hillary Clinton ad ran during the broadcast.
Though Clinton didn't make any outright news during the broadcast, it was an interesting opportunity to listen to her comment on the current headlines circulating around her.
Here's what we learned.
1. The Benghazi scandal will not dissuade Clinton from running in 2016. If anything, she said, it will motivate her, because she believes lawmakers are using the issue for petty political gains. And the country is better than that.
Actually, it's more of a reason to run. I do not believe our great country should be playing minor league ball. We ought to be in the majors. I view this as really apart from, even a diversion from, the hard work that the Congress should be doing about the problems facing our country and the world.
2. She feels that she, personally, could not have intervened to increase security at the Benghazi compound.
Well, I certainly would give anything on Earth if this had not happened, and I certainly would wish that we had made some of the changes that came to our attention to make as a result of the investigation.... We had a system, and that system of course ended with me. I take responsibility, but i was not making security decisions.

I think it would be a mistake for a secretary of State to sit and say, okay, let's go through all 270 posts and let me decide what should be done. That, to me, is inappropriate where the experience and the expertise lies elsewhere.
3. Her 2012 concussion and subsequent blood clot have left no lingering effects on her health. Yet, she'll (probably) be on blood thinners for life to prevent further clots.
Sawyer: So no lingering affects of any kind.

Clinton: No lingering affects.

Sawyer: You would release your medical records if you ran for president?

Clinton: I would do what other candidates have done, absolutely.

Sawyer: What would you like to say to Karl Rove about your brain?

Clinton: That I know he was called Bush's brain in one of the books written about him, and I wish him well.
4. Rand Paul can bring up Monica Lewinsky all he likes. Just watch out.
You know, he can talk about whatever he wants to talk about. If he decides to run, he'll be fair game, too, for everybody.
5. On battling her image as being "scripted, cautious, safe, armored."
I understand why some people might have seen that or certainly attributed that, because when you're in the spotlight as a woman, you know you're being judged constantly. I mean, it is just never-ending. And you get a little worried about, okay, people over on this side are loving what I'm wearing, looking like, saying. People over on this side aren't. Your natural tendency is how do you bring people together so that you can better communicate. I'm done with that. I mean, I'm just done.

Sawyer: You said you're just over it?

Clinton: I am over it, over it. I think I have changed — not worry so much about what other people are thinking and my view is, I have lived an incredibly blessed life.

Sawyer: Time for radical candor?

Clinton: I love that phrase. If you don't mind, I'll use it. I think for me it's time. I don't know that I could have done it earlier, because i was certainly trying to find my way.
6. After Bill Clinton's term in office was up, the Clintons were in debt, and "struggled" to put together resources for "houses."
Well, you have no reason to remember, but we came out of the White House not only dead broke but in debt. We had no money when we got there, and we struggled to piece together the resources for mortgages for houses, for Chelsea's education. It was not easy. Bill has worked really hard, and it's been amazing to me. He's worked very hard. First of all, we had to pay off all our debts ... we had to make double the money because of, obviously, taxes and pay off the debts and get us houses and take care of family members.

{{ BIZOBJ (video: 5017) }}