For Democrats, the Race That Got Away
Thanks to Tom Daschle and a vocal liberal base, Democrats weren't able to put red state South Dakota's Senate seat in play.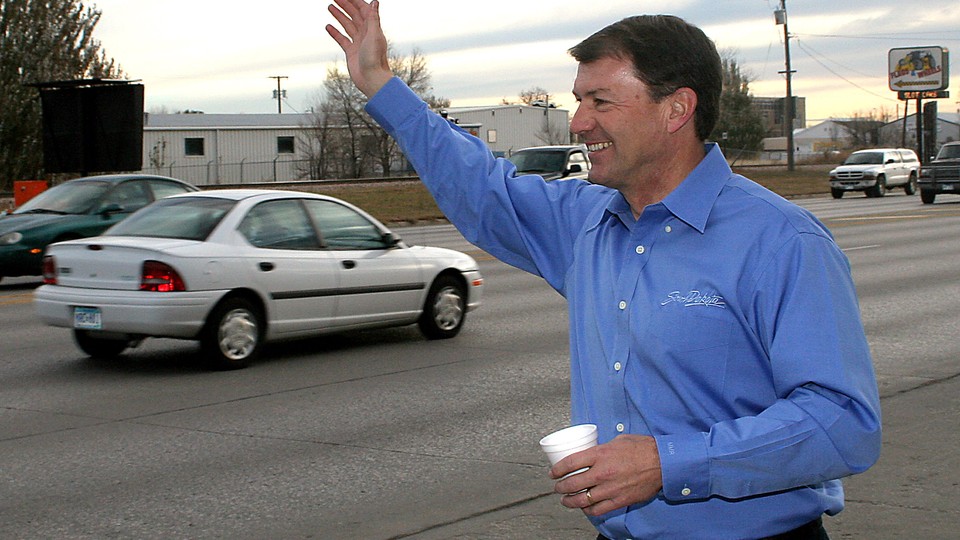 If Democrats fall a seat short of holding the Senate, there will be a lot of second-guessing on the one race that never materialized but should have held a lot more promise: South Dakota.
The state is holding its primaries Tuesday, and they're an afterthought. Former Gov. Mike Rounds is the Republican now on a glide path to the Senate, facing weak opposition in the GOP primary. In the general election, he'll face Rick Weiland, a former state director for Tom Daschle who (even the most optimistic Democrats will acknowledge) faces near-impossible odds in the solidly red state.
But it didn't have to be that way. The Senate race to succeed retiring Democratic Sen. Tim Johnson could have been one of the most consequential contests in the country, if Democrats had a little more luck. Just over a year ago, the political talk in South Dakota centered on which of their up-and-coming prospects would run — former Rep. Stephanie Herseth Sandlin, one of the most popular figures in the state after representing it for three full terms in the House, or Tim Johnson's son Brendan Johnson, who's serving as a U.S. attorney. Despite the state's Republican moorings, now-Sen. Heidi Heitkamp's surprising 2012 victory in neighboring North Dakota served as a fresh reminder that strong candidates running in conservative-minded states can overcome disadvantages.
As Senate Majority Leader Harry Reid and the Democratic Senatorial Campaign Committee tried to engineer the situation to their advantage — they preferred Herseth Sandlin to the more-liberal Johnson, and wanted to avoid a contentious primary — the party's worst-case scenario materialized. Johnson first expressed his disinterest in May 2013, leaving the door wide open for the former congresswoman to run. At the same time Johnson made his decision, Weiland announced his candidacy with support from some Johnson allies. Less than a week later, Herseth Sandlin surprised supporters by passing on a bid, even without Johnson in the race. She announced the desire to spend more time with her family as the reason for stepping aside, but several Democratic operatives familiar with her decision said she didn't want to face any primary opposition, even against a longer-shot candidate like Weiland.
"I had several conversations with her, she sounded like a candidate. She was on the cusp of running," said former South Dakota state party Chairman Ben Nesselhuf, who decamped the state after the dustup to manage an Iowa congressional campaign.
Against Weiland, Herseth Sandlin would have been a clear favorite to win the nomination. But against the more-liberal challenger, she would have been forced to defend her vote against the president's health care law, an issue she trumpeted in her unsuccessful 2010 reelection. In a state where Democrats have little margin for error, being pushed to the left in a primary would have been costly in a general election.
Indeed, for all the attention the GOP's establishment-tea party divide receives, this is a race where Democratic divisions between the party's progressive and centrist wings cost them an opportunity to compete. To the irritation of Reid and other campaign officials in Washington, Daschle encouraged Weiland to run, even though his former staffer's unabashedly liberal views make it difficult to win in conservative South Dakota. Reid even went so far as to proclaim Weiland wasn't "his choice" in the race, dismissing his candidacy. But in echoes of the tea party-establishment battles roiling the Republican Party, to the small universe of Democratic activists within the state, Weiland's progressive principles trumped Herseth Sandlin's more-electable profile.
"Stephanie's still trying to lick some wounds with the party faithful that were disappointed in her health care vote, and can't get over that. There was a motive there to shut her out, from even entertaining the option from running," said state Senate Minority Leader Jason Frerichs, an ally of Herseth Sandlin. "Her decision not to run surprised so many of us, we're kicking ourselves for not pushing harder on her to run."
For a time last year, the prospect of a messy primary fight on the Republican side seemed more likely. Rounds entered the race in early 2013 to much fanfare, but struggled to raise money and faced grumbling from outside conservative groups over his spending record and inclination toward deal-making as governor. One of the GOP's rising stars, Rep. Kristi Noem, who unseated Herseth Sandlin in 2010, was seriously considering entering the race, hoping to capitalize on the conservative discontent. But to outside conservative groups, her record was as untenable as Rounds's, with her support of the farm bill and near-the-bottom vote ratings among House Republicans from the antitax Club for Growth. After meeting with GOP leaders, including Sen. John Thune, she passed on a bid last June. "She realized that she could jeopardize what would be a slam-dunk Republican opportunity," said one Republican official with ties to South Dakota.
Instead, the primary opposition to Rounds back home has been splintered among four Republican candidates, none of whom have the resources to mount a credible campaign. (State Rep. Stace Nelson is expected to be his closest competitor.) One of his challengers, physician Annette Bosworth, drew ridicule for holding a press conference to decry hateful rhetoric directed at her campaign, where she stood in front of a graffiti-scrawled backdrop of epithets. Rounds may struggle to receive 55 percent of the GOP vote — a middling total for a well-known former governor, but enough to coast to victory.
Another reason Democrats may regret not fielding a stronger candidate: the presence of former Republican Sen. Larry Pressler on the November ballot as an independent. If Herseth Sandlin ran, Pressler could have played a significant role in a competitive race, but he's now a quirky afterthought. Out of politics for over a decade, Pressler was never a threat to win, but he could have peeled away enough Republican votes from Rounds to make the general election highly competitive.
For her part, Herseth Sandlin may have missed her best opportunity to compete for a political comeback in South Dakota. Unlike other losing members of Congress who register as lobbyists, Herseth Sandlin only spent one year working in Washington (as partner at the law firm OFW) before moving back to South Dakota to serve as general counsel for Raven Industries. It was a clear sign she wanted to run for office again in her home state. But after passing on the Senate race, it's hard to find many future opportunities.
Thune is a near lock for reelection in 2016, Rounds will have one term of service under his belt, and the governor's race won't be on the ballot again until 2018. Frerichs said she received a standing ovation at the state party's April McGovern Day fundraising dinner — an acknowledgment that the state's progressive base is over its antipathy toward her candidacy, even though it's far too late to change the trajectory of the Senate race.
"Despite being a Democrat, she's well-liked in the state. She's still got really strong numbers. That would have been a legitimate battle with Rounds," said the Republican strategist with ties to South Dakota. "She still would still have the same uphill sledding in a tough environment, but she would have made Rounds really work for the seat."