Eric Cantor's Unusually Expensive, Surprisingly Negative Primary Campaign
The House majority leader went negative on his little-known, underfunded opponent, showing how much the power of incumbency has waned.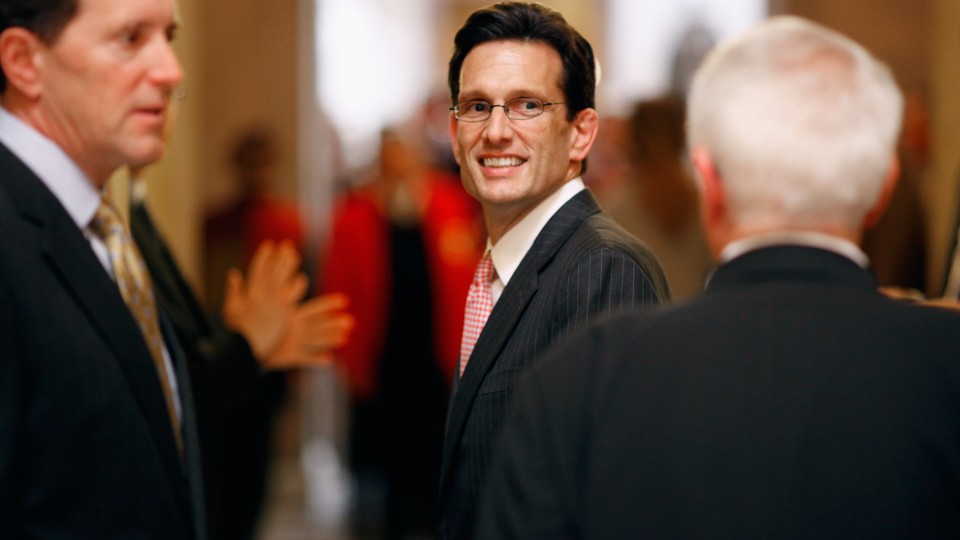 When the House majority leader spends millions of dollars on a reelection campaign — especially against a little-known political novice who is not considered a serious threat — the national media are sure to notice.
That's not because Rep. Eric Cantor's challenger, Randolph-Macon College economics professor Dave Brat, has begun to show some unexpected momentum. Quite the contrary: Cantor's campaign spokesman is right when he says his boss is "well-known, well-liked, and well-respected" in his district. And he's certainly expected to win.
Instead, the contest has drawn such outsize attention in large part because of the effort Cantor felt he had to pump into it, running hard for the kind of safe seat party leaders once could take for granted. And for that he can thank immigration reform.
Indeed, Cantor has expended unusual effort (and funds) against a seemingly harmless opponent, going to the trouble of running negative TV ads and sending mailers defending his position on immigration legislation after Brat successfully directed the debate away from local jobs and toward a national issue.
It's yet another piece of evidence that nominating contests are no longer completely friendly territory for Washington operators. While party leaders used to rule over local politics while dealing with messy legislative sausage-making in Washington, they are now getting into the mud with increasing frequency at the local level.
For instance, Cantor's campaign referred to Brat as a "liberal college professor," which FactCheck.org called "misleading." Plus, Cantor sent mailers to voters saying that he was working to stop "the Obama-Reid plan to give illegal aliens amnesty" despite his own support for a path to legalization for children brought to the country illegally.
Brat campaign spokesman Allen Wagner accused Cantor of misleading voters by supporting that measure while his ads said he opposes amnesty. "He won't stand on his record," Wagner said.
But Cantor campaign spokesman Ray Allen said the campaign wanted to focus less on immigration and more on job creation, but that conservative news sites, like The Daily Caller and Breitbart.com, covered the race's immigration angle closely, calling attention to it for the purpose of attacking a GOP party leader.
Cantor's campaign may have hit a low point in May, as it responded to Brat's immigration attacks — and as Cantor failed to get a friend elected as chairman of the district Republican Party. The Washington Post described the race as "open warfare" with the tea party. But Allen said episodes like that were ultimately a distraction from the issues that will drive local voters to the primary polls and result in another reelection for Cantor.
"The glitterati doesn't want to talk about those [economic] issues," Allen said, "because it doesn't view them as sexy."
Cantor's team dismisses suggestions that Cantor is running harder than he needs to, or has before. Allen said the campaign has mostly operated normally, noting the No. 2 House Republican runs ads each cycle.
And at least one outside group that has opened its checkbook for Cantor agreed. The American Chemistry Council spent more than $300,000 supporting Cantor, which is among the larger expenditures by a single group in a primary this election cycle, according to the Center for Responsive Politics. But ACC spokeswoman Anne Kolton said the group first started running ads supporting Cantor in August 2011 and that it regularly runs ads that support people and policies that are favorable to the manufacturing industry. "It's not dissimilar from the work that we do throughout the election cycle," Kolton said.
But Cantor has certainly spent more heavily this time around — about a million dollars between April 1 and May 21. By comparison, in 2012, when Cantor won reelection with 79 percent of the vote, he spent $746,000.