Eric Cantor's Loss Was a Fluke, But It Still Reshapes 2014
Though the broad picture of GOP politics remains the same, the defeat proves that no one is safe.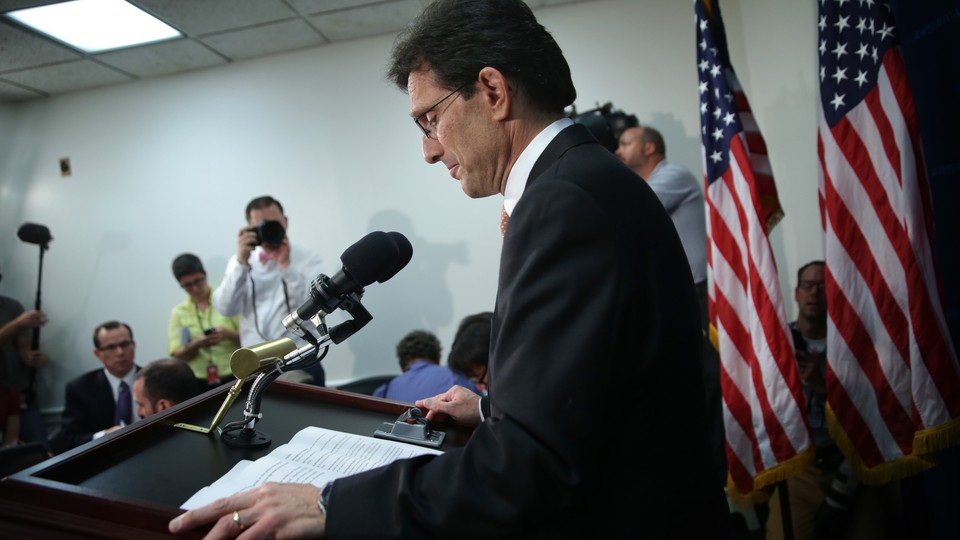 The first thing to know about Eric Cantor's shocking loss is that it tells you very little about the broad picture of GOP politics in 2014. The tea party hasn't suddenly rediscovered its form, not after months of disappointing results and internal bickering over tactics. Immigration reform — for which the House majority leader offered measured support — isn't a poison pill in Republican primaries, either. One of its most visible backers, Lindsey Graham, won his own Senate GOP primary Tuesday night with ease.
Right now, the reasons behind Cantor's loss look like an unusual confluence of events with little bearing on other Republican races — a one-of-a-kind moment that led to a historic upset.
But just because the issues and the GOP electorate are unchanged doesn't mean the rest of the primaries this year — and possibly beyond — haven't fundamentally changed in one crucial way. Because the second thing to know about Eric Cantor's shocking loss is that even if the reasons behind it are unique, it nonetheless deals something akin to a psychic blow to every single Republican member of Congress. The failure of a GOP leader considered untouchable in his home district will have every Republican asking the same question: Could it happen to me?
They aren't waiting to find out. GOP strategists who spoke with National Journal described a chaotic scene on Tuesday night, replete with 10 p.m. phone calls from worried lawmakers and unexpected late-night drives to the office to plot strategy. Just about every officeholder is suddenly a lot more attuned to his or her own reelection race, and, at least for now, is ramping up the preparations.
"The questions are, 'What lessons are we to learn from this? How well are we prepared?' " said one Republican consultant who has already discussed reelection strategy with several of his clients. "The answer is, you can never be too prepared."
Said another GOP strategist with a history of working on House races: "Nobody is going to want to get 'Eric Cantor'd'. His last name is going to become a verb. You're going to see a lot of scrambling by a lot of Republican candidates that their polling is correct, that they're covering all their bases on the right."
What will add extra urgency to their efforts is a growing belief among Republican operatives that Cantor's loss was mostly the consequence of a poorly run campaign, sabotaged by stale tactics, a wayward message, and — most of all — terrible polling. (An internal survey taken by his campaign showed the House leader up by more than 30 percentage points a few weeks before the primary.)
It's not that Cantor totally ignored his race; he spent close to $1 million in its final weeks. It's just that what efforts he did undertake — such as trying to paint his opponent Dave Brat as a liberal college professor — were inept. "It's like he was running a 1994 campaign instead of one in 2014," cracked one Republican strategist.
Not everyone agrees with that assessment; some point out that it's hard to ramp up a campaign that believes it's up by 30 or more points. But it is the story many Republican operatives involved in House and Senate races are spinning in the aftermath. And that will send their clients looking to make sure they don't repeat the mistake.
"For the past year and a half, [National Republican Congressional Committee] Chairman [Greg] Walden has made a concerted effort to counsel members and their teams, and give them the tools they need to go out and win their races," said Andrea Bozek, an NRCC spokeswoman. "We will continue to do that."
If there's any solace for Republican incumbents, it's that — especially on the Senate side — many of the year's competitive primaries are already over. Tea-party targets like Graham, Sen. John Cornyn of Texas, and House Speaker John Boehner have already won their primaries.
But there are still targets on the board, namely Sen. Thad Cochran of Mississippi (who walked into his runoff race against state Sen. Chris McDaniel as an underdog) and Sen. Pat Roberts of Kansas, who until now had fended off questions about his in-state residency with relative ease against little-known opponent Milton Wolf, a radiologist. Within minutes of Cantor's defeat becoming official, Wolf issued a statement proclaiming that the House Republican wouldn't be the "only incumbent from Virginia who is going to lose his primary this year."
Republican strategists are confident Roberts hasn't taken his race for granted: D.C.-based operatives aggressively pushed the story earlier this year that Wolf had posted gruesome pictures of some of his patients on his Facebook page, news that effectively quashed, for the time being, any momentum his campaign might have had.
"If I were him I would be checking my precinct lists and checking it twice," said a GOP strategist of Roberts. "This overwhelming narrative was the establishment fights back, and now [that] it's just become something between this and [the] McDaniel race, you're going to have a lot of Republicans rethinking that narrative. They don't want to become cautionary tales."