Eric Cantor's Loss Could Be the Best Thing That's Happened to Him
OK, seriously though, he stands to make a lot of money.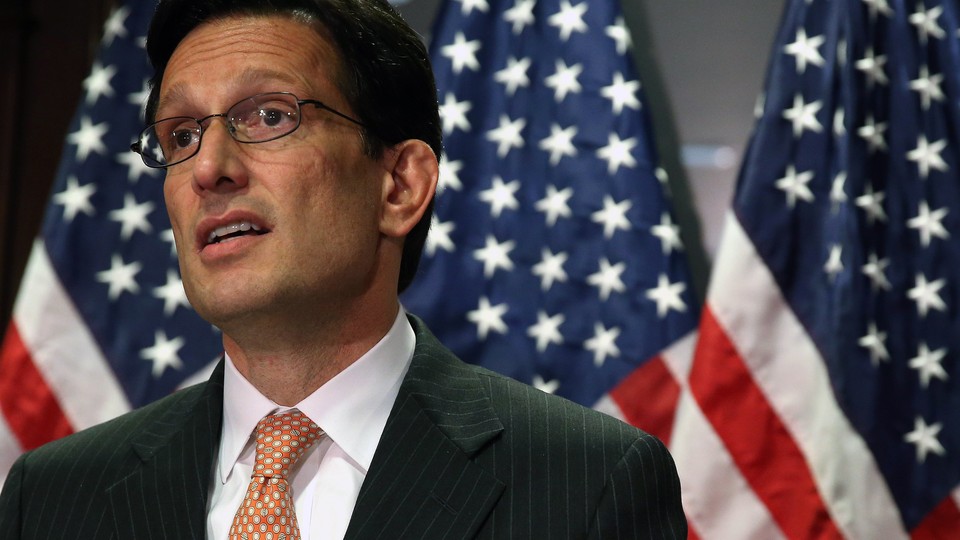 Yes, Majority Leader Eric Cantor's primary loss was a huge upset, a shocker, literally historic in nature. And Cantor must be, to say the very least, down in the dumps about it. His colleagues have been speaking in language of death and mourning. House Speaker John Boehner said Tuesday night that his "thoughts are with him and Diana and their kids tonight."
But once everything settles and Cantor figures out what exactly he wants to do after his term in Congress ends, one option remains exceedingly attractive and absurdly lucrative: K Street. If he chooses that route, he'd be following in the footsteps of many other high-profile congressmen who have traded legislation for lobbying.
It's a very common path. According to the Center for Responsive Politics, 31 representatives out of 97 who left after the 112th Congress are now employed in lobbying or are clients of lobbying firms. (See a list of representatives from the 112th Congress now on K Street here.) Depending on the representatives' tenure and committee appointments, salaries can reach the millions. The Hill recently reported that House Ways and Means Committee Chairman Dave Camp could fetch $1 million on K Street after he leaves Congress.
"So the question is, how rich does Eric Cantor want to be?"
Cantor could be the most powerful member of Congress out of a job next year, meaning he would command a very high salary.
Under current law, representatives have to wait a year before being able to lobby Congress (though there are loopholes).
Career opportunities outside of K Street can also be very lucrative for former members of Congress. Jim DeMint was one of the poorest senators in 2010, worth only around $40,000. Now, as the president of the conservative Heritage Foundation, he likely makes more than $1 million a year. Chris Dodd, former Senate Banking Committee chairman and presidential candidate, makes $2.4 million as CEO of the Motion Picture Association of America.
Former Rep. Jo Ann Emerson of Missouri, who served on the House Appropriations Committee, resigned from Congress in January 2013 to head up the National Rural Electric Cooperative. Although not technically a lobbyist, her group does lobby, and her predecessor (also a former congressman) earned more than $1.7 million in 2011.
But Cantor could potentially eclipse all of them. One former House GOP leadership aide who is now on K Street puts it this way: He'd demand a "generously high" six- to low-seven-figure salary.
"Cantor has the freshest and strongest relationships with both leadership and rank-and-file members than any lobbyist downtown," the source adds. "He's also hugely admired and respected by Wall Street."
Indeed. His top three campaign contributors for the 2013-14 cycle are from huge financial firms: the Blackstone Group, Scoggin Capital Management, and Goldman Sachs. In all, the securities and investment industry gave him $2.8 million over the course of his 15-year congressional career. In turn, he's defended Wall Street interests in Congress. During the debt-ceiling showdown of 2011, Cantor fought the White House on changes to the tax code that would cost the financial-services industry $20 billion over 10 years. His wife, Diana, has close ties to Wall Street as well, having worked at Goldman Sachs as a vice president.
Those connections also mean he'll be a trusted figure that industry executives would want.
One other factor that will play into how much Cantor could command on K Street: his remaining relationships on Capitol Hill. Recall that Boehner and Cantor didn't always have the warmest of relationships, so if Boehner stays on as speaker, it's an open question how much Boehner will restrict Cantor's access on the Hill.
But, as another former senior Republican Hill aide with K Street experience said, Cantor's relationships with committee chairmen, and how much he's helped them get their posts, will make him more valuable.
"The trick with K Street, though, is that sometimes all it takes is one major relationship to make a lot of money. For instance, there are plenty lobbyists who easily make seven digits just because they have one relationship with one committee chair," the GOP source said. "So the question is, how rich does Eric Cantor want to be?"
Future earning potential aside, Cantor is already independently wealthy. According to the Center for Responsive Politics, Cantor's net worth is between $2.1 million and $7.7 million. His wife has most recently served as director at Domino's Pizza. According to National Journal's Shane Goldmacher, as of June 2013, the Cantors earned more than $3 million in Domino's stock and income. In 2013, Diana Cantor made $231,444 in compensation at Domino's, on top of $371,752 she made from work at Revlon, the Universal Corporation, and Media General.
As for the majority leader, he said any plans beyond Congress are "between my wife and me and I will be looking to see how I can best serve, how I can best be a part of what we really have been about here with the agenda called, an America that works."
If Cantor does go to K Street, he would be no different from many, many other members of Congress. That's the expected job trajectory. It's just that Tuesday night's loss expedited his opportunity to cash out.