Eric Cantor's Defeat Exposes Jeb Bush's Vulnerabilities in 2016
Bush shares many of the same vulnerabilities as Cantor — a rusty political operation and being out of touch on the issues that animate conservatives.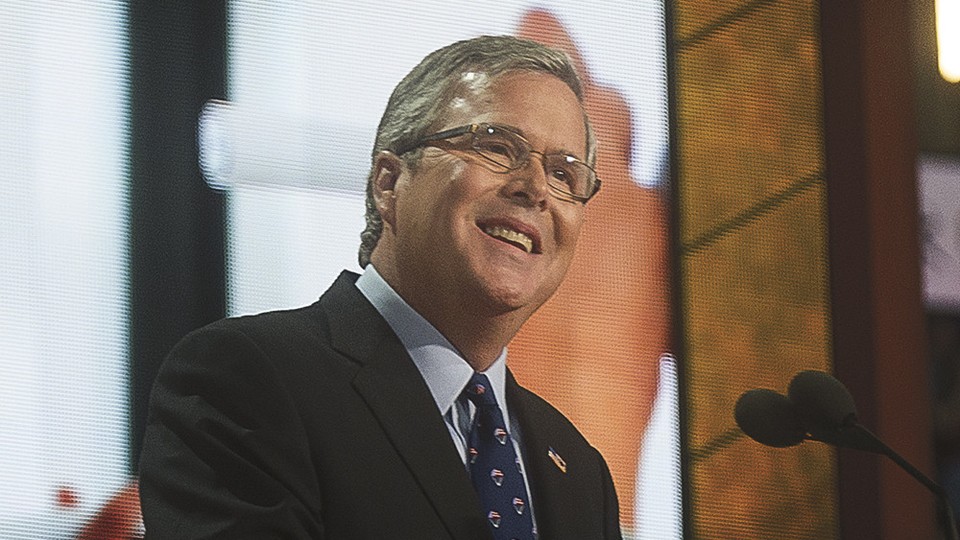 At the Republican Party's nadir after President Obama's 2008 victory, House Minority Leader Eric Cantor organized a pizzeria powwow to unveil ideas for Republican reform. Cantor invited Mitt Romney and Jeb Bush to attend the kickoff event for his new group, the National Council for a New America, and share their ideas on how to revitalize the Republican Party. As Time's Jay Newton-Small wrote at the time: "If Republican leaders have their way, Saturday's gathering at Pie-Tanza "¦ will be remembered as the beginning of the rebirth of the Grand Old Party." I attended the event at my neighborhood pizzeria to get a taste of the Republican Party's future direction. In retrospect, it was the first sign of the leadership's declining influence within its own party, and the political futility of promoting reforms within a divided party that couldn't agree on what it stood for.
Five years later, the three establishment leaders have been defeated by grassroots forces within their own party. Romney lost to President Obama after struggling to unite the party during a contentious primary campaign, while Cantor was defeated by an obscure college professor in one of the most memorable upsets in election history. Jeb Bush is still mulling whether to run in 2016, but given Cantor's decisive defeat, his chances of succeeding look as weak as ever.
Bush's vulnerabilities in a Republican primary would be remarkably similar to those Cantor faced. Bush is an unapologetic supporter of comprehensive immigration reform, famously calling illegal immigrants' attempts to come to this country "an act of love." Last Friday, Cantor stirred the pot before his primary by suggesting he could work with President Obama to allow a path to citizenship for some children of illegal immigrants already in the country. On education, Bush has championed the Common Core educational standards, which have become a litmus-test issue for conservatives, who view them as usurping local control of schools. In the congressional campaign, David Brat criticized Cantor for supporting centralized educational reforms, including Common Core.
Most important, Bush's biggest vulnerability would be the rustiness of a future campaign operation. He hasn't run an election since 2002, and he's proven slow to adapt to the new, lightning-fast media landscape. Since Cantor's defeat Tuesday night, Republican strategists allied with the him are expressing astonishment at his shoddy political operation. They point to a growing disconnect from his constituents even though he was only a short drive from his district, his airing of tone-deaf ads that raised Brat's name identification without hurting his political standing, and his pollster's wildly inaccurate survey showing him up 34 points in the closing stretch of the primary. One top Republican Party official, surveying the precinct-by-precinct results, said, "He lost nearly everywhere, all across the board. This was political malpractice."
If he ran, Bush would be entering a brave new world of Republican politics — one plainly unfamiliar to him. He'd face a group of Republican prospects much better attuned to the more populist flavor of the GOP — Sen. Rand Paul of Kentucky, Wisconsin Gov. Scott Walker, even Sen. Marco Rubio of Florida, to name a few. Bush would bring an A-team of strategists and donors to the table, but the past three election cycles have shown that top talent is no match for the changing mood of the Republican electorate.
After the Cantor event in 2009, I chased down Bush as he was exiting the pizzeria, inquiring about his interest in the 2012 presidential race. This, after he gave a compelling presentation about innovative education reforms, including those he introduced in his home state. He mocked the obsessive horse-race coverage of the political press, and said he was focused on policy and had no interest in talking about future campaigns. In certain ways, that was refreshing to hear, but it also signaled a disinterest in doing the political things necessary to win in a highly competitive business. And as time has passed, Bush seems all the more disconnected from the passions that have animated his own party's base.
"Causes beat campaigns. [Cantor's defeat] was a victory for the populist cause within the Republican Party," said Republican strategist Alex Castellanos, a leading advocate for GOP reforms. "Those who thought the tea party had been absorbed just got a big wake-up call. It's alive and well and eating elite establishment Republicans for breakfast."