Eric Cantor's Loss: A Stunning Upset
For the first time in history, the House majority leader has lost in a primary. Nobody saw it coming.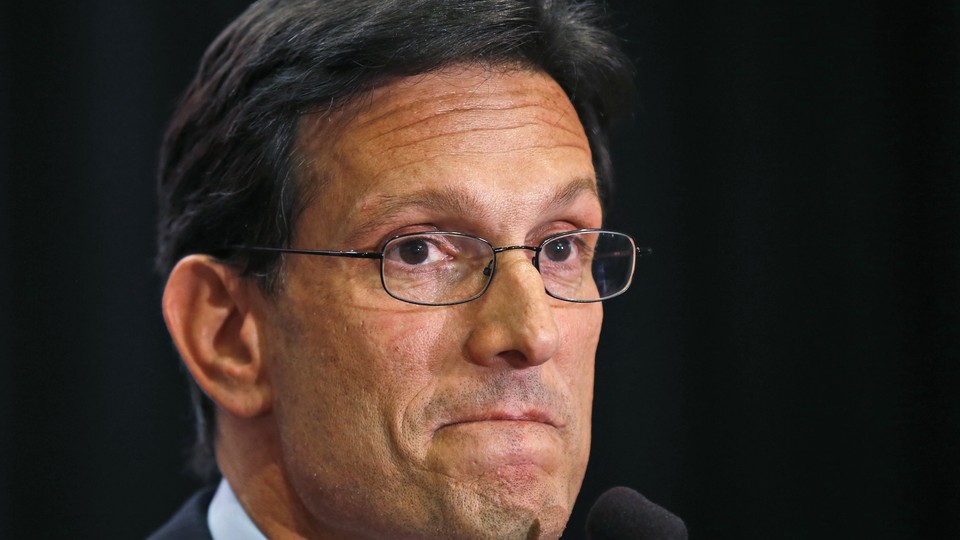 No one thought Eric Cantor, the House majority leader, could actually lose. His primary challenge in his suburban Richmond district, from a local economics professor named David Brat, was thought to be nominal. No sitting majority leader has lost a primary since the position was invented in 1899. Cantor, though unloved by many in his party and in Congress, was seen as the speaker-in-waiting whenever John Boehner decided, or was forced, to hang it up.
But all those assumptions went out the window Tuesday night, when Cantor shockingly lost—and by a wide margin. With 97 percent of the vote counted, Brat had 56 percent of the vote to Cantor's 44 percent.
In retrospect, there were signs Cantor felt endangered. As the Washington Post reported, in a dispatch that seemed far-fetched at the time but now appears prescient, Cantor was booed at a local Republican gathering last month, and his handpicked candidate for district GOP chair was defeated. His campaign aired TV ads and sent mailers crediting him for blocking immigration reform—signs he had begun to sense a threat. Meanwhile, Brat, a Tea Party activist, was championed by national conservatives like Ann Coulter and Mark Levin. (According to Virginia's "sore-loser" law, Cantor can't run against Brat as an independent in the general election, though he might be allowed to mount a write-in bid.)
Cantor's loss will prompt the reexamination of some other pieces of conventional wisdom: One, that the Tea Party is dead—clearly, at least in one restive precinct, anti-Washington anger is alive and well. And two, that supporting immigration reform doesn't necessarily hurt Republicans in primaries—Cantor's supposed support for "amnesty" was Brat's chief line of attack. Supporters of immigration reform fear that Republican members of Congress, leery of touching the issue before, now will never be persuaded that it is not politically toxic. As one immigration-reform-supporting conservative operative emailed me mournfully: "I can't vote for Democrats because I am pro-life, but my party seems beyond repair."
In truth, it's not quite so simple. The Tea Party has come up short in most of the big races where it played this year, and other, unapologetic Republican supporters of immigration reform, like North Carolina Representative Renee Ellmers and South Carolina Senator Lindsey Graham, have held on in the face of primary challenges. Cantor may have suffered more for his role as part of the unpopular House leadership than for any particular issue. After Republicans took the House in 2010, Cantor positioned himself as conservatives' voice in leadership, a role in which he was blamed for scuttling the 2011 debt-limit deal that led to the nation's credit being downgraded. But he had since patched things up with Boehner, a turnaround that led many House Republicans in both camps—the hard right and the establishment—to be unsure they could trust him. Cantor was ambitious, perpetually billed as a "rising star" despite his seven terms in Congress, but his ideas, like his "Making Life Work" reform agenda, never seemed to gain traction within his party.
There are few real surprises in politics. Tuesday's result in Richmond was a rare exception. The political world now must get to know an obscure Randolph-Macon College professor named David Brat; his Democratic opponent, an even more obscure professor at the same college named Jack Trammell; and a new world order in the House of Representatives.