Eric Cantor Is Stepping Down From Leadership
The No. 2 House Republican will step down from his leadership position, after losing a primary for his seat on Tuesday night.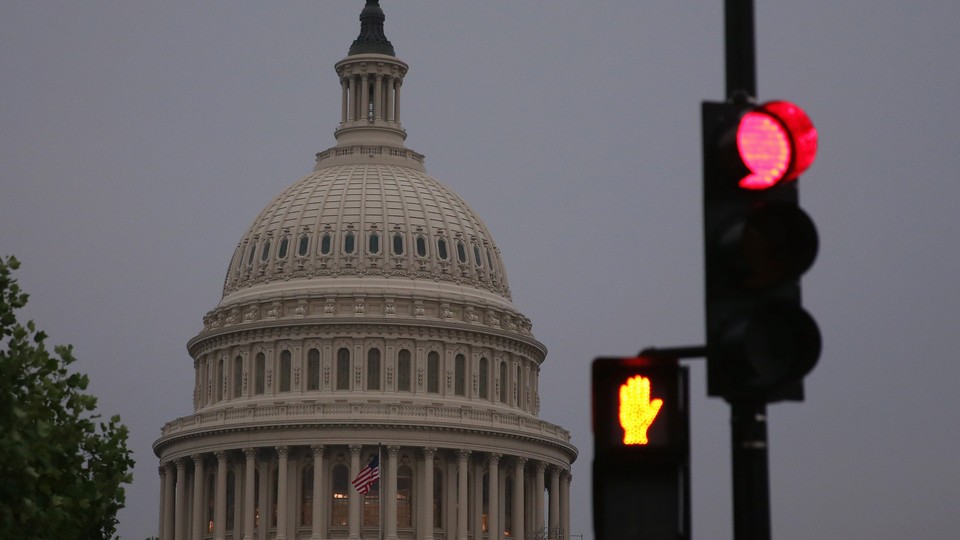 House Majority Leader Eric Cantor informed members of his conference Wednesday afternoon that he will step down from his position effective July 31, setting up a special leadership election to replace him. That election will be held next Thursday, June 19, according to a Republican source.
Cantor lost a primary for his seat on Tuesday night. House Republicans are holding a special meeting this afternoon, which started at 4 p.m. in the basement of the Capitol. There is speculation flying around the Hill that they will also discuss a possible successor at the meeting.
A press conference is scheduled for 4:30 p.m.
Cantor's exit would set off a race to replace Cantor as the number two Republican in the House. Already, Texas Reps. Jeb Hensarling and Pete Sessions have indicated that they are taking a look at the race. House Majority Whip Kevin McCarthy is also expected to seek to move up the rung of House leadership.
McCarthy wouldn't comment on whether he'll seek Cantor's job, but said: "There will be an announcement [at the 4 p.m. meeting]."
Rep. Steve Stivers, R-Ohio, says that McCarthy told him that he will definitely be running for majority leader.
The House's No. 4 Republican Cathy McMorris Rodgers said in a statement that she's sticking with her post as conference chair, "after much encouragement from my colleagues, conversations with my family, and many prayers."
Wednesday's discussions come as tensions are growing on the Hill between conservatives and members of leadership. Many conservatives took last night's race in Virginia's seventh congressional district as a referendum, not just on Cantor, but on the House's current leadership as a whole.
Concerns over Cantor's continued presence in leadership as a lame duck heading into the November midterm elections could also be a factor into his possible exit.
Cantor's technical duties as leader include scheduling what bills go to the floor, along with the key role of devising and meshing the conference's overall political and legislative strategy. And there is no requirement for him to step down under internal House Republican rules, according to an aide familiar with the rules.
But House GOP leadership aides, speaking on the condition they not be identified, described the choice that's to be made by Cantor on whether he would stick around as leader as this:
On one hand, the argument for Cantor stepping down ASAP is that his defeat by tea-party backed Dave Brat represents a sort of "no confidence" vote from Cantor's own constituents in Virginia. And given that, they also question whether the conference should have a defeated "lame duck" so prominently at the helm next to Speaker John Boehner through the summer and stretch run of this year's mid-term elections, a reminder to voters.
But an argument in favor of keeping him around as long as possible is that Boehner and the conference don't need — in fact should avoid — a potentially tumultuous and destructive internal leadership battle at this point before the election, and that Boehner should ask Cantor to stay on as leader. There are some who see such a contest right now as potentially even an early proxy vote on Boehner himself, and his entire leadership team.
Correction: An earlier version of this story misstated Cantor's district. It is Virginia's seventh.
---
Tim Alberta contributed to this article