Employers' Role in State Job-Training Programs Will Grow
In a rare bipartisan victory, the Senate just overwhelmingly approved a new approach to workforce investment for new economic times.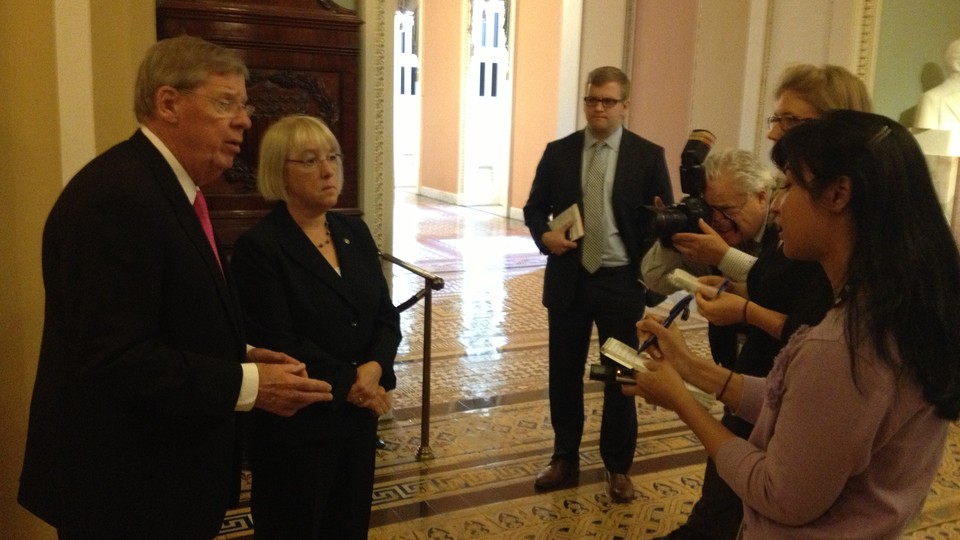 It's a small change, but one that could greatly increase the influence of businesses with their local governments when it comes to job creation. A job-training bill that passed the Senate on Wednesday, 95-3, significantly bolsters employers' voices on local committees that determine what types of job-training programs receive federal dollars. It does that primarily by shrinking these committees to less than half their current size.
Gone are the currently required slots for labor officials, state legislature members, and representatives of "economic agencies." In their place, the legislation designates spots for community-based organizations, joint labor-management programs, and employment agencies. It also allows for a lot of flexibility. One board might have a community-center leader as a member, and another might have a local union official in the same spot. Even the governor's membership is optional.
The most important thing about these Workforce Investment Boards is that they must be made up of a majority of business leaders. That's no different from the current law, but the trimmed-down boards mean that the employer representatives might actually get to use their membership for something other than community service. Right now, some board members complain that they do nothing but attend meetings. The boards are so bloated that they are "unwieldy and can't work," according to Sen. Johnny Isakson, R-Ga., a chief sponsor of the bill.
The measure is an impressive overhaul of bureaucratic red tape that may help ensure that people who need help transitioning into a 21st-century workforce are training for jobs that employers actually need. It has benefited from wide bipartisan support, with Republicans and Democrats alike agreeing that getting more people into the skilled jobs is the most important factor in the country's economic development. Doing so reduces unemployment and gives businesses workers with specific skill sets.
The bill updates the 1998 Workforce Investment Act, which has been ignored almost since its birth. It set up local "one-stop centers" where job seekers can find all of the government employment supports — job listings, training options, and unemployment insurance — in one location. The original measure was signed by President Clinton. But it was President Bush's administration that was responsible for implementing it, and that was never a high priority. By 2008, the economy had changed so much since the Internet boom in which the law was originally passed that the statute was a near-anachronism.
With Senate passage, House leaders are expected to follow suit shortly. President Obama has indicated he will sign the bill.
Once the overhaul becomes law, the Workforce Investment Act will be a trimmed-down, more business-oriented version of the original. It includes new, universal performance metrics that will allow governors to determine what's working and what isn't. Some training programs will get extra money for demonstrating success — i.e., that their clients are gainfully employed after a year or two.
The rewrite is a product of intense talks over the last several months among the chief education gurus on Capitol Hill. Sen. Patty Murray, D-Wash., has been working on an overhaul for years, but her previous versions have done nothing but gather dust. Earlier this year, she was presented with a narrow opportunity to actually pass something (a rarity in the Senate these days) when Senate Majority Leader Harry Reid told Democratic sponsors that he would give the bill floor time in the summer if they could come to an agreement with Republicans on legislation that would also pass the House. Reid's goal was that the bill would pass on the Senate floor by "unanimous consent" — without opposition.
"In the middle of the night, by U.C., that's what we're hoping for," Murray joked as lawmakers were nearing agreement. (It didn't quite happen that way, but it was close. The debate started at noon and final passage occurred around 3:30 p.m.)
Conveniently, Isakson's office is right next to Murray's in the Russell Senate Office Building. He and Murray spent hours hashing out the bill's details and then taking their product to their respective parties. Their House counterparts were in on every conversation, in keeping with Reid's request.
The House Republican job-training bill that passed last year drew loud protests from Democrats because it would have consolidated most of the current training programs into a state block grant. There was no chance of that bill coming to the Senate floor, even though it accurately reflected the preferences of most Republicans. Still, House Education and the Workforce Committee Chairman John Kline, R-Minn., indicated he was open to less drastic changes.
With Reid's deadline in mind, these parties eventually came to a compromise. They cut 15 programs instead of the 35 originally requested by House Republicans. The state workforce boards shrank from 61 required members to 33. The local boards went from 51 members to 19. Youth councils, a confusing subset of the local boards, were eliminated.
The "core indicators" that are supposed to signal success of a training program will become universal when the bill is signed into law. Currently, there are different outcome measures for each type of trainee. Successful aid to a laid-off worker is defined differently than successful aid to a young poor person looking for his or her first job. The paperwork is overwhelming. The data is a mess.
Not everyone is happy, even though lawmakers from both parties acknowledged the significant accomplishment in reaching a bipartisan agreement. Sen. Tom Coburn, R-Okla., lamented on the Senate floor that Job Corps, one of the law's most expensive training programs for young people, is largely untouched.
Critics say Job Corps doesn't have a great track record for its $1.7 billion price tag. Many trainees don't complete the program, and many who do don't find work in the field for which they were trained. House Republicans proposed a major overhaul to Job Corps that would have capped the monetary allotment and required all grantees to reapply for funding when their grants ran out. Yet those changes aren't in the bill now.
"When you ask behind the scenes why we didn't have major reform to Job Corps, it's because of all the parochial people they employ," Coburn said. "Most of the Job Corps programs in Oklahoma are highly inefficient, failing to do what we want them to do."
But even Coburn understands that Job Corps is too important politically for Democrats to make major changes. Isakson said he spent a lot of time with Republicans and his colleagues in the states explaining that his deal with Democrats had too many improvements over current law to hold up over the desire to do more.
"They asked me, 'Did you get everything you wanted?' No. Of course not. 'Did you get enough?' Well, we got plenty," Isakson said.