Editor's Note: About the Redesigned National Journal Magazine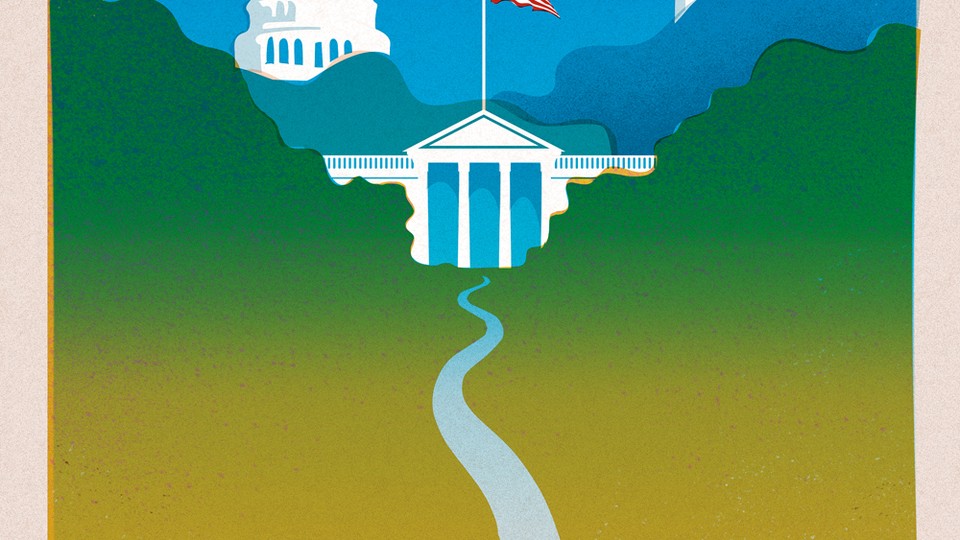 National Journal magazine has a storied history, and if you live and breathe policy and politics, then you know why. Scrupulously nonpartisan, intellectually honest, genuinely serious about government and about ideas, National Journal has always been a publication that everyone in D.C. could trust.
Those are the essential values that we wanted to take forward into the new National Journal. But we also knew that a lot about the magazine had to change. So many of the things that National Journal's print magazine was long known for are now being done on our highly successful website — in greater volume and with greater speed than the magazine ever could have managed.
Yet we didn't, and don't, think the Internet has made print obsolete. It has simply challenged magazine editors to ask themselves: What is print still for?
(Harry Campbell)We've come up with a few answers to that question. A print magazine, we believe, is for narrative writing that is beautifully crafted and deeply reported. It's for journalism that takes big ideas seriously. It's for long pieces that feel short because they're truly fun to read. It's for telling stories that are complicated and nuanced — as almost all stories worth knowing are. It's for describing the characters, famous or unknown, who shape American democracy — and for understanding their agendas, their motivations, their flaws, their strengths. It's for publishing established, brilliant writers, and also for discovering the next generation of storytelling stars.
Finally, we believe that essential to the experience of reading a great print magazine is a beautiful design — elegant fonts, striking illustrations, excellent photography. Joseph Heroun brilliantly reconceived the magazine's overall look and created the stunning designs that fill the pages of our first issue. At the same time, we also wanted to reimagine how we present our magazine pieces online. Jenny Mazer did a fantastic job of devising an eye-catching new digital format for these pieces.
There are plenty of magazines that use the approach to journalism we are now emphasizing — that focus on long-form writing and great storytelling and outstanding art. But there are no magazines that use this approach to relentlessly focus on the world of policy and politics — and that are broadly trusted across the political spectrum. That is the kind of publication we aim to produce.
For our first issue, we wanted to tell the stories of some of the characters and ideas that are likely to define the 2016 election. We hope you won't miss any of these feature pieces:
A Unified Theory of Hillary: To understand what kind of president she would be, consider that her greatest successes and worst failures have the same explanation. By Peter Beinart
He Shall Not Be Moved: There's no obvious reason that Scott Walker should be president. And yet. By Tim Alberta
"I'm Right and Everybody Else Is Wrong. Clear About That?" Bernie Sanders will likely represent the hard-line Left in 2016. Will he help or hurt the movement? By Simon van Zuylen-Wood
Rand Paul's New Confidant: Why the Kentucky senator and Nate Morris became fast friends. By Shane Goldmacher
The Gonzo Option: Brian Schweitzer is a one-man challenge to the scripted nature of modern politics. But just how much can you run your mouth while running for president? By Marin Cogan
1952 All Over Again: It's been more than six decades since Republican noninterventionists were this influential. They lost the battle to control the party then — and chances are, they're going to lose this time, too. By Michael Gerson
In addition, make sure to check out our shorter political narratives, which we are featuring in our new front-of-the-book section, The Inner Loop:
The Demise of Dixville Notch: And the uncertain future of an odd political tradition. By Alex Seitz-Wald
The Biden Dynasty: What you can learn about Joe from getting to know Beau. By Nora Caplan-Bricker
Why is Rick Santorum running a movie studio? By Kevin Lincoln
To produce a terrific magazine 32 times a year will be no easy task, but we are lucky to have some of the best magazine minds in the business steering the ship — especially our deputy editor, Andie Coller, and our managing editor, Amanda Cormier. All of us are looking forward to creating the new National Journal week after week for our members and subscribers. The magazine we are building is one that we think Washington needs. More than anything, we hope it's a magazine you enjoy.
Richard Just
Editor, National Journal magazine