Does Mitt Romney Want to Be the GOP's Philosopher-King?
He's certainly acting like it.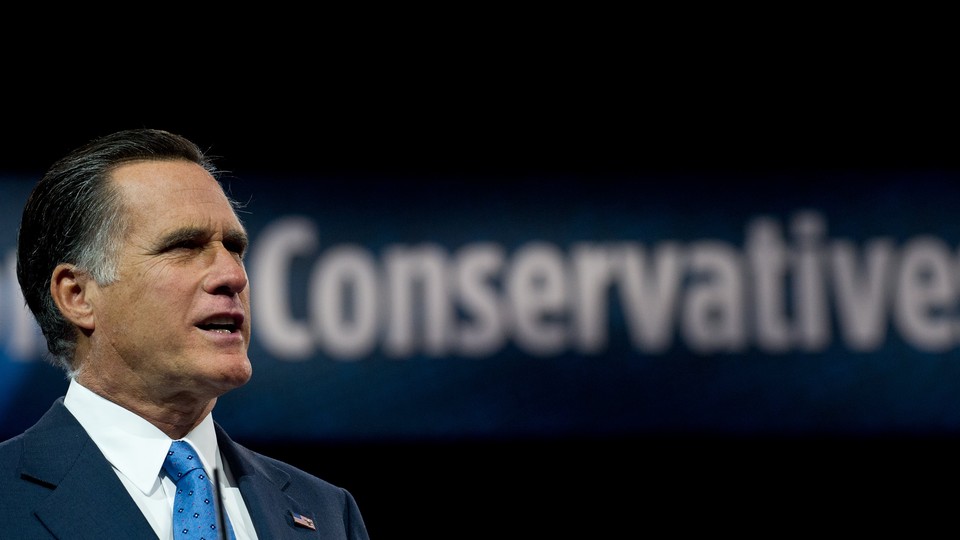 It's been a big year for Mitt Romney — and I don't mean that facetiously. After losing the presidential election, he vowed to retire from a life of chronic candidacy. But that doesn't mean he retired from politics.
On the contrary, Romney is more visible now than he has been since the 2012 election. He's had a (pretty friendly) documentary come out about his failed presidential campaign; Fox News has touted his prediction that Russia is "our No. 1 geopolitical foe"; the National Republican Senatorial Committee is giving one lucky donor the chance to "Grab a Bite With Mitt"; and just this weekend, he hosted a conference for the next motley class of GOP hopefuls.
Members of the Class of 2016 — New Jersey Gov. Chris Christie, Sen. Rand Paul, and Rep. Paul Ryan — all gathered in Park City, Utah, over the weekend to participate in Romney's leadership conference. Called "The Future of American Leadership," the summit resembled a conservative version of the Aspen Ideas Festival. Romney's purpose in hosting the gathering, as Nicholas Confessore wrote, was "to transform the rump of his presidential campaign into a kingmaking force for his largely leaderless and divided party."
To use a grandiose term, what the modern GOP needs is a philosopher-king: someone who can connect candidates with donors and bundlers, who can go on Meet the Press and calmly explain that no, the Republican Party is not in disarray, and who can work quietly in the background without having to sweat the donations or the infighting. In 2012, Karl Rove was the closest thing Republicans had to that kind of consigliere — until, well, it all fell apart. But in 2014, Romney fits that bill precisely.
It's easy to dismiss Romney as a political failure, a historical footnote. But this sort of comeback is not without precedent. Despite running three failed presidential campaigns between 1952 and 1960, Adlai Stevenson nonetheless had a huge effect on the philosophy of that era's Democratic Party, and then on the U.S. more broadly as ambassador to the United Nations.
Romney made his political reemergence last August, when he hosted a fundraiser for the New Hampshire Republican Party near the Romney summer home in Wolfeboro, N.H. "I'm probably not the first person you'd ask for advice," he told the attendees at the event. "But because we all learn from our mistakes, I may have a thought or two of value."
Romney's fellow moderate thought leaders never lost faith in him. Ryan, Romney's former running mate, called Romney "a pillar of the modern Republican Party" in a recent NRSC fundraising email. Joe Scarborough wants to draft Romney for 2016 — an effort Romney has deemed "kind of silly."
Dante Scala, a University of New Hampshire political-science professor, predicted Romney's post-campaign career trajectory last July. "I suspect if he's interested, he'll be looking for more of a kingmaker, behind-the-scenes type of role," Scala told the Deseret News.
And kingmaker is a title that seems to fit Romney well. He has seamlessly transitioned from candidate to a member of the conservative elite. Sen. John McCain went back to governing in the Senate after losing to Obama in 2008. By contrast, Romney is making the leap to politicking.
Now Romney is training his sights on the GOP's next big target: Hillary Clinton. "This administration from Secretary Clinton to President Obama has repeatedly underestimated the threats that are faced by America, has repeatedly underestimated our adversaries," he told David Gregory on Meet the Press on Sunday. "It's not taken the action necessary to prevent bad things from happening. It has not used our influence to do what's necessary to protect our interests."
When asked what the playbook against Clinton is, Romney called her tenure as secretary of State a "bust," and said Clinton's comments about the Bowe Bergdahl swap were "clueless."
"She said "... these commandos don't represent a threat to the United States. Well, of course they do. And then she went on to say they only represent a threat to Afghanistan and Pakistan. Are you kidding?" he said. "I think her clueless comments about the Bergdahl exchange as well as her record as the secretary of State are really going to be the foundation of how a Republican candidate is able to take back the White House."
Mitt Romney will never be president. He'll never be the charismatic populist that his father was. He'll never be as good at glad-handing waitresses and factory workers as Joe Biden is (or Mike Huckabee, for that matter). And he's no longer the face of the GOP — publically, at least.
But quietly, he's reinventing himself as something more powerful and more cherished in modern elections. Mitt Romney the fundraiser may well have more power than Mitt Romney the candidate ever did. If you can't be king, kingmaker will do.