Democrats Should Worry About Iowa
Republican nominee Joni Ernst has to prove she's a strong candidate, but she faces a run-of-the-mill Democrat in a state prone to swing toward the GOP.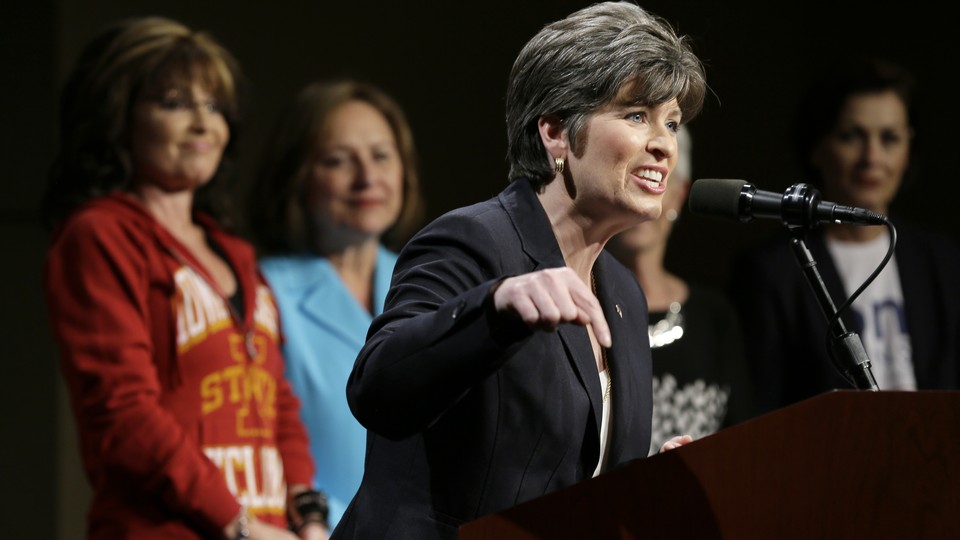 Iowa once looked like one of the great GOP disappointments of 2014. Top-tier recruits such as Rep. Tom Latham and Lt. Gov. Kim Reynolds passed on the open-seat race and left Republicans with a handful of unknowns fighting a messy primary. Democrats, meanwhile, gave four-term Rep. Bruce Braley a free year to prepare for the general election.
But then Braley insulted the state's most important constituency, the Republican Party discovered Joni Ernst, and suddenly a race rarely mentioned as a midterm battleground has become a legitimate pickup opportunity for the GOP. Republicans received another break Tuesday, when Ernst, a state senator from Iowa's rural western half, won the GOP's nomination outright. With 18 percent of the vote in, Ernst had captured just over 53 percent support. Not only did she avoid a run-off by crossing the 35 percent support threshold, her margin of victory is something few would have imagined possible just a month ago.
Ernst has yet to prove she can withstand the scrutiny of a marquee Senate race — some Republicans privately worry she won't — and Democrats remain confident they hold the advantage in a seat the retiring Sen. Tom Harkin has held since 1984. Even the most optimistic of GOP strategists wouldn't rank Iowa as one of Senate Republicans' top targets this year.
But it has joined a collection of second-tier opportunities, a list that includes fellow purple-state battlegrounds Colorado, New Hampshire, and Michigan — each put into play by viable candidates and a favorable political climate for the GOP. And, like them, the Hawkeye State could eventually become an irreplaceable part of the party's plan to take the Senate should it stumble elsewhere.
If Republicans do go on to win in Iowa, they'll trace their victory back to the final week of March. It was then that a video leaked of Braley talking to a group of Democratic donors, urging them to prevent Republicans from retaking the Senate and letting fellow Iowa lawmaker Chuck Grassley take the gavel of the Senate Judiciary Committee.
"You might have a farmer from Iowa who never went to law school, never practiced law, serving as next chair of Senate Judiciary Committee," he said. "Because if Democrats lose the majority, Chuck Grassley will be the next chair of the Senate Judiciary Committee."
The comment went down as one of the worst gaffes of the still-young midterm season, and Braley apologized within hours.
But to Republicans, it provided the frame for Ernst's entire candidacy: a small-time Iowa farmer (and veteran) taking on a condescending liberal more at home on either coast. (It also explains why most, if not all, Republican operatives preferred that Ernst win the party's nomination over the millionaire Mark Jacobs, who could self-fund but would struggle to depict himself as a blue-collar champion.) That's a potentially potent argument in a state that's not just farm-heavy, but also one in which blue-collar white voters made up 56 percent of the electorate in 2010.
"It provides a strong contrast that I think a lot of Republicans in D.C. are anxious to have," said Matt Strawn, a former chairman of the Iowa GOP. "Someone who comes from rural Iowa, who has a nonpolitician feel about her, running against an incumbent member of Congress."
That March week was also a springboard for Ernst's own campaign, when a soon-to-be viral TV ad about her experience castrating hogs made national news. The ad was mocked by late-night comedians, but it generated the kind of attention she needed to separate herself from her opponents and gain the attention of national groups. Ernst received the endorsements of a wide variety of people and groups, including Mitt Romney, Sarah Palin, and the Senate Conservatives Fund.
That attention could benefit her again this summer, when she'll need to replenish her campaign coffers.
"I think you could also see a lot of interest shift from Michigan to Iowa," said one Republican strategist with an eye on the national picture, referring to another midterm battleground where the presumed GOP nominee, Terri Lynn Land, has struggled to answer reporters' basic questions.
Iowa leans left in presidential elections: Although President George W. Bush won it in 2004, the Democratic nominee has claimed the state's electoral votes in every other presidential election since 1988. Despite iIowa's heavily white electorate, President Obama won comfortably there in 2012 by 6 points.
But Republicans have done well in the Hawkeye State's undercard races. Republican Sen. Chuck Grassley has easily won every one of his election since first entering the Senate in 1980, and GOP Gov. Terry Branstad earned a fifth term in office in 2010 with a 10-point victory.
Democrats, for their part, maintain that they see the same race they always have: competitive, but one they'll ultimately win without much fuss. Ernst is unproven and has shown little ability to raise much money, they argue, and will struggle to adjust her message for a general election.
Some of the positions she took in the GOP primary might also come back to hurt her. She has said she would vote against the farm bill and questioned whether the federal government should set a minimum wage — two positions Democrats will remind voters about constantly between now and Election Day.
"I'm sure this will remain a close race throughout the cycle, but it's hard not to see how Democrats don't have a clear advantage," said one Democratic operative.