Darrell Issa Has a New Target""and Democrats Are Joining Him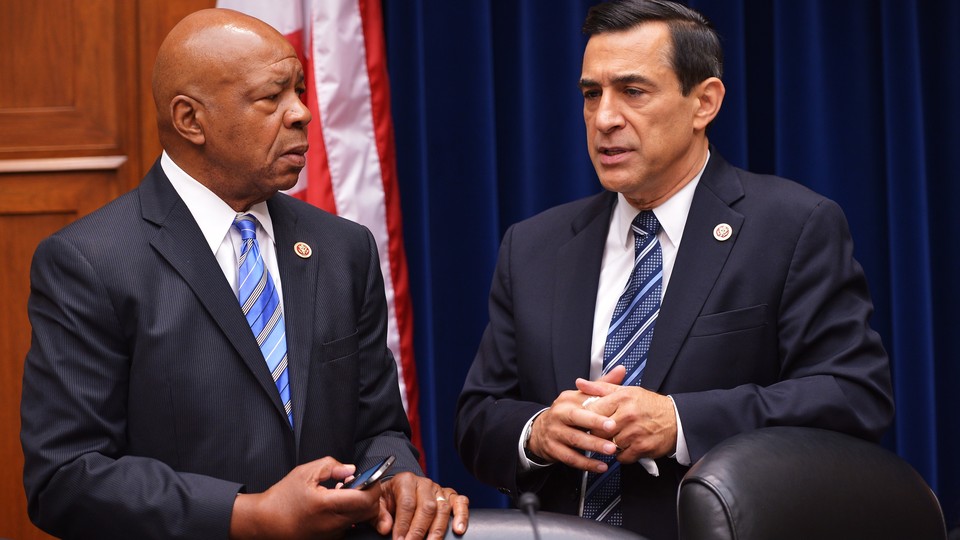 Lawmakers want the head of the federal government's chemical-accident investigation unit to resign, saying he is overseeing a broken board where mismanagement has created a "toxic" work environment.
A House Oversight Committee report alleges the Chemical Safety and Hazard Investigation Board is mired in a managerial mess, with problems including everything from retaliation against whistle-blowers to repression of public debate to obstruction of outside investigations. The dysfunction, the report changes, has forced out investigators and has created an atmosphere that makes it impossible for the board to fulfill its mission.
The issues prompted Oversight Committee Chairman Darrell Issa and other members, including Democrats, to suggest that CSB Chairman Rafael Moure-Eraso step down before his term expires.
"You really need to ask whether or not in your last year, you can really undo the damage of your first five," Issa said.
Speaking after the hearing, Moure-Eraso declined to comment on the resignation calls.
One member of the already shorthanded Chemical Safety Board stepped down after just 17 months of her five-year term. In testimony before the committee, Beth Rosenberg described an atmosphere where staff was discouraged from talking to board members and there was little room for debate or discussion that could foster study of chemical disasters.
"Those whose opinions differed from those of senior leadership or the chair are marginalized and vilified," Rosenberg said. "At the CSB, disagreement is seen as disloyalty. Criticism is not welcome and staff fear retaliation."
The CSB is an independent agency created in 1998 to investigate chemical disasters — everything from the plant explosion in West, Texas, to the BP oil spill — and issue recommendations to private companies and government agencies to prevent future incidents. But it's been beset by a long backlog. Between 2010 and 2012, only 11 of 31 planned investigations were completed, including only two investigations being completed in 2012.
"We are a very small agency charged with a huge mission of investigating far more accidents than we have the resources to tackle," said Moure-Eraso, who has served since 2010. The board normally has five members but presently has just two, although two more have been nominated by the White House.
But the Oversight Committee has charged that it was management issues — many rooted with Moure-Eraso — that have led to staff members leaving, compounding the backlog. An 84-page report featuring 10 interviews with current and former staff members describes "serious management deficiencies."
Particularly at issue was the treatment of the general counsel's office — the report alleges that Moure-Eraso hired counsel Richard Loeb without approval of the rest of the board, then sought to push out then-counsel Chris Warner. Warner was later reassigned, a move that Moure-Eraso said was not a demotion.
The incident created a "tense and conflicted time" among the board, according to managing director Daniel Horowitz, and several investigators left.
The report also accuses Moure-Eraso and Horowitz of "micromanaging" investigations and forcing investigators out, stalling ongoing reports like a high-profile investigation into a Tesoro refinery fire in Washington state that took four years to complete.
It's not the first time the board's management has come under fire. A July 2013 IG report noted a lack of "defined performance indicators," an investigator turnover rate of 15 percent, and out-of-date policies as contributing to an investigative backlog. In a letter to the Oversight Committee on Wednesday, California Democrat Henry Waxman, who was involved in establishing the board, described his work with the board to improve decision-making and planning.
Moure-Eraso's confrontational style has been on display before. In hearings after the West, Texas, explosion, he fired off against the Environmental Protection Agency, pointing out "many large holes" in enforcement. And at one of his CSB's meetings last July, he aggressively overruled a request by two other board members to hold a planning meeting on the investigation backlog.
Rosenberg relayed the latter incident to the committee, saying the absence of a plan contributed to "low staff morale" and that the meeting created a tense atmosphere.
The board has since hired a consultant — Moure-Eraso compared it to a "marriage counselor" — to work on management issues.
The case that launched the investigation had to do with the alleged leak of a whistle-blower's identity from CSB. That investigation was referred to the White House Office of Special Counsel, but launched a second one related to the use of personal email accounts to conduct CSB business. Several emails from a private attorney hired by the board were withheld because of attorney-client privilege. During the back-and-forth over the request, accusations flew of obstruction and the CSB even accused the IG's office of asking an employee to wear a wire to meetings with the special counsel.
In response, the IG took the rare step of sending a "Seven Day Letter" last September to alert congressional committees to the obstruction (the letters are rarely used; only one was sent between 2008 and 2011, according to a Governmental Accountability Office report). The investigation is still open pending the release of the documents.
The attorney client-privilege issue is a murky one (a Greenwire story from October examined it), but the request won't be going away. Issa said he intends to issue subpoenas that mirror the request against the IG. A failure to comply within seven days, he said, would result in the board members being held in contempt of Congress.
And the committee has alleged that CSB members tried to block the investigation, citing memos that recommended staff not respond to requests from Congress.
Rosenberg recalled having discussions with staff in the ladies room and outside of the agency for fear of reprisal. It all adds up to an environment that she said would make it difficult for the board to carry out its work, which she called "unique and important."
"The agency is broken," she said. "It needs to be rebuilt."