Congress to Defense Officials: If You Had Time to Check Legality of Bergdahl Swap, You Had Time to Tell Us
The Obama administration consulted with the Justice Department but did not inform Congress before the swap.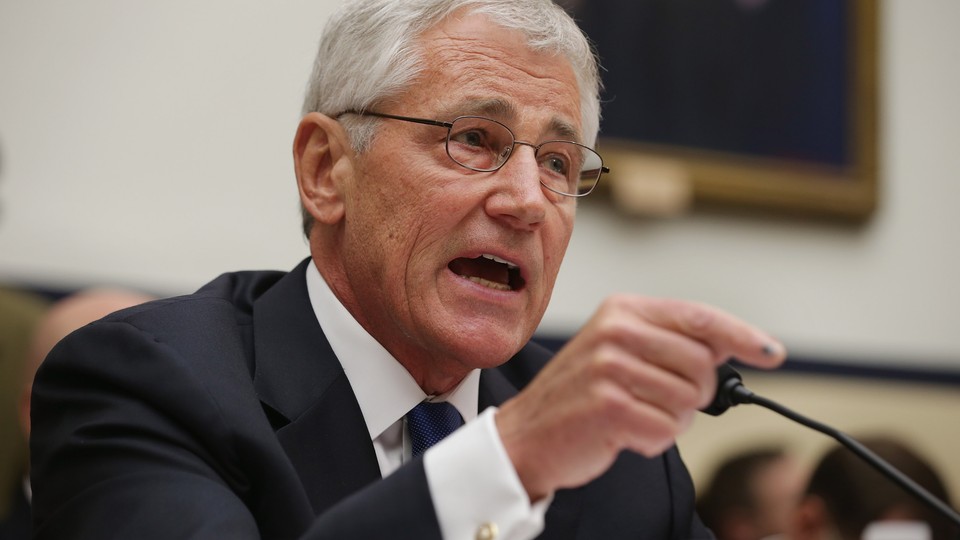 The dispute over the Obama administration's decision not to notify Congress about the Taliban prisoner swap hinges in large part on the days before the exchange was finalized.
In a House Armed Services Committee hearing on Wednesday, Chairman Buck McKeon grilled Defense Secretary Chuck Hagel about the timeline of the swap in which Army Sgt. Bowe Bergdahl was traded for five high-ranking Taliban detainees held at Guantanamo Bay.
"After the exchange was set in motion, only 96 hours passed before Sergeant Bergdahl was in our hands," Hagel told the committee. "Throughout this period, there was great uncertainty about whether the deal would go forward."
Hagel said defense officials checked in with the Justice Department about the legality of the swap before it happened. Both departments decided it was indeed legal, a decision that some have disputed since news of the swap broke.
Stephen Preston, the Defense Department's general counsel, said he could not give the committee the specific time that officials consulted with the Justice Department about the swap's legality. He did say that defense officials received the legal green light for the exchange before the swap agreement was finalized with Qatari officials.
The White House is required by law to notify Congress 30 days before a prisoner swap occurs.
McKeon said that if the administration had time to talk to people outside of the president's national security team, he said, then the White House had enough time to notify Congress before the deal took place. "There was plenty of time," he said. "You had time to talk to the Department of Justice. Eighty or ninety people were informed and knew about this. But Congress was not informed."
McKeon said that the secretive nature of the deal suggests an attempt by the White House to act first and ask for forgiveness later. "You had real push-back from Congress," he said of the first time the administration approached Congress with the idea for a prisoner swap to bring Bergdahl home, in November 2011. "They didn't want those five guys released."
Both Hagel and Preston said that the decision to transfer Bergdahl was not made until May 12, when "security assurances" were in place. The deal was only finalized days before the swap took place on May 31, said Preston, so there was no chance to notify Congress in advance.