Congress: Obama Went Behind Our Backs on Bergdahl and There's Almost Nothing We Can Do About It
Angry as many Republicans and some Democrats are about the violation of the 30-day rule, Congress is acknowledging that they can't enforce it.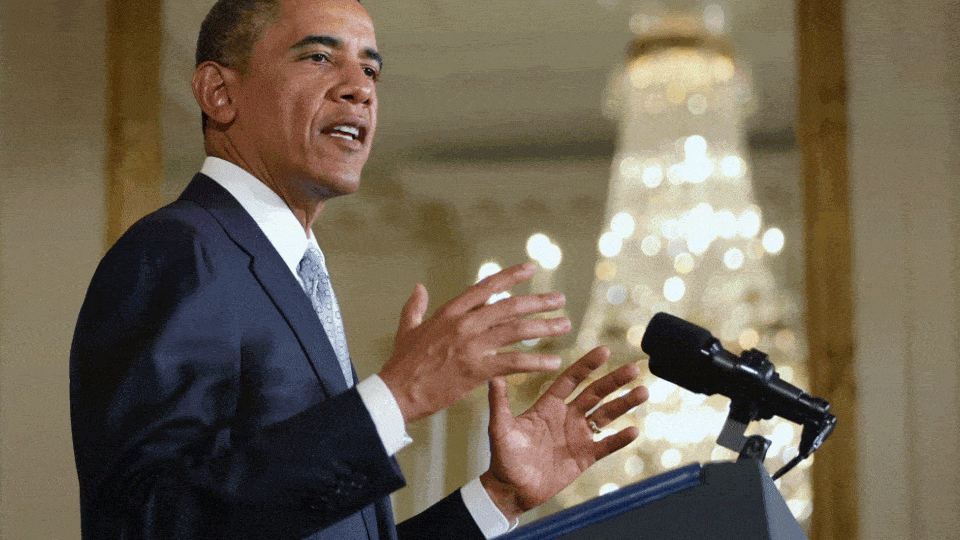 To congressional critics, President Obama appears to have circumvented federal law by not informing Congress 30 days in advance of releasing five Taliban prisoners from Guantanamo Bay. That's surely a recipe for Republican outrage, enough to fuel calls for lawsuits, impeachment, or new legislation.
But in terms of responding to the president's actions, or preventing the administration from acting similarly in the future, there isn't much Congress can do. And Republicans know it.
"I guess we have to go through the attorney general, who does he work for?" Republican Rep. Jeff Miller quipped Monday as he exited a closed briefing on the matter. "It's unfortunate. This is a very important question that has to get answered: the constitutionality of the [National Defense Authorization Act], and I'm very hopeful that we will proceed through and get it clarified and answered because this is a total shift in the way the United States does business."
Republican Sen. Chuck Grassley likewise noted the futility of the situation this week. "There's nothing we can do about the fact that he didn't notify us and violate the law. There's a lot that we can do to get an understanding of how the president arrived at that conclusion, like the constitutionality, the legality."
The specific legal issue here is a provision in the NDAA that President Obama signed into law in December 2013, which stated the administration must notify Congress 30 days before releasing Guantanamo Bay prisoners. At the time, Obama issued a signing statement calling out that specific requirement, emphasizing the flexibility the executive branch has "to act swiftly in conducting negotiations with foreign countries regarding the circumstances of detainee transfers."
Even still, Republicans believe Obama clearly violated the law.
And the answers Congress is getting so far from the White House aren't satisfactory, many members say. "At what point are the American people being disrespected by the failure to give us information, before or after [the prisoner swap]?" Rep. Bradley Byrne, R-Ala., asked after a classified briefing with administration officials on Monday. "I mean they clearly violated the law by not doing it before and [they] did not articulate a legal reason why they had to do that."
Byrne, who sits on the House Armed Services Committee, noted that the House would hold hearings into the matter, but added that even in the context of a hearing, members rarely get the answers they're looking for. Asked if there's anything else Congress can do about the situation, Byrne said bluntly: "Nothing."
There is one thing that House members could do: Begin the process of removing Obama from the presidency. But Republican Rep. Michele Bachmann of Minnesota said that while there are many outside of Washington bringing up impeachment, she isn't calling for such an action.
Why not? It's an acknowledgement of a political reality.
"Even if the House would be successful in impeaching the president, the power of removal lies with the United States Senate and with Harry Reid leading that chamber, I don't foresee any scenario whereby Harry Reid would lead an effort to remove" the president, Bachmann said. "So there wouldn't be a final result if we impeached."
Some lawmakers are using the incident to push bills they say will address an underlying concern. Republican Sen. Ted Cruz pointed to his proposal to freeze all transfers from Guantanamo Bay for six months as one response. Sen. Kelly Ayotte, R-N.H., agreed that further restrictions on transferring detainees could help alleviate the problem.
"The top priority here is preventing the further release of terrorists," Cruz said this week.
But the 30-day rule remains an issue for many members, including Democrats like Senate Intelligence Committee Chairwoman Dianne Feinstein of California and Sen. Joe Manchin, D-W.Va.
Sen. John McCain, R-Ariz., who has been a vocal critic of the Bergdahl swap, said Tuesday he wasn't aware of anything Congress could do to enforce the 30-day rule. "I don't know."¦ If the president wants to disobey the law, then what happens in these things, when they break the trust, then they pay prices in other areas," he said, but did not elaborate.