Comparing Hillary Clinton and Jeb Bush's Reading Lists
Two prospective candidates have shared their favorite recent books. What do their choices tell us about their political insecurities?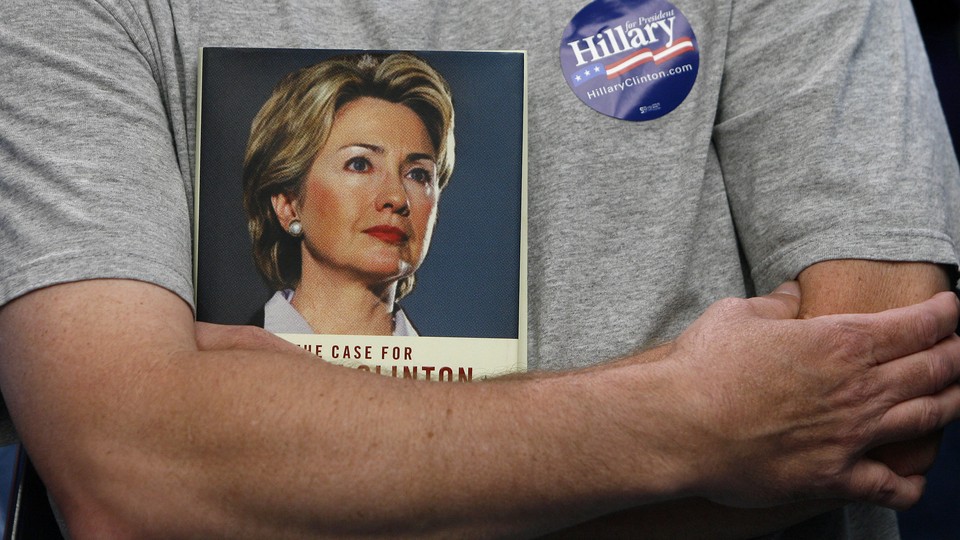 Just like that guy at a party who wants to talk to you about Infinite Jest to show how intellectual he is, some prospective presidential candidates are sharing what's on their shelves. Although there are reasons to doubt this will be a particularly potent political strategy in an age of diminishing readership, it's interesting to know what Jeb Bush and Hillary Clinton are reading—or perhaps more importantly, what they want voters to know they're reading.
First, here's Bush, whose list came in an article portraying him as the Republican Party's chief nerd and is accordingly heavy on policy:
Polk, Walter R. Borneman
The World America Made, Robert Kagan
Knowledge and Power, George Gilder
Their Eyes Were Watching God, Zora Neale Hurston
Abraham Lincoln, Lord Charnwood
The Rule of Nobody, Philip K. Howard
The Future and Its Enemies, Virginia Postrel
The Tragedy of American Compassion, Marvin Olasky
A Message to Garcia, Elbert Hubbard
The Smartest Kids in the World, Amanda Ripley
The Magnificent Masters, Gil Capps
Killing Jesus, Bill O'Reilly and Martin Dugard
To tally, there are two presidential biographies, then a clutch of political and economics books that show the catholicity of Bush's reading: the neoconservative icon Kagan; Reagan favorite Gilder; bien pensant centrist Howard; compassionate conservative Olasky; and libertarian Postrel. But there's also Ripley, a fellow at the left-leaning New America Foundation (and an Atlantic contributor); her book is about improving education. Rounding out the list, showing that Bush is rounded, there's Hurston's classic of black literature, a golf book, and—a nod to both the religious right and the Fox News complex—O'Reilly's pop history. Bush chooses two old books, Hubbard's 1899 Message and Charnwood's 1917 life of Lincoln, suggesting he's not just chasing the latest bestseller. Polk may seem like a odd choice, but he's actually a quiet GOP hero for his fiscal conservativism and expansion of American prestige.
It's easy to read this list as a rebuttal to two of the most prominent critiques of a Bush candidacy. First, against any resistance to Yet Another Bush, it paints him as a detail-oriented guy who's serious about policy, unlike his brother. And against the complaint that he's simply not conservative enough for today's Republican Party, the breadth shows he not a squishy centrist. Hurston might seem like a sop to diversity, but it's worth noting that she had surprisingly conservative politics.
Clinton's list—cleverly spotted by Politico's Dylan Byers in a since-deleted picture of a forthcoming New York Times article—is quite different:
The Goldfinch, Donna Tartt
Mom & Me & Mom, Maya Angelou
Missing You, Harlan Coben
The Hare With Amber Eyes, Edmund de Waal
The Signature of All Things, Elizabeth Gilbert
Citizens of London, Lynne Olson
A Suitable Boy, Vikram Seth
Decision Points, George W. Bush
Faith of My Fathers, John McCain
Clinton also cites as favorite authors Laura Hillenbrand, Walter Isaacson, Barbara Kingsolver, John le Carre, John Grisham, Hillary Mantel, Toni Morrison, Anna Quindlen, and Alice Walker. She claims to be embarrassed not to have read Proust's In Search of Lost Time, though that smacks of humblebrag.
This list showcases Clinton's softer, more relatable side, which voters seem to like but which she sometimes struggles to demonstrate (cf. "You're likable enough, Hillary"). While there are questions about Clinton's stint at Foggy Bottom, from Benghazi to what exactly she accomplished there, no one seems worried that she's not serious about policy; and with her husband still very popular, she doesn't have to run against him. So here we get Hillary: She's just like you! She loves female authors—Alice Walker, yes, but also Elizabeth Gilbert. She's intellectual for Isaacson, but not above a thriller from Coben or Grisham. There's a heavy bias toward memoirs, including the Bush and McCain books, a gesture of bipartisanship. What you won't see here is a provocative choice from the bestseller list: no Elizabeth Warren, no Thomas Piketty, no Michael Lewis.
If there's a surprise, it's how little overlap there is between the two lists, given that Bush and Clinton are very much creatures of the same milieu. Neither mentions Tom Friedman, the perennial shibboleth of the Very Serious, nor are there similarly popular figures who appeal to both left and right, your Fareed Zakarias and Malcolm Gladwells. If both Bush and Clinton run, they won't have much to talk about backstage at debates, except maybe the strain of maintaining political dynasties.