Cochran's Secret Weapon: Democratic Voters
Higher African-American turnout likely prevented tea-party favorite from winning the Mississippi Senate race.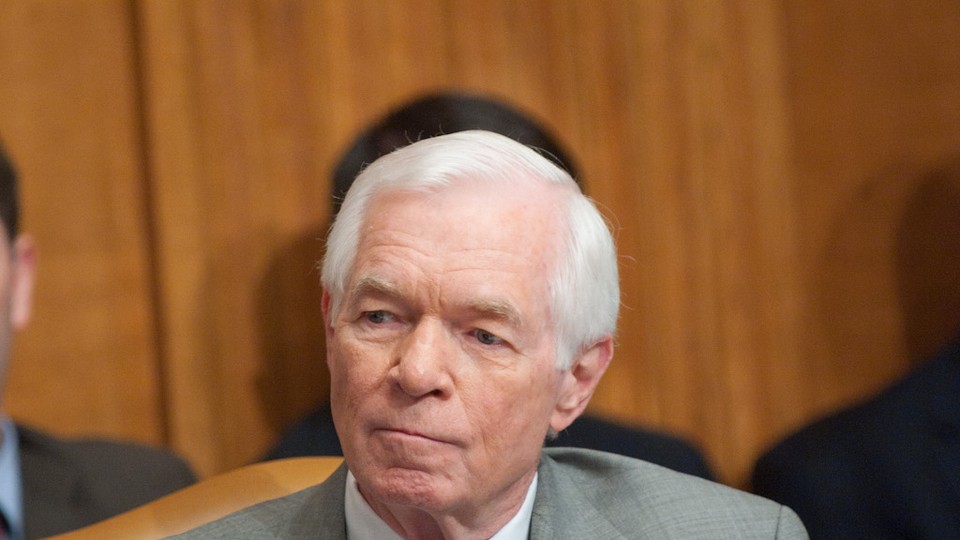 Sen. Thad Cochran's narrow victory over Chris McDaniel in the Mississippi Senate runoff deprives Democrats of their argument that Republicans are beholden to the tea-party wing of their party. But it offers them some optimism that African-American voters will show up in healthy numbers for the midterm elections, given that they made the difference in a Republican runoff in a deeply conservative state.
There was clear evidence that Cochran's attempt to boost Democratic African-American turnout paid off in a big way. In Jackson's Hinds County, where two-thirds of the population is black, Cochran won 73 percent of the vote, 7 points higher than his performance in the primary. Turnout was up significantly in heavily African-American counties in the Mississippi Delta, like Quitman, Sharkey, Humphrey, and Coahoma, where Cochran increased his primary-election margins over McDaniel. Over 347,000 voters cast ballots in the runoff, a higher total than in the primary — marking the first time in 30 years that has happened in any Senate race.
"Looking at county data, Cochran's #MSSEN win is almost entirely attributable to a large turnout increase among black voters b/t 6/3 and 6/24," tweeted Cook Political Report analyst David Wasserman.
During the runoff, Cochran made overt appeals to the state's sizable African-American electorate, including several television ads featuring the senator campaigning with black voters. The New York Times reported that the leading pro-Cochran super PAC, Mississippi Conservatives, paid African-American leaders to get out the vote for the senator in the runoff.
In Mississippi, the electorate is more racially polarized than any other state in the country. African-Americans make up about one-third of the state's voters and they are overwhelmingly Democratic. In 2008, a whopping 98 percent of African-Americans supported President Obama, while only 11 percent of whites supported the president that year. African-American turnout in a Republican primary is a very rare occurrence.
African-American turnout will be critical for Democrats in several Southern Senate battlegrounds featuring vulnerable Democratic incumbents — Louisiana, North Carolina, and Arkansas. In Georgia, Democrat Michelle Nunn also needs African-American voters to show up at the polls to have a chance at picking off a Republican-held open seat. In all those states, Democrats are already working to identify and mobilize less-frequent voters to show up in November.
Democratic campaigns are also working to identify issues appealing specifically to engage black voters. In North Carolina, allies of Sen. Kay Hagan have painted her Republican challenger Thom Tillis as racially insensitive and criticized his efforts to require voter identification at the ballots. Landrieu is calling for Medicaid expansion in her state, which would disproportionately benefit African-Americans, and is leveraging her connections in New Orleans, where her brother Mitch serves as mayor.
Republican party leaders were celebrating Cochran's victory Tuesday night, confident they won't have to spend money in a deeply conservative state or defend a candidate who they aggressively attacked in the primary. But Democrats received a silver lining from the results, too. After all, if African-American voters can help reelect a veteran Republican senator to a seventh term, they could make the difference on behalf of some more natural allies in November.