Changing of the Guard in House Leadership Does Little for Unemployment Insurance Prospects
Senate Republican supporters are wary of signing onto another bill that's going nowhere.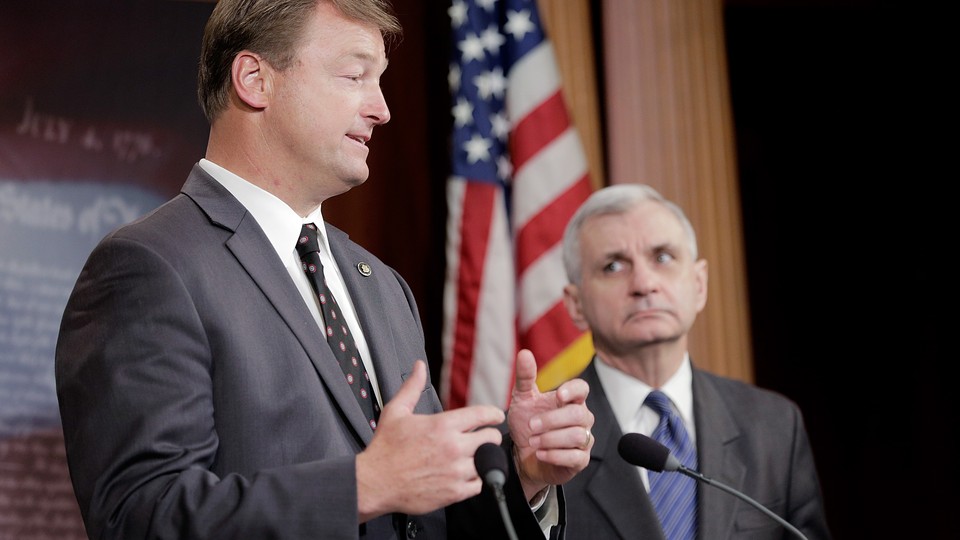 Sens. Jack Reed and Dean Heller introduced an unemployment-insurance bill on Tuesday morning, offering new legislation that looks very much like the bill they passed in April that failed to gain any interest from House Republican leadership before it expired in May.
"What I was hoping would be a sprint has become a marathon," Heller joked Tuesday.
The new bipartisan bill would restore unemployment-insurance benefits for five months but would not be not retroactive to last December. It is, however, protected by the same offsets as the previous Senate bill — which were called "gimmicks" by many House Republicans and a number of their counterparts in the Senate — and does not include a separate jobs provision, something House Speaker John Boehner has said would be necessary for his chamber to consider it.
The Senate's new bill would cost a little less than $10 billion and cover five months of benefits. Unlike the previous Senate bill that expired on May 31, the new five-month countdown won't begin until after the president signs the legislation, preventing senators from having to start over again like they did last time.
Given the lack of substantial changes to the bill, even staunch supporters say passage appears unlikely. "I think it's going to be very tough," Sen. Susan Collins, R-Maine, said.
But Heller and Reed, whose home states of Nevada and Rhode Island have the highest unemployment rates in the country, remain positive. "I think this can get done," Heller said at a press conference Tuesday. "It's going to take more sides working together, trying to solve this problem."
Heller began this week with a potential ace in his pocket: a close ally who recently rose up in the ranks of House leadership.
At first, the election of Kevin McCarthy of California to House majority leader Thursday looked like a good sign for unemployment insurance advocates. Heller and McCarthy were both members of the class of 2006 in the House and hail from neighboring states. When murmurs of Eric Cantor's resignation began two weeks ago, Heller crossed the Capitol to drop by McCarthy's office and offer his support. The two didn't discuss unemployment insurance in that meeting, but the close relationship between Heller and McCarthy offered a ray of hope that, at the very least, Heller's interest in the issue would be heard.
Heller has since called the new majority leader and received some disappointing news: McCarthy and Boehner are on the same page. "His message was very clear. It was very similar to Boehner's — very similar to Boehner's — and that is, 'We want job provisions,' " Heller said, adding that their conversations will continue. Boehner has called repeatedly on President Obama to make a deal with the House, offering reforms to energy, taxes, or the health care law, Heller suggested, in return for an extension of unemployment-insurance benefits.
Heller is still hopeful, and has said repeatedly in recent weeks that he's sympathetic to the House members' concerns. The chamber has about 40 jobs bills languishing in the Senate and would like to see one or more brought to the floor in exchange for a vote on unemployment insurance.
Heller said he has spoken with Obama about the issue, and was grateful for his support, but he called on the president to take a more active role on the issue. "I know this issue is important to the president," he said "He needs to be more engaged. He needs to pick up the phone and talk to the speaker and say, 'Hey, how can we get this done?' " Heller said.
But Reed, a Democrat, said that the Senate has already jumped through a number of hoops for House Republicans — paying for both Senate bills and removing retroactive benefits, which the House argued would be difficult to administer, in the new legislation — and he called additional concerns from the House "not reasons [to not pass the Senate bills], but excuses."More than 3 million Americans have lost their unemployment-insurance benefits since the program expired last year, he noted. "I don't think we can leave these families behind," he said.
And with summer coming and unrest in the Middle East, Heller added, this legislation is more important than even. Heller said he is growing concerned about gas prices going up during travel season and putting even more families in a financial bind.
For now, the lack of movement in the House has even some Senate advocates for reform balking at the idea of another vote that's heading nowhere. "You know, how many times do we have to go through this exercise without the House actually showing some interest or making some movement so that we can all jump on board," Heller said of Republican supporters. "They don't want to go through this exercise over and over again. And they'll end up casting the appropriate votes, but they want this legislation [to become law]."
Although the new legislation does not include retroactive benefits for those who stopped receiving checks after unemployment insurance expired in December, it will allow those who had not yet completed the program to resume receiving benefits for however many weeks they had left when the program expired.