Can North Carolina's Latinos Help Democrats Hold the Senate?
Latino voters aren't a major force in this year's most critical Senate races, but some Democrats think North Carolina's small Hispanic population could play a critical role.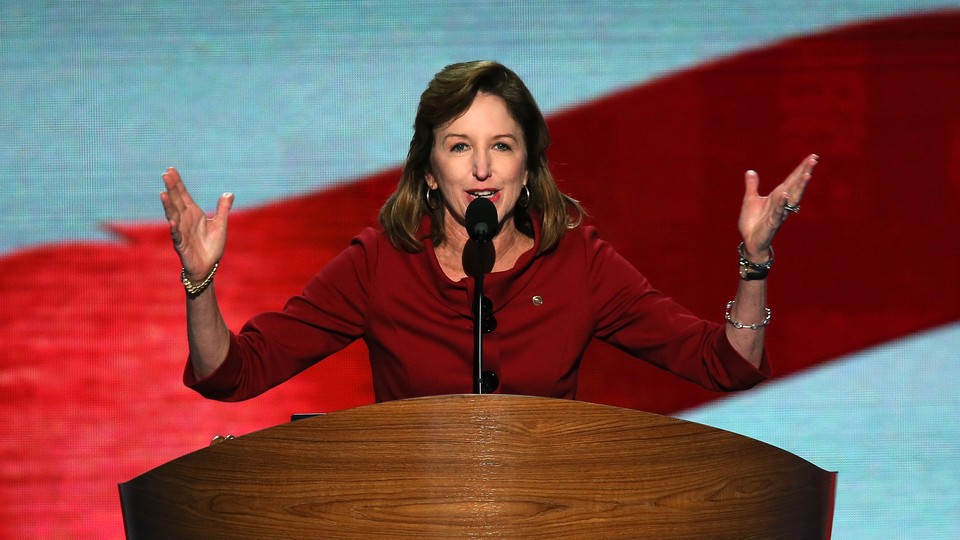 Hispanic voters may be a rising force in American politics, but they will be all but invisible in most key Senate races this year.
For all the talk after 2012 of the growing group's political importance, Latinos are concentrated in specific states, and they just happen to be ones that don't figure into this year's battle for the Senate. Even so, in one important, closely divided campaign, some Democrats see a big opportunity with this relatively tiny group.
Latinos have punched well below their weight in turnout, barely making up 2 percent of the electorate in North Carolina during the 2012 presidential election despite accounting for nearly 9 percent of the state's population. They display an even bigger drop-off rate for the midterms than the general population. But in a race that's expected to be extremely close, Democrats see a slice of the electorate that, though small, could potentially give Sen. Kay Hagan just the push she needs to win a second term.
One outside group is already running Spanish-language radio ads in the state, where the Hispanic community can brace for significantly more attention in the coming months. State and national Democrats think they can tie Republican state House speaker Thom Tillis to a policy agenda they view as unfriendly to Hispanics by targeting inexpensive Spanish-language media in an otherwise pricey campaign.
That groups focused on Latino voter turnout have chosen to focus on North Carolina, a state where their vote share in 2012 was five times lower than the national average, shows just how small a role the much-discussed bloc will play in 2014. But it also highlights how close the race for control of the Senate is, and how Democrats are taking every step they can to encourage friendly voters to cast ballots in the traditionally low-turnout midterm election year.
"It's true that it's a small percentage of the population, but we're talking about a midterm in which any and every vote is going to make a huge difference," said Pili Tobar, the Democratic National Committee's director of Hispanic media. "I think there's a misconception that there are only certain states where, because the Latino population is large, they're the states where they will matter. In reality, we're seeing more and more states, particularly in the South, where there is a growing population that will make an increasing difference in these races."
People For the American Way put up the state's first Spanish-language ad, a radio hit on Tillis over education and tax breaks for the wealthy, this past May. The group is gearing up to go on television closer to the election, continuing their message that Tillis threatens many of the policy issues most important to Hispanic voters.
Tillis, who has recently been embroiled in a race-based controversy for once referring to white voters as North Carolina's "traditional" voting bloc, gives PFAW a candidate they think will drive Hispanic voters to the polls to vote against.
"North Carolina is the first state we've gone into because Thom Tillis's extreme agenda is forcing our hand to get involved early," said PFAW political director Randy Borntrager. "We're extremely concerned about the Latino community understanding what's at stake, so we engaged quickly."
Borntrager said Tillis's record on Medicaid, education, and tax breaks for the wealthy, combined with a history of "foot-in-mouth" comments when it comes to minorities, was something PFAW would make sure all Latinos were aware of come November.
"He's so bad on so many issues that's it is an incredible motivation to get out and vote," Borntrager said.
As PFAW takes on education efforts, the state's Democratic Party is also at work on the largest get-out-the-vote operation North Carolina has ever seen in a Senate race. North Carolina Democratic Party spokesman Ben Ray said his group was also counting on Tillis as a motivating factor for Latinos to register and vote.
Meanwhile, communicating with Hispanics offers Democrats a much less expensive way to talk to potential voters than is typical in North Carolina. PFAW spent a grand total of $1.4 million on election-related activity in 2011 and 2012; Americans for Prosperity has already spent many times that on North Carolina TV in recent months alone. But Spanish-language ads that target their specific audience allow the anti-Tillis group to use its money more efficiently than on English-language media.
"There's a lot of very efficient ways to use money to communicate with the Latino community," Borntrager said. "There's Spanish-language radio and television that goes further, and many people overlook these channels as a way to communicate. This sector and this way of communicating is something we specialize in."
The hope for major returns from the effort may be optimistic. North Carolina Democratic political consultant Thomas Mills said that while Democrats are right about the growing influence of Hispanic voters, outreach efforts in the 2014 cycle aren't likely to result in enough votes to make a difference.
"Every bit counts, and in a remarkably close election like North Carolina is likely to be, it's smart to get all of your base out," Mills said. "But I have a hard time seeing them being a major force. They'll definitely play a big role two or three cycles from now, but probably not in 2014."
Borntrager disagreed. He points to his group's work in Virginia's gubernatorial election, where exit polls showed that Hispanics made up 4 percent of the electorate in 2013, as proof that Hispanics don't need a critical mass to tip the scale.
"The point here is that the Hagan-Tillis race is going to be extremely close, and what we're doing is extremely efficient, the cost isn't much," Borntrager said. "So if it's an extremely close race, like it was in Virginia in 2013, it's a small but extremely influential group, especially in a midterm."