California GOP Embraces Opportunity to Rebrand With Kashkari
California Republicans had worried about a tea partier carrying their flag in the governor's race.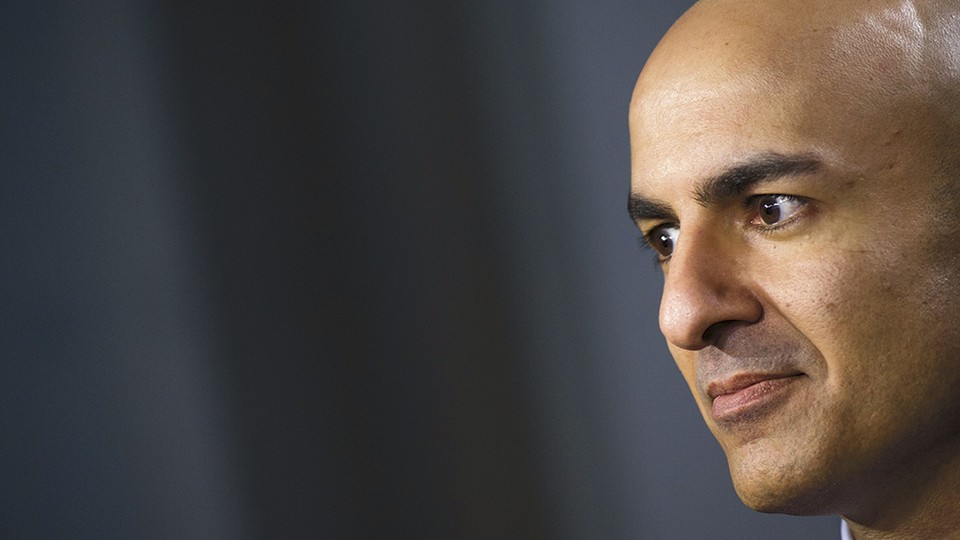 Former U.S. Treasury Department official Neel Kashkari didn't win much more than the right to lose to Democratic Gov. Jerry Brown again when he claimed the second place spot in California's top-two gubernatorial primary on Tuesday.
But faced with the prospect of almost certain loss to the popular Brown in November, the California Republican Party avoided a more regretful fate at the hands of far-right state Assemblyman Tim Donnelly, who sought to appeal to the state's ever-shrinking cohort of highly conservative voters and held potential to damage Republican prospects in competitive House and legislative races farther down the ballot.
Kashkari, who administered the 2008 bank bailout under former Treasury Secretary Henry Paulson, placed a distant second to Brown, the popular incumbent, who won more than 54 percent of the vote — well more than double Kashkari's 19 percent. Donnelly finished a close third with 16 percent and will not proceed to the general election.
Kashkari performed a last-minute turnaround in the final weeks of the race, helped along by $2 million of his own money and the financial backing of billionaire Charles Munger Jr., who put hundreds of thousands of dollars toward an independent-expenditure effort intended to boost the second generation Indian-American's prospects. Kashkari was also endorsed by a gaggle of top-tier Republicans, including 2012 vice presidential nominee Mitt Romney, former Secretary of State Condoleezza Rice, and former Gov. Pete Wilson.
Donnelly's defeat was a relief to many Republicans, who feared the controversial views of the former Minuteman and Tea Party Patriot would serve as a drag on the California GOP's entire slate of candidates come November. Democratic strategist Bill Carrick described a Kashkari win as "a big victory for the establishment."
"He's definitely a victory for people who are trying to expand the Republican Party beyond the hard-core base," Carrick said, although he added, "I don't think that'll help him much against Jerry."
At a campaign stop over the weekend in Silicon Valley in front of a largely Indian- and Asian-American crowd, Kashkari said, "I've got two goals: I'm running for governor to beat Jerry Brown, to help fix the state. No. 2 is to help rebuild the Republican Party in California and around the state."
In a state where 60 percent of the population is nonwhite and Republicans make up just 28 percent of registered voters, Kashkari offers a fresh face. The former Goldman Sachs employee voted for President Obama in 2008 and describes himself as a nonpracticing Hindu who's accepting of abortion rights and same-sex marriage. He intends to keep his focus squarely on jobs and education.
Despite his successful turnaround in the primary, however — he had been trailing Donnelly in the polls up until the past weekend — he faces tough odds against Brown in November. A USC Dornsife/Los Angeles Times poll released Saturday had Brown leading Kashkari 53 percent to 35 percent among likely voters in a two-way ballot test. At the end of May, Brown reported more than $20 million on hand for his campaign and Kashkari reported $1.4 million, some of which was undoubtedly drained before Tuesday.
Brown, for his part, has recently hinted he's looking beyond 2014 toward the not-so-distant future. Since retaking the state's highest office in 2010 after a 28 year hiatus, the man once nicknamed "Governor Moonbeam" built his reputation as a no-nonsense, results-minded leader through his work to close the state's once-gaping budget deficit. In a recent interview with The Washington Post, the enigmatic third-term incumbent refused to rule out a 2016 presidential bid — in the scenario that former Secretary of State Hillary Clinton declines to run.
Jill Hanauer, president of progressive research firm Project New America, worked for Brown when he headed the California Democratic Party in the early 1990s, and described him as an "intellectual" who "was accountable and did what needed to be done" in his most recent years in office. On the possibility of a presidential run, Hanauer recalled the governor's days as a liberal agitator in the 1976, 1978, and 1992 Democratic presidential primaries. "Who would've thunk?" she asked. "It shows you politicians really do have at least nine lives."