Bowe Bergdahl's Prison Letters Reveal His Frustrations With the Army
"Please tell D.C. to wait for all evadince [sic] to come in."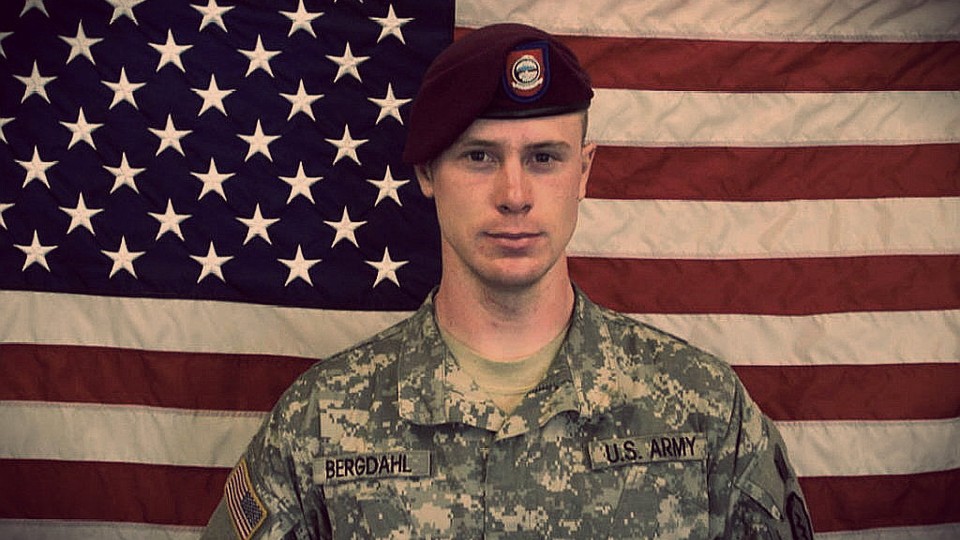 The Daily Beast has obtained copies of two letters Bowe Bergdahl wrote to his family from a "Taliban prison" in 2012 and 2013. The website received the letters from "sources in contact with the Taliban."
The first letter, dated Nov. 27, 2012, is more philosophical and encourages his family to enjoy the free lives they lead.
"I pray every one is well. I think about you all every day. And all the things that happened in my life. I miss you all, but as papa says, God's will be done. All things happen for a reason. Mathmatics is full evidence of this, just because we cannot understand the master equation, does not mean it is not there. Math is God's code for this Universe and beyond. I miss you all," he wrote.
"The beauty of God's work goes beyond anything we could ever think of! Though I stand in this Universe and with these eyes I see, ah, but so little do I see of all the beauty that is here. And all the beauty, simply, God's work. But though I see so little, it is better then to see nothing at all. I look forward to hearing of all the things you have all done in the time I've been in prison. Have some good adventures for me, and learn + do as much as you can. Never stop moving."
In his next letter, dated March 23, 2013, Bergdahl implores government officials to wait until all the evidence comes to light before judging his actions:
To Famiely and Friends

Taking care and well. months into 2013, winter over and worm weather here. Letter from dad came today. Missed thanksgiving, wonder who is winning the race now, good hunting to you and our friends, wonder how the weather was Southland and house big the herds are now.

Thanks for go to d.c. know it is long way to go. If this letter makes it to the U.S.A. tell those involved in the investigation that there are more sides to the cittuwation and origanal plans never came clear. the cercomstance from the begaining of my time in Aphganistan from Immedet top to bottum where bad for troopers espeshly in my PLT. Orders showed a high disconcer for safty of troopers in the field, and lacking clear minded logical and commonsence thinking and understanding from topsides. The cercomstance showed sighns of going from bad into a nightmar for the men in the field. Unexceptable conditions for the men working and risking life every moment outside the wire. There are some risks that are forced to be taken, however it was made clear more then once that clear minded understanding from leadership was lacking, if not non-existent. The conditions where bad and looked to be getting worce for the men that where actuly the ones risking thier lives from attack as well as aphgan ellaments. Please tell d.c. to wiat for all evadince to come in.

things well. take care.

Keep powder dry. Miss Id. N. Bowe Bergdahl PFC 2nd PLT B Co. 1-501st U.S. Army.
Bergdahl was captured by the Taliban after walking off his base in 2009, and held in Pakistan for five years. Now, he's coming home, in exchange for five members of the Taliban who were prisoners at Guantánamo Bay.
As Michael Hastings wrote in 2012, Bergdahl's unit in Afghanistan suffered from incompetence:
The unit, for its part, continued to bungle even the most basic aspects of military duty. During the last week of June, the platoon spent a day resupplying at Forward Operating Base Sharana. When someone in the unit lost his weapon, everyone in the platoon had to drop what they were doing and look for it. To make matters worse, on an earlier trip to Sharana, 10 members of the platoon had been poached to pull guard duty at another base, leaving the unit even more undermanned than usual.
According to U.S. officials, Bergdahl was held in a cage in the dark for weeks at a time. However, he was able to receive letters from his family sent through religious leaders in Pakistan. In their letters, (which The Daily Beast is not releasing out of respect for the family's privacy) Bergdahl's parents sound desperate for their son's return.
"There are many people on your team across the country, but you know it is hard for everyone to come to an agreement," they write. "We hope the diplomats who have worked so hard on your behalf will have a chance to finish their work and bring you home," they add.
Soon, their wish will be granted. And when he comes home, they'll face another struggle.