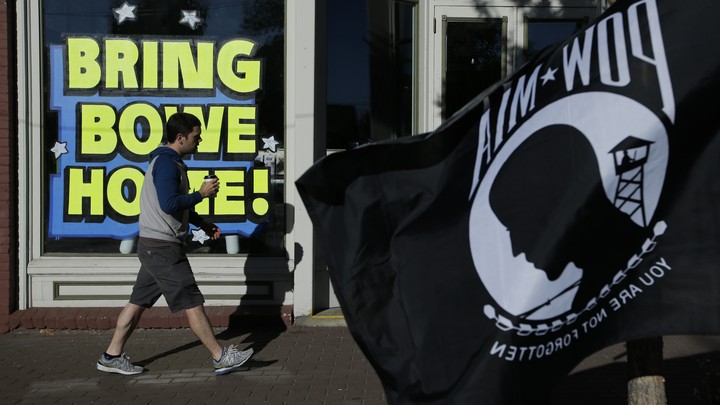 This article is from the archive of our partner
.
Bowe Bergdahl's hometown has cancelled his welcome home celebration, matching the tone of the nation's welcome. The city's administrator told Reuters that the June 28 rally was cancelled because the town "will be unable to safely manage the number of people expected." And while that's the official word, all the patriotic civilians who called the city's residents with negative messages can probably take some of the credit.
Between 10,000 and 50,000 people were expected to visit the town of 8,000 for the "Bowe Is Back" celebration, including bikers from Boise's POW/MIA organization, according to NBC News. But, as Reuters notes, the city has been increasingly called on to cancel the celebration, due to the allegations that Bergdahl deserted his post in Afghanistan prior to being captured.
Over the last few days, residents of the town have spoken with reporters about the town's reaction to his return. "The conditions he must have endured. There were times I lost faith that he was even alive, that he would ever make it home," hotel worker Adam Marks told the Los Angeles Times. "But a lot of people here didn't lose their faith at all." On Monday NBC released a video with residents saying they're "100 percent" behind Bergdahl and excited for the celebration. 
By Tuesday the Bergdahl backlash was well underway, and NBC News reported that residents of the town were receiving negative calls from those who allege Bergdahl deserted the army and is the reason several soldiers died in search of him. Some people were calling to cancel trips to the town, while others called with messages of "hate."
The dramatic drop in support for Bergdahl has also spread to the internet, where many individuals have argued that Bergdahl is not a hero. Oftentimes those anti-Bergdahl tweets come from people who desperately wanted him to come home. 
hot damn pic.twitter.com/WumcEBQezu

— Matt Binder (@MattBinder) June 4, 2014
The city of Hailey wasn't expecting the backlash. "All these five years, never a word of any negative nature whatsoever," Jane Drussel, the president of the Hailey Chamber of Commerce, told NBC News. Still, the city planned on going forward with the event and emphasized that Bergdahl is innocent until proven guilty. "The City of Hailey believes in due process, and we are very happy to let the process unfold," said the city's mayor. "In the meantime, our celebration will focus on Bowe Bergdahl's release and the relief of his family and those who live here."
This article is from the archive of our partner The Wire.
We want to hear what you think about this article. Submit a letter to the editor or write to letters@theatlantic.com.
Arit John
is a former politics writer for
The Wire
.