As Oil Industry Booms, Past Bust Rears Its Head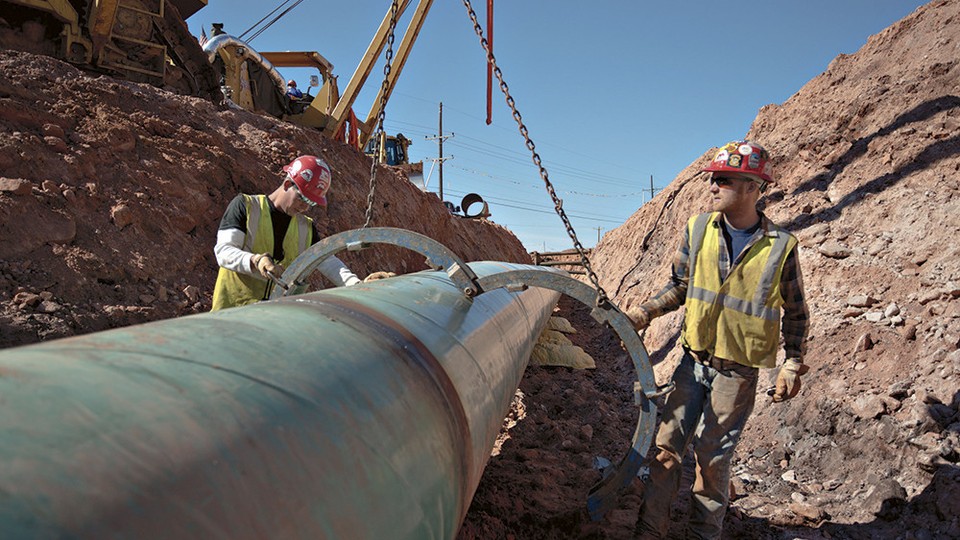 Just as the energy industry appears ready to ride the gas boom to success, a collapse from three decades ago is coming back to haunt it.
When oil prices dropped in the 1980s, most companies imposed an effective hiring freeze, and many started shedding employees. That created a gap in workers of a certain age that, now that members of the baby-boom generation heading for the doors, is leaving the industry with nobody to take their places.
And this "shift change," as some are calling it, is threatening to leave companies without the experience and labor they need — from welders to white-collar workers — as production ramps up.
"It's a problem that has been brewing for some time," said David Dismukes, executive director of the Center for Energy Studies at Louisiana State University. "You're seeing a lot of companies scrambling for people, from professional entry-level jobs up to middle and senior management. People just didn't move through this industry for a number of years, and that's coming home to roost."
Schlumberger Business Consulting has projected that by 2016, retirements of baby boomers would mean a deficit of 15,300 "experienced petrotechnical professionals," about 19 percent of the workforce.
Job openings are an odd problem to have at a time when millions of Americans are desperately seeking work, but the problem isn't bodies — it's skill.The technical jobs require training and experience, and with so many construction and drilling projects coming on line at the same time, companies are cautioning that there just aren't enough workers to go around. The demand is driving up wages as well.
So how exactly did the industry find itself with such a massive labor gap?
It's the product of one drilling boom and one drilling bust.
Currently, the industry is taking off, snapping up all the laborers it can to build up and maintain infrastructure, from rigs to export terminals. It would seem that with high unemployment coupled with the gas boom would be a simple supply-demand equation. In the Gulf Coast, for example, the construction of natural-gas liquefaction terminals is expected to created thousands of construction and technical jobs. (That's helped Gulf states defy the national unemployment picture — Louisiana's unemployment rate of 4.5 percent ranks 10th in the nation.)
But new workers can't replace experience, and that's where the 1980s bust is coming back to haunt Gulf Coast drillers.
When oil prices dropped from $35 a barrel to as low as $10, companies responded with hiring freezes and layoffs that stretched through the end of the decade. An industry that had a peak of 860,000 jobs in 1982, according to the Bureau of Labor Statistics, shed more than a half-million of them by 2000.
As the industry grew less attractive, colleges shed training programs, and fewer students chose engineering or petrochemical majors, meaning a slower trickle of new entries.
And so, a generation gap emerged. A new analysis from recruiting firm Russell Reynolds and Associates gathered input from 30 of the top oil, gas, and power companies and found that 61 percent of executives in those companies are older than 52 and eyeing retirement. Twenty-seven percent are between 44 and 52, while 13 percent are younger than 44.
In short, there are more executives ready to retire than there are those to take their places. And the ones who are stepping in don't have as much experience.
"What we hear is that the historical base of talent has been diminished," said Stephen Morse, who heads the Russell Reynolds' global energy and natural-resources practice. "And you have this massive disruption of technology, which is making people less qualified for senior roles."
Ahead of the current gas boom, the American Petroleum Institute was even warning that the employment issues could put a damper on the sector's "optimistic future prospects."
"It is human resources that offer a potentially more binding threat to industry expansion than physical resources or their characteristics," the group wrote in a 2005 industry survey.
And while the skilled labor shortage has drawn plenty of attention because of the need for construction workers, electricians, and other workers to build and staff energy infrastructure, the upper-level gap could also imperil the sector as it deals with increasingly more difficult and dangerous techniques.
To fill the gap, company leaders have been promoting skilled labor training (and petrochemical and engineering majors are growing), and companies are looking to incentivize the jobs. API on Thursday launched a website meant to connect people with jobs and training in the industry in a bid to fix the shortage on all levels.
But that won't do much to replace decades of industry experience among executives, which has companies looking for new ways to fill their management shortages. Morse's firm surveyed a variety of methods executives have used to address the problem, including using more rotational assignments to give employees experience across the field and grooming employees for long-term roles. Morse said a "game-changing" approach has been creating "stretch roles" that divvy up a senior-level executive's responsibility among multiple positions.
It has also forced a traditionally insular industry to start looking to other sectors, like aerospace or the military, to fill the openings.
Michael Nasche, a veterans' outreach and engagement specialist with oilfield-services company Baker Hughes, said his company sees veterans as a fit for "mechanical assembly, field operations, machining, repair and maintenance, and logistical coordination," but is expanding to put veterans in corporate positions as well.
Himself a veteran, Nasche said in testimony before the House Natural Resources Committee that when he returned from Iraq he felt he had the reputation of being "just a door-kicker with post-traumatic stress and a broken-down body from the physical toll of being an airborne infantryman," but found an opening with the company as it placed a premium on hiring veterans.
But even with an influx of outside help and newly trained workers, Dismukes warned that the effects of the 1980s bust will continue to reverberate.
"You can't replace experience," he said.