As McCarthy and Co. Make Leadership Runs, What Would Their Primary Challengers Say?
After Cantor, moving up in leadership will probably attract attention and future challengers for House Republicans. Their past primaries may show what issues they'll have to defend in the future.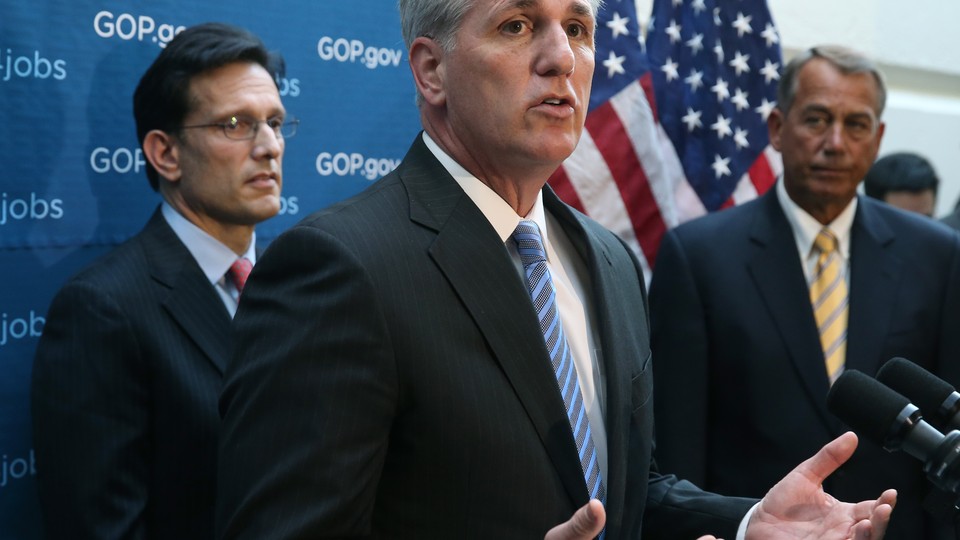 Nobody should assume that the new additions to House leadership this summer will ever face anything like the primary trouble that outgoing House Majority Leader Eric Cantor just suffered. But Cantor's loss paints a target on his prospective replacements, whose future primaries may be contested with more spirit than the past ones.
All of them represent safely Republican districts, but any primary issues that have flared in the past, including immigration, could rise to a new level under the magnification of party leadership in future years.
Immigration, the issue that economics professor Dave Brat trumpeted in his winning primary campaign over Cantor in Virginia, has already played a prominent role in House Majority Whip Kevin McCarthy's local politics this term, even though the potential majority leader is running unopposed. In December, McCarthy faced protests, sit-ins, hunger strikes, and a 285-mile "pilgrimage" to his district office by pro-reform protesters. The opposition was ubiquitous, including "immigrants, priests, CEOs, police officers, and Republican donors" in Bakersfield over his immigration stance, according to The Wall Street Journal. "I can't go anywhere in the community without being protested," he told the newspaper. "I don't see how that is productive."
But protests on the other side of the issue included antagonistic TV advertising from activists who thought McCarthy's stance on immigration was too soft. As Roy Beck, the CEO of the anti-immigration group Numbers USA, directed the group's members to call McCarthy and oppose legislation that provided "amnesty" to undocumented immigrants, the group Californians for Population Stabilization aired ads saying McCarthy wanted to "legalize 11 million illegal aliens." Bakersfield tea-party activists said immigration-reform progress in the House could lead to an attack on McCarthy's right.
American Action Network, a pro-reform group, ended up deciding to buy its own TV time to defend McCarthy. The ad said McCarthy's "conservative approach" on immigration included greater border security.
Besides his well-documented attention to his district, though, McCarthy has another thing working in his favor to keep immigration — or any other issue — from becoming a primary problem: California's all-party, top-two primaries make it harder to challenge Democrats from the left or Republicans from the right.
Those looking to replace McCarthy as majority whip, pending his move up to the majority leader's office, are in similarly safe Republican seats. And their past experience with primaries has been notably spare, offering few hints on what any future challenger would do if their leadership roles were to anger the GOP base.
Rep. Steve Scalise has had little primary opposition in Louisiana; in fact, nobody has declared an interest in challenging the Republican Study Committee chairman so far this year. He has collected more than $1 million in campaign contributions, just in case.
Meanwhile, Rep. Peter Roskam has never had a primary challenger as a congressman. Even when he was first elected in 2006, Roskam actually won the GOP nomination unopposed in his Illinois district, having scared off other potential hopefuls.
As for underdog Rep. Marlin Stutzman, he easily beat two challengers for his party's nomination this year, after facing no opposition in the Indiana Republican ranks at all in 2012. He was appointed to the House ballot in 2010, replacing Rep. Mark Souder after the primary — when Stutzman had finished as a runner-up to Dan Coats for the GOP Senate nomination. In the process, though, he won the support of then-Sen. Jim DeMint and RedState editor Erick Erickson, who called Stutzman "a conservative rock star."
Yet if there's anything we learned from Cantor's loss, tides can change quickly on lawmakers, especially when their attention turns to Washington — and, more importantly, when someone makes the effort to test them.
"I think McCarthy is not as popular as his numbers show," McCarthy's 2012 Republican challenger, auto-parts store manager Eric Parker told the Bakersfield Californian. "He has not had any competition. So is he really popular or is he the only game in town? We're going to find out."
The results aren't always, or even often, dramatic. McCarthy carried his all-party primary that year with more than 70 percent of the vote.