As a State Wrangles, Its Coast Is Swept Out to Sea
A lawsuit against the oil industry has launched a flurry of bickering, but no cash to fix the coastline.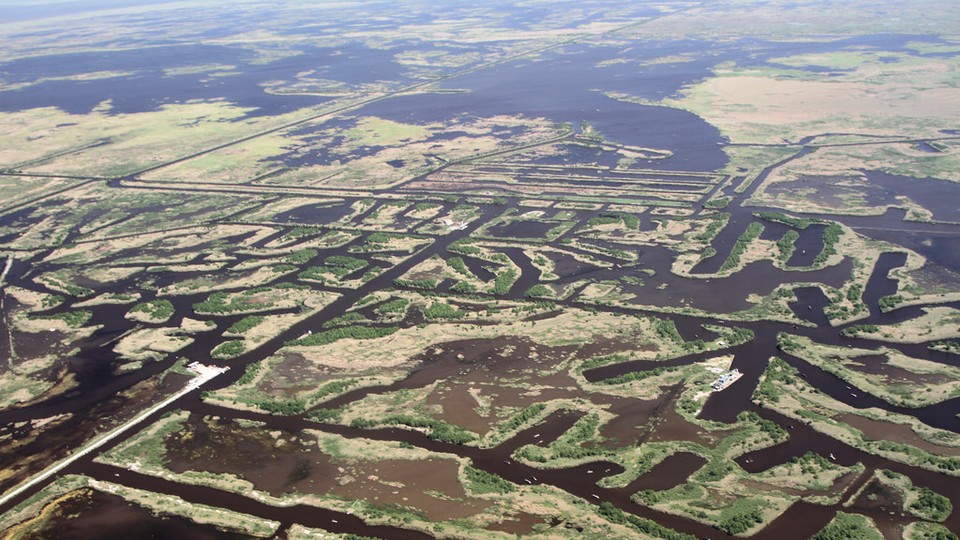 BATON ROUGE, La. — John Barry is either a hero or a huckster, a concerned citizen or a radical activist. It depends on who you ask.
Barry, as part of a board appointed by the state to study flood protection after Hurricane Katrina, helped engineer a lawsuit against 97 oil and gas companies, seeking damages that would help pay for a plan to mitigate Louisiana's eroding coastline. The suit charges that the companies' activities contributed to the coastline shrinking and they should pay to restore the state's natural flood protection.
"People want to call me an environmental activist, but this is not about activism. This is about law and order," said Barry. "The law required [companies] to clean up after themselves, and they didn't do it."
It's that lack of cleanup, Barry and his ilk allege, that's fueling an ecological catastrophe: Louisiana is being swept out to sea.
It's not an abstract problem. The state has lost some 1,300 miles of marshes and barrier islands since the 1930s, and it's only getting worse. The U.S. Geological Survey estimates that 75 square kilometers are being lost annually, and the wetlands could be gone in 200 years. And as they disappear, Louisiana is losing the buffer that shields its communities from storm surges and hurricanes.
And so to hear Barry tell it, his board is seeking accountability by making an industry pick up the tab for the damage it has caused.
The suit's opponents — a powerful bloc that starts with the oil industry and goes all the way up to Republican Gov. Bobby Jindal — tell a different story, one of a rogue board allied with trial lawyers that is pursuing court-sanctioned extortion. And they've gone to the state Legislature to pass a bill that would kill the lawsuit, which Jindal signed into law last week.
"Most of us think this is about money, not fixing the coast," said state Sen. Robert Adley, who helped pass the bill. "If the government is going to fix the coasts, the government can step up and get that money. You don't just sue people to get it."
When the board sued, the thinking was that it would put the companies on notice, perhaps cajole a few of them to strike a deal. What it's done instead is launch a bitter battle of finger-pointing and legislation about lawyers' contracts. It also has awakened the environmental movement. An expected challenge to the lawsuit-killing bill adds another court fight to the mix.
All without producing a single dollar's worth of the funding needed to fill a massive budget hole in the Louisiana's plan to save its vanishing coast.
Louisiana in 2012 approved a plan that would build new levees and restore marshland, but it will cost upward of $50 billion over 50 years. Of that, about $1.2 billion is expected from a settlement with BP over the 2010 oil spill and a revenue-sharing bill will contribute some $600 million starting in 2017.
As for the rest of the tab? That's where Barry thinks the oil companies come in. Companies will dredge canals to house pipelines or move massive drilling equipment. When a storm surge floods the land, salt water stays behind in those canals, killing the plants that feed the marshes and contributing to the hastening erosion.
According to the suit filed by the Southeast Louisiana Flood Protection Authority-East, the companies have failed in the duty spelled out in their permits to fill in the canals and restore the land, steps that would help mitigate the damage. According to various studies, oil and gas activities have accounted for a large piece of the destruction — the USGS puts the number at 36 percent.
"Industry regulations and the law are clear: These sites must be protected or repaired, but there's little, if any, evidence that energy companies fulfilled those obligations," Gladstone Jones III, one of the lawyers representing SLFPA-E in the suit, said last year. "Instead we have a record of coastal land loss and ruin."
SFLPA-E was one of two boards created by the state in the aftermath of Hurricane Katrina to study and fortify the state's defenses against flooding. So the lawsuit — a unanimous effort by the nine board members — was seen as an unprecedented strike against the powerful oil industry.
The board expected plenty of pushback (indeed, Barry and two other members did not have their contracts renewed at the end of their terms this fall in what was seen as political revenge), but it also hoped to bring some companies to the table to discuss a settlement. Attorney General Buddy Caldwell hinted this spring that could be an option.
It even inspired two similar suits from Jefferson and Plaquemines parishes, and some other coastal areas are said to be considering their own.
But the industry doesn't seem ready to play ball just yet. First, it tried to get the suit tossed (the attempt was rebuffed but is being appealed).
"The levee board is a rogue state agency that went out on its own to do something it wanted to do for the benefit of some well-financed, wealthy trial lawyers. All it is is a money grab. It's not about the coast, it's about John Barry writing his next book," said Don Briggs, president of the Louisiana Oil and Gas Association.
"Besides that, we don't believe we're responsible for the destruction of Louisiana's coast."
Briggs was speaking from his office in the association's Baton Rouge office, a mansion formerly owned by ex-Gov. Jimmie Davis. A window in Briggs's office looks onto the state Capitol, and it's there that the most potent opposition to the lawsuit has taken place.
Jindal has vowed to kill the suit, making it a priority for this legislative term. "We're not going to allow a single levee board that has been hijacked by a group of trial lawyers to determine flood protection, coastal restoration, and economic repercussions for the entire state of Louisiana," he said last summer.
A flurry of bills emerged to kill the suit, but the one that passed would retroactively bar the flood board's contracts with the lawyers. It effectively kills the suit, but allows ones filed by parishes to move forward.
At the heart of the legal struggle is a pair of mutually exclusive narratives about what's really happening in Louisiana: One side says it's challenging an industry that has been too powerful for too long; the other holds that a band of rogue trial lawyers are taking advantage of Louisiana's litigious climate and threatening to stifle the state's most important economic driver.
Regardless of their motivation, the flood board's suit has galvanized a long-dormant environmental movement to strike out against what's been the state's dominant economic interest. They've even got an army, led by retired Lt. Gen. Russel Honoré, who led the Joint Task Force after Hurricane Katrina.
And he's not shy about identifying an enemy.
"This is a fight," Honoré said. "The oil companies have hijacked the f — ing democracy. They'll say they do it because of the economy "¦ but that's a sad excuse for not wanting to change and it's a poor example of the abuse of power by an industry."
Honoré — who lobbies with an unfurled green ribbon under his flag pin — insists he's not an environmentalist (his pet issue is hurricane preparedness), but is simply trying to restore balance with the industry. The informal Green Army has united groups ranging from the national Sierra Club to state outfits like the Louisiana Bucket Brigade for the first time under a confederation with a mock military seal with a pelican and the slogan "Health, Sustainability, Community."
Their united effort has drummed up opposition to fracking efforts near Mandeville and moved the Legislature on air monitoring, but the priority was to protect the levee board lawsuit and force industry accountability. The groups say they have the public on their side — a November poll sponsored by supporters found that 90 percent of citizens favored having the oil companies pay for restoration rather than taxpayers.
The choice isn't that simple. Louisiana's coasts were disintegrating before production ramped up, thanks largely to construction of levees redirecting the Mississippi River. That robbed the marshes of the silt and sediment that would normally flow to restore the land. Rising sea levels have buried more of the barrier islands. Even giant nutria rodents brought in from South America for their fur have played a role by gnawing away at the marshes.
With so many culprits, there's no clear source of money. Most want the federal government to chip in for the restoration plan, but the odds of a pot of billions going to the Gulf are non-existent. The Gulf of Mexico Energy Security Act will send annual money to the coast and Sen. Mary Landrieu has proposed the Fair Act, which would give Gulf states a greater share of revenue from oil and gas activities.
"America as a whole has to step up," said Adley, adding that an "outside-of-the-box" funding plan that incorporated federal, state, and private dollars would be necessary. Not helping, he said, was a lawsuit that created an "interpretation of guilt" for oil companies that otherwise would be open to discussions.
To the industry, the lawsuit is asking them to follow requirements that weren't in place when their activities began and aren't applicable while permits are still open. So rather than striking a deal, they're seeking to control "a rogue state agency and a bunch of trial lawyers," in Briggs' words.
It comes at a time when the industry is already facing more than 100 "legacy lawsuits," where landowners sue every company that's held a lease on a tract of land for environmental damage. Given the state's status as a "judicial hellhole" dictated the American Tort Reform Association, there's concern that Louisiana may not be worth the effort for drillers, unwelcome news in a state where oil and gas accounted for 9.7 percent of the GDP in 2010.
"No industry can feel comfortable making significant additional investments in this uncertain legal environment," said Bruce Vincent, president of Texas-based Swift Energy Company in a press conference criticizing the suit. "There are other states, including one large state right across the Sabine River, where oil and gas operators do not face this uncertainty."
But as the struggle continues, so does the problem it has thus far failed to solve. The coast continues to vanish, with the damage increasingly obvious from satellite photos. And it's the threat of the impact of that damage that looms over all the politicking.
"What we are talking about is protecting peoples lives and property from hurricanes," Barry said. "Everyone knows that truth."