American Citizen Among Missing Teens Found Dead in Israel
Israeli defense official vows to "make the entire Palestinian leadership pay a heavy price."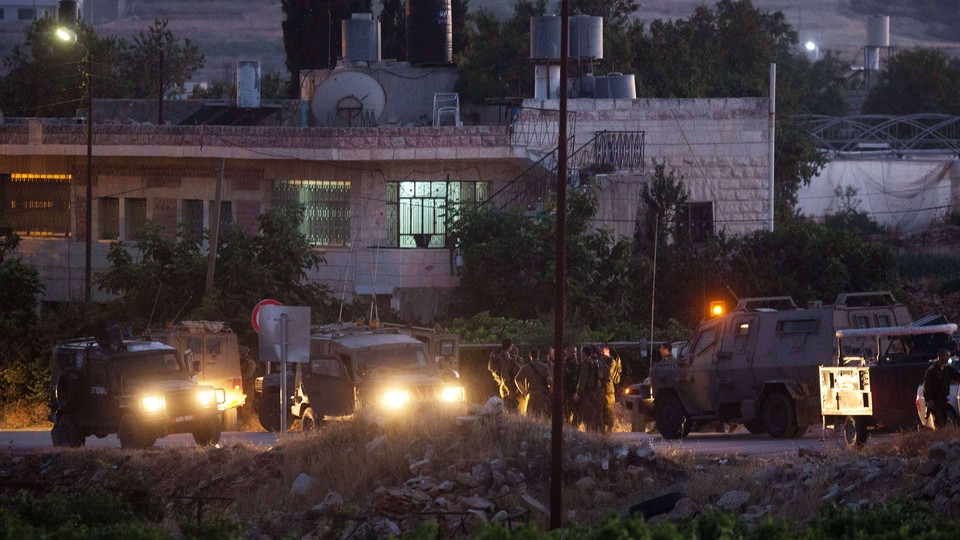 The bodies of three Israeli teenagers who disappeared in the West Bank more than two weeks ago were found Monday in an field north of Hebron, ending a massive search operation that was accompanied by a volley of accusations between Israeli and Palestinian government officials.
In the weeks after the disappearance, Israeli forces swept through Palestinian towns and cities in search of the missing teens and those who took them, arresting hundreds and killing five in the process. The Israeli government accused Hamas of coordinating the kidnapping, and said it would hold President Mahmoud Abbas of the Palestinian Authority, who recently struck a reconciliation deal with Hamas, responsible as well.
"The United States condemns in the strongest possible terms this senseless act of terror against innocent youth," said President Obama in a statement.
The bodies found were those of Naftali Fraenkel, 16, Gilad Shaar, 16, and Eyal Yifrah, 19. The three disappeared while they were returning home from a yeshiva—a religious school—in the West Bank. Fraenkel is a U.S. citizen.
"The entire nation is bowing its head with unbearable sorrow this evening," Israeli President Shimon Peres said in a statement. "Over the past 18 days the nation prayed as one that the fate of our wonderful teenagers would be that they are found alive and well. Now that the bitter news has come, the entire Israeli nation mourns the premature death of our finest youth."
Israeli Deputy Defense Minister Danny Danon struck a more aggressive tone, calling for the total destruction of Hamas: "[W]e have to destroy the homes of Hamas activists, wipe out their arsenals everywhere, and stop the flow of money that directly or indirectly keeps terror alive ... make the entire Palestinian leadership pay a heavy price."
In his statement, President Obama cautioned against allowing the issue to divide Israeli and Palestinian politicians. "From the outset, I have offered our full support to Israel and the Palestinian Authority to find the perpetrators of this crime and bring them to justice, and I encourage Israel and the Palestinian Authority to continue working together in that effort. I also urge all parties to refrain from steps that could further destabilize the situation."
The Israeli security cabinet called for an emergency meeting after the news was announced on Monday.