A Very Weird Semester at Randolph-Macon College
The two candidates vying to replace Eric Cantor are both professors at the same tiny liberal-arts college in Virginia.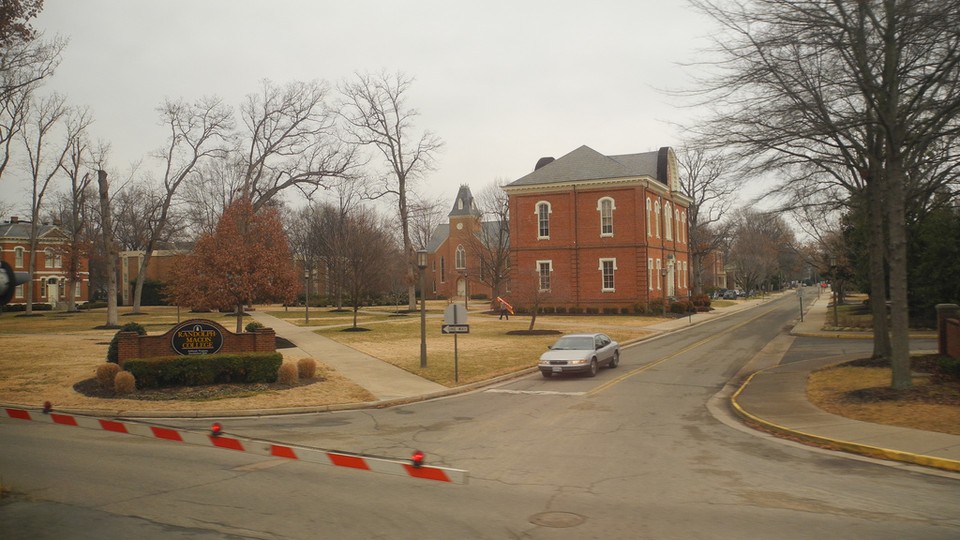 You've heard academia referred to as a snake pit. You've heard tales of academic infighting, and maybe even read about the time earlier this year when one liberal-arts-school professor, who was accused of plotting to kill a colleague, sued the accuser for defamation. More often, faculty members' political battles revolve around more mundanely nefarious things, such is how to oust their own dean.
Now imagine that two professors at one of said colleges are actually running for Congress against one another. It sounds like the plot of a bad reality show, but at Randolph-Macon College, a small liberal-arts college in Ashland, Va., that's precisely the situation.
David Brat, who just ousted House Majority Leader Eric Cantor in what has been widely reviewed on the Internet as a shocking and historic Republican primary loss, is a tea-party-loving professor of economics who already has Washington talking fearfully about the coming populist revolution. On Rate My Professor, he has a 3.5 out of 5.0 rating for overall quality and a glowing chili pepper to signal a high level of physical attractiveness.
Particularly notable, however, is that even the students who gave him poor ratings seemed to be in awe of him. "Brat changes assignments all the time, but he's so charming you forget to be mad at him," said one student, after rating him "poor quality" with a frowny face. Another who rated him poorly seemed to be criticizing teaching as a profession: "Great guy, but almost too smart to teach." Said another who gave him bad ratings, "He's an amazing teacher, his classes are very interesting and he knows how to catch students' attention." Too bad no one taught that latter student how to use the website.
Brat's Democratic opponent, Jack Trammell, is a professor of sociology who until Tuesday had been rated only twice on Rate My Professor since 2008 (fortunately he's been rated three more times in the last 12 hours). Like Brat, he has a glowing chili pepper to signal physical attractiveness and earned a 4.2 for overall quality.
The campus is likely crawling with reporters already, but until they file their dispatches, we bloggers will have to make due with social media. Take for instance, Trammell's colorful personal Twitter page and Brat's recent musings on how Hitler's rise could happen again. No word yet on how this will affect their syllabi, but it's going to be a colorful semester at Randolph-Macon College.