70 Years Later, Police Arrest Alleged Nazi in Philadelphia
"There is no statute of limitations," the court document filed against him reads.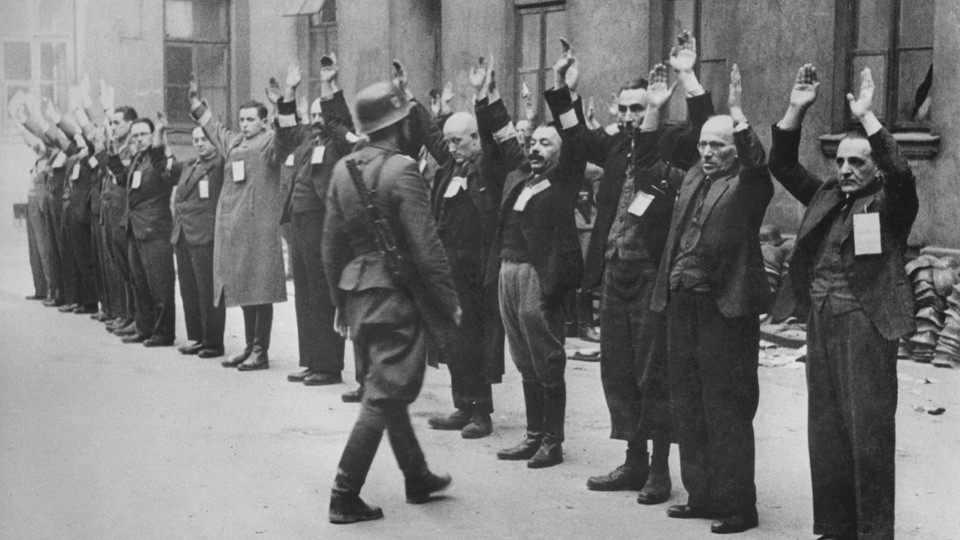 Seventy-two years ago, Johann Breyer allegedly joined the German SS. On Tuesday, per a U.S. federal District Court order, he was arrested for it.
Breyer, a Czech-born Philadelphia resident, was charged with being complicit in the murder of 158 trainloads of Jews in 1944. "There is no statute of limitations," the court document filed against him reads. In summary, the filing states:
Accused is wanted by the Federal Republic of Germany, on a warrant issued on June 17, 2013, by the District Court of Weiden, Germany, charging him with complicitly in (i.e., aiding and abetting) the commission of murder (158 counts) at the Auschwitz II-Birkenau camp of the Auschwitz concentration camp complex for the which the Federal Republic of Germany formally request the arrest and extradition of the accused from the United States for trial in Germany on these offenses ...
The Philadelphia Inquirer reports that Breyer had previously admitted to working at the Auschwitz II-Birkenau camp, but has said "he had nothing to do with the slaughter of millions of Jews and others believed to have died inside the gates."
Germany — so many decades removed from the war — still actively seeks out and prosecutes those involved in Nazi war crimes, regardless of the suspects' advanced age. In 2013, the German office that investigates such matters recommended the prosecution of 30 former guards, along with a newly invigorated resolve to find more.
"My personal opinion is that in view of the monstrosity of these crimes, one owes it to the survivors and the victims not to simply say 'a certain time has passed, it should be swept under the carpet,' " Kurt Schrimm, a German official who heads a special Nazi prosecutor's office, told the German paperDer Spiegel. Schrimm has also said that even those who worked in concentration-camp kitchens could be seen as being complicit to murder.
Breyer, according The New York Times, came to the United States in 1952. The U.S. tried to deport him in 1992, over charges that he hid his alleged Nazi past from his naturalization papers. But Breyer successfully argued he was a legal U.S. citizen, having been born to an American woman. Now, Germany has called for his extradition. He may currently be suffering with mild dementia (according to his lawyer). The court has yet to decide whether to send him to Germany for trial, though it looks likely. He has been denied bail.
It's also likely that Breyer will be the last person on American soil charged with Nazi crimes. The German government may want to chase down WWII-era criminals, but time is chasing them down, too.