Will Russell Bucklew's Execution Be the Next Death-Penalty Disaster?
Missouri plans to kill a convicted murderer Wednesday, but his health and the state's secrecy about lethal-injection procedures raise serious constitutional issues.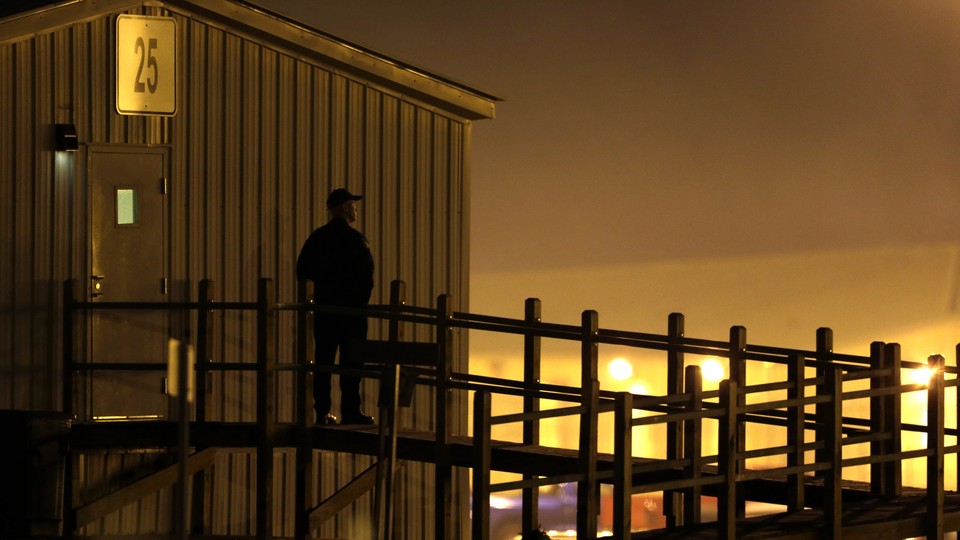 Aside from the fact that he is likely to be executed early Wednesday in Missouri, Russell Bucklew is arguably the right man at the right time and place. For at least a few more days, he is a living, breathing, exquisitely damaged symbol of the most contentious issue in capital punishment today: the relentless push by officials in death-penalty states to keep secret key information about the lethal drugs they intend to use on condemned prisoners.
Bucklew's serious health problems guarantee that his execution will be far more complicated than most that have occurred recently during this season of discontent over injection procedures. That grim fact (and the botched execution last month in Oklahoma) have put pressure on officials in a state notorious lately for hiding its execution procedures from public view. And, to add to that pressure, several news organizations last week filed two First Amendment lawsuits seeking more basic information from Missouri's executioners.
The litigation to make Missouri's death-penalty more transparent and hold officials more accountable won't spare Bucklew or any other death row inmates scheduled to be executed in the state anytime soon. And neither the state courts nor the 8th U.S. Circuit Court of Appeals, with primary federal jurisdiction over the state, have shown any inclination to stop recent executions or otherwise require officials to reveal more about the drugs they wish to use or how they are procured.
But if Bucklew's execution goes badly—his lawyers want it videotaped for evidence—the furor could dwarf the uproar over Clayton Lockett's execution. More than their Oklahoma counterparts, Missouri officials have been warned that they may be proceeding dangerously and unlawfully by using new injection protocols against a person whose medical condition makes him particularly vulnerable to the process—and, worse, that they are doing so without affording Bucklew's attorneys or the courts the opportunity to meaningfully review those procedures.
If Bucklew's lawyers and doctors are correct, if their client becomes a bloody mess Wednesday morning when the lethal drugs are administered, the killing (or the halted killing) of Bucklew may force the federal courts to confront and address the meaning of lethal-injection-secrecy laws in Missouri and elsewhere. Once that happens, it's possible (but not guaranteed) that those laws will be struck down because they shield vital state functions from public (or even judicial) review. What a mighty symbol Russell Bucklew would then become.
* * *
Like Lockett, and like others who have been executed recently under a cloud of state secrecy, Bucklew is not an innocent man. In March 1996, he murdered a man named Michael Sanders in front of Sanders's 6-year-old son and then kidnapped and raped the woman who had been living with Sanders, a woman who, not incidentally, was Bucklew's ex-girlfriend. Then there was a car chase and a shootout with the cops. It didn't take long for a jury to sentence Bucklew to death.
But Bucklew today is very sick. According to the testimony of Dr. Joel Zivot, a defense expert witness in the case, Bucklew "has a tumor growing in his face, occupying the nose, throat, and airway passages and causing him to experience constant facial pain and pressure as well as constant difficultly breathing." The congenital cavernous hemangioma, the doctor asserts, "results in a significant and dangerous compromise" of Bucklew's airways.
That causes medical and ethical complications for officials who want to ensure that Bucklew takes his last breath through those compromised airways sometime after 12:01 a.m. local time Wednesday. The way Missouri intends to do that, however, with a combination of lethal drugs, and without adequately testing Bucklew to try to better predict how his body may react, has caused Zivot to conclude that his patient will likely suffer an unconstitutional level of pain:
Based upon my review of Mr. Bucklew's medical records, it is my opinion that a a substantial risk exists that, during the execution, Mr. Bucklew will suffer from extreme or excruciating pain as a result of hemorrhaging or abnormal circulation of the lethal drug, leading to a prolonged execution.
After examining Bucklew in person on death row last week, the doctor was even more definitive. There is simply no way, he asserts, that the Missouri officials responsible for Bucklew's execution (none of whom will be doctors) will be prepared for what is likely to happen when Missouri's drugs meet Bucklew's body. From the second Zivot affidavit:
In examining the inside of his mouth and throat, I noted a very large vascular mass. The mass arises through the hard palate, extends into the upper maxilla on the right, and fully encompasses the uvula and distorts the anatomy of Mr. Bucklew's airway. Mr. Bucklew's airway is severely compromised or obstructed due to the hemangiomas. It is also friable, meaning it is weak and could tear or rupture. If you touch it, it bleeds.
Bucklew's attorneys don't argue that he shouldn't be executed. They argue instead that he cannot be executed without being subject to "cruel and unusual punishment" so long as he has his tumor, Missouri does not adequately treat him for it, and the state insists upon using drug combinations likely to exacerbate Bucklew's condition. All death is painful, his lawyers say, but in this instance excessive pain—unconstitutional pain—can be avoided.
Last week, state attorneys replied in a remarkable 12-page document filed with the court. The filing devotes a page and a half to describing the murder of which Bucklew was convicted, as if his crime somehow were relevant, as a matter of law, to his current condition. It is not, but it's there in the brief to remind Missouri's judges that by recognizing Bucklew's rights they would be showing mercy to a killer.
"Russell Bucklew appears to have serious medical issues that Bucklew claims place him at a higher risk of pain from an execution than an ordinary healthy person," the state concedes, but it maintains the courts should deny him relief anyway because he's waited too long to make his claim. Moreover, Missouri contends, Bucklew's claim should be rejected because he hasn't come up with "a feasible, more humane alternative method of execution."
Let's take the last argument first. As I wrote in March, the argument that defense attorneys must choose the manner of their client's death has no basis in U.S. Supreme Court precedent. The standard Missouri cites, which carries profound ethical ramifications, was not the standard announced by Chief Justice John Roberts in Baze v. Rees, the case that controls here.
The argument that Bucklew waited too long to complain about his condition is even worse. The defense did not lay in wait for years for their client to become grievously ill so that they then could assert that state officials aren't doing enough to prevent unconstitutional pain at his execution. The premise is both insulting and absurd, and it helps explain why Missouri's treatment of Bucklew, until now and going forward into Wednesday, may violate international law.
For years, state officials—and state- and federal-court judges as well—failed or refused to "provide adequate medical care and obtain up-to-date imaging" that Bucklew's attorneys had repeatedly sought to try to diagnose and treat their client's deteriorating condition. Zivot, the defense claims, has not been paid. Having contributed to Bucklew's condition by failing to adequately treat him, Missouri now seeks to use his health against him.
* * *
There is a point in Zivot's affidavits where his narrative becomes almost surreal, and you can almost hear the cries of the most ardent supporters of capital punishment: Of course Bucklew will suffocate as he dies—that's the whole point of the exercise of a state-sanctioned killing, to snuff the life out of the condemned! But this misses the point of this dispute and of the larger, growing fight over injection secrecy.
Missouri has a constitutional duty to provide adequate medical care to Bucklew until the moment it kills him. It has failed to meet this duty by blocking Bucklew from the testing he needs to diagnose his condition. The state also has a constitutional duty to ensure that this execution is not accompanied by a level of pain that constitutes "cruel and unusual" punishment. Yet Missouri has not produced a witness to contest Zivot's grim conclusions.
The truth is, state officials have no idea what will happen when their cocktail goes into Bucklew's body because no one before has injected the particular brew Missouri intends to inject into a living person who suffers from Bucklew's condition. Is that good enough for you? For a nation the laws of which purport to require certainty and clarity in capital cases? The obsessive secrecy that surrounds Missouri's protocols undermines all of the principles behind the state's constitutional obligations to the condemned.
It undermines them for the same reasons that government secrecy always undermines transparency and accountability. As the latest filings show, Missouri is now trying to convince the courts that state officials are doing all they can to ensure that the flesh surrounding Bucklew's head does not rupture during the execution Wednesday. But Oklahoma officials said the same before they botched Clayton Lockett's execution. Ohio officials said the same when they executed Dennis McGuire in January, in a process that left the dying man gasping for air.
There is no way to know, and the secrecy of the process obviously doesn't help to provide answers. When Missouri executed Herbert Smulls in January, only two justices of the U.S. Supreme Court objected. When the state executed Michael Taylor one month later, three justices voted to hear his case. When Missouri executed Jeffrey Ferguson in March four justices voted to halt the process. Then came Clayton Lockett. It's likely the Supreme Court will be asked to look at Bucklew's case before he dies. If the Court can't muster up a fifth vote to stop Missouri and the execution turns into a bloody mess, that will be on the justices' hands, too.