Why Democrats Are Afraid of a Man Who's Giving Them Millions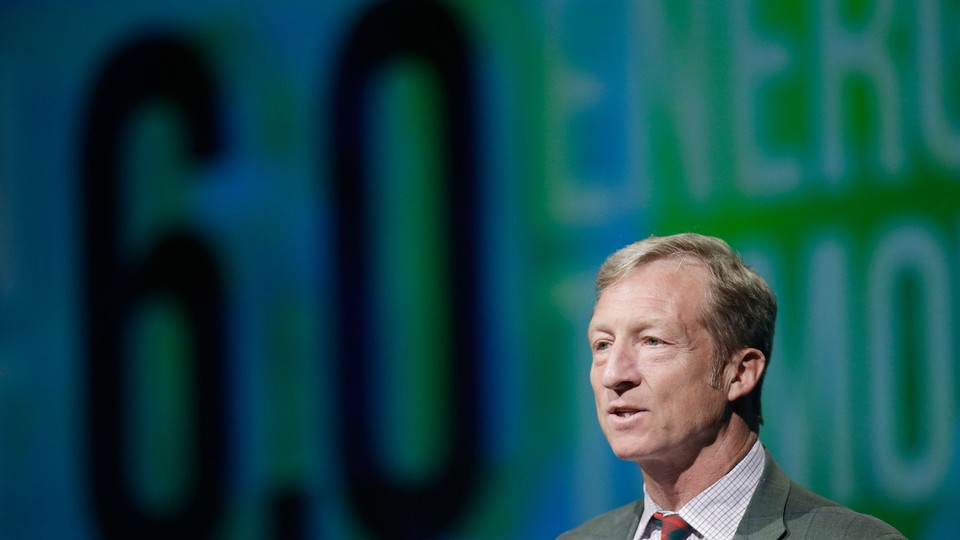 Democrats love Tom Steyer's money. They're split over Steyer's mouth.
Steyer, a hedge-fund-manager-turned-green evangelist, says he plans to raise up to $100 million during the midterm elections for candidates who stand strong on climate change. But as he doles out big checks to Democrats, Steyer has also stepped into the spotlight — and that is making some in the party nervous.
Democrats have made casting conservatives as beholden to the ultrarich central to their 2014 strategy, and that makes it awkward when a billionaire of their own puts himself front and center. Steyer is far from media-shy: He frequently gives interviews, and last month went a step further in publicly challenging Republican-backing billionaires — and favorite Democratic targets — Charles and David Koch to a debate over climate change.
Steyer's persona, the skeptics feel, opens Democrats up to charges of hypocrisy, and leaves too much of the party's profile in the hands of a man who has been popularly elected to exactly nothing.
"Who nominated him to speak for anything?" said Douglas Schoen, a Democratic strategist and former adviser to President Clinton. "He's entitled to make contributions, but the idea that he would step into the spotlight is just ridiculous."
Others fear that Steyer, a wealthy environmentalist living in Northern California, plays into a decades-long GOP effort to paint Democrats as out of touch with working-class America. Intent on making those charges stick, the Republican National Committee rolled out a series of attacks last week describing the mega-donor as a wealthy elite bankrolling the liberal agenda.
Steyer continually rejects comparisons between himself and the Koch brothers, saying that they — whose fortune comes from the fossil-fuel-dependent Koch Industries — are fighting against climate action out of self-interest, whereas his willingness to spend stems from ideological conviction and a desire to protect the environment.
But some party strategists are skeptical that that line will play with independent voters. "I don't think it will work for Democrats to claim that their billionaires are pure at heart while conservative billionaires only have selfish motivates," said Will Marshall, president of the Progressive Policy Institute and founder of the Democratic Leadership Council. "That might work with partisans and true believers, but I don't think that's going to play well with the American public."
For his part, Steyer has pledged to play nice in the primary season. The billionaire wants to make opposition to the Keystone XL pipeline a central issue in the upcoming elections and he's not likely to support senators like Mary Landrieu who think the pipeline should be built. But aides to Steyer say he understands the importance of keeping the Senate in Democratic hands and won't attack pipeline-loving moderates on the left. That pledge spares Democrats some of the primary "purity test" struggles that have led the GOP to nominate a string of failed candidates like Christine O'Donnell, Todd Akin, and Richard Mourdock.
And plenty on the left see Steyer as a godsend, offering Democrats a campaign war chest to compete with big Republican money during a difficult primary season.
"In the end, the donations far outweigh the liability," said Steve Rosenthal, president of the Organizing Group, a consulting firm that contracts with progressive organizations. "Of course there are always risks, but the party needs someone to step into the races right now."
Democrats' internal squabble over Steyer is a symptom of the party's larger ambivalence toward a political playing field in which a string of Supreme Court decisions have granted vast influence to deep-pocketed individuals and organizations. For a party that has long rallied around limiting money in politics, it's awkward for Democrats to actively cultivate mega-donors of their own. But the pragmatism of competing with Republicans and the lure of a well-financed campaign have almost entirely beat out those concerns — most blatantly in 2008 when President Obama reversed his promise to use public financing for his White House bid.
And so — internal struggles or otherwise — there is virtually zero chance that Democrats would turn down Steyer's money, or even risk aggravating the billionaire through a public request for silence. One Democratic operative interviewed who would only speak anonymously noted that nearly every party figure in national politics is somehow connected to Steyer.
What remains unclear is how well Republican attacks on Steyer — or, indeed, either party's attacks on mega-donors — will resonate with voters. Rosenthal said he was skeptical Republicans could successfully rally voters around the idea that a Democratic donor was making their lives more difficult by pushing for action on climate change.
It's also unlikely that Steyer could have avoided the spotlight, even if he ran from it. The Koch brothers have rarely endeavoured to call attention to themselves — they quietly turned down Steyer's debate invitation earlier this month — but the Left has successfully made them household names. There's every indication that regardless of what Steyer does, Republicans are committed to doing the same.
"Right now Republicans are starting to really scrutinize Steyer — how he made his money, where it came from," said Elaine Kamarck, a senior fellow at the Brookings Institution and former Clinton White House policy adviser. "They're going to try to discredit him and use that as a way to discredit his cause."