Why Congress Isn't Calling for Veterans Affairs Chief's Head
Secretary Shinseki's long history of military service has many reluctant to push him out of office.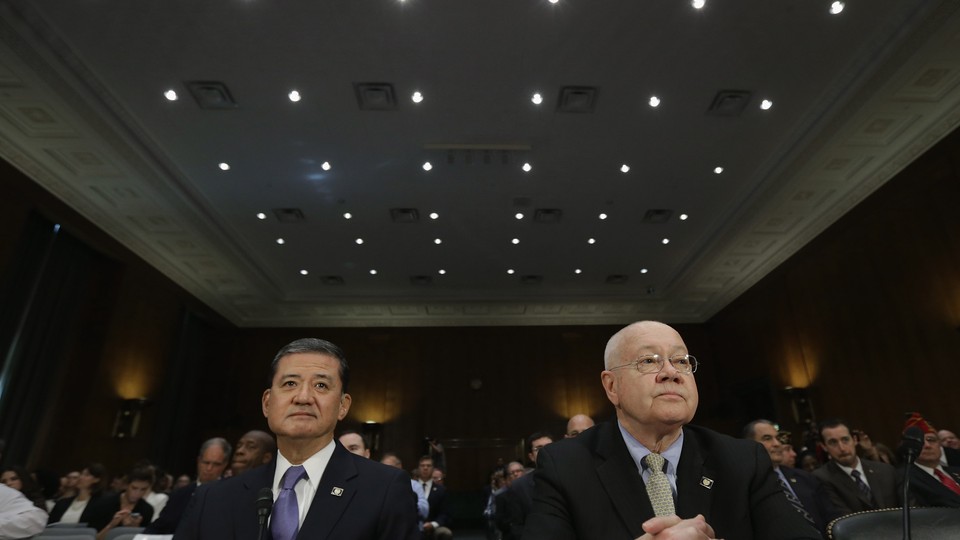 The scandal at the Veterans Affairs Department continues to grow, with at least 26 facilities under investigation for allegedly cooking their books so that veterans were forced to wait weeks or months to receive medical treatment. Dozens reportedly died before they were able to see a doctor.
While members of Congress in both parties and chambers are clamoring for an immediate resolution to the issue, there's a pervasive reluctance on Capitol Hill to call for Veterans Affairs Secretary Eric Shineski's resignation. Leaders in both parties have avoided making comments, though Senate Minority Leader Mitch McConnell allowed that a change in leadership "might be a good thing." And the vast majority of members, including far-right conservatives and Blue Dog Democrats, say it's too early to know just how deeply involved Shineski was in these issues and whether Congress ought to hold him responsible.
The Veterans Affairs scandal wasn't mentioned during Shinseki's most recent appearance on the Hill, a meeting with the House Appropriations Committee on Tuesday. Nor was it discussed at House Republicans' weekly conference meeting.
Even conservative Rep. Steve King of Iowa, not usually known for withholding his opinion on a major issue, said it was "premature" to call for Shineski to step down.
A four-star general, Shinseki served in the Army for nearly 40 years, including two combat tours in Vietnam, in which he lost part of his foot to a land mine.
"I'm reluctant to make that call unless I have come to an informed conviction," King said Tuesday. "But what has happened here is a systemic tragedy that seems to be growing like a virus across this country and I don't think we've caught up with this whole [scandal] yet. If the president has someone whom he thinks could do — fix this VA system faster and more effectively, I hope that person emerges. At that point it'd be time to make a decision. I don't know what the alternative is right now."
The reason many members are holding back, however, goes much deeper. Unlike Attorney General Eric Holder or former Health and Human Services Secretary Kathleen Sebelius, who recently found themselves on the wrong side of Republican ire, Shinseki is a decorated veteran. A four-star general, Shinseki served in the Army for nearly 40 years, including two combat tours in Vietnam, in which he lost part of his foot to a land mine.
The admiration for Shinseki's service has many members letting their pitchforks lie, at least for now.
"As somebody who has worn the uniform in the fashion that General Shinseki has ... I'm reluctant to be critical of him until I see the breadth of the facts," King said. "But something's gotta change."
Still, a handful of Republicans, several of whom are veterans themselves, and a number of veterans groups have called for Shinseki's head, arguing that the problems at the Veterans Affairs Department are neither new nor going away.
Rep. Mike Coffman, R-Colo., who serves on both the House Veterans' Affairs and Armed Services committees, has made several public pleas for Shinseki's removal. Coffman, a Gulf War veteran, said Tuesday that he worries his colleagues are too focused on the current scandal to see the underlying problems with veterans affairs, all of which have continued under Shinseki's tenure. A recently launched inspector general's investigation into allegations of mismanagement will not get at "the totality of what's occurred," Coffman said Tuesday.
Coffman argues that Shinseki has proven himself "time and again" to be a poor leader. "I absolutely think that he is unable to lead this agency," he said. "So when he says that he's angry or 'mad as hell,' I think he's mad as hell [that] he got caught. I think he's mad as hell it became an actual story that embarrasses the agency and this administration."
Rep. Adam Kinzinger, R-Ill., an Iraq War veteran, also called for Shinseki to step down on NBC'sMeet the Press this past weekend.
"I think it's time for Shinseki to resign because we need to get somebody there," Kinzinger said. "He's a great guy, a great American, but [we need] somebody there who knows how to fix the problem."
Rep. Duncan Hunter, R-Calif., who served in Iraq and Afghanistan, has been calling for Shinseki's resignation for more than a year, and penned an op-ed about it last April. Hunter also serves on the House Armed Services Committee.
But Rep. Tammy Duckworth, D-Ill., another Iraq veteran, has strongly defended Shinseki, with whom she worked at the Veterans Affairs Department for two years. Although she supports an investigation of the department, Duckworth offered an alternative explanation for some of the issues there.
"I think he's tried to bring VA into a new era and especially with the 9/11 veterans and the return of the Vietnam veterans," she said Tuesday. "There's no one who cares more for veterans than he does and I've seen that on a very personal level, how deeply he cares about the veterans. And, now we just need to know how much the bureaucracy is resisting the changes that he tried to put in place and what can we do to make sure that we turn this battleship around."
"We just need to know how much the bureaucracy is resisting the changes that he tried to put in place and what can we do to make sure that we turn this battleship around."
Regardless of Shinseki's role, the problems at the VA, all sides agree, are systemic. The House Veterans' Affairs Committee has been working for months to get to the bottom of the numerous issues plaguing the department, but, members say, the administration has been slow to turn over documents.
Committee Chairman Jeff Miller, R-Fla., said Tuesday that the department has had 30 staff members working to fulfill the committee's subpoena looking for more information on the long waiting lines at VA hospitals for eight days. He has so far received just 200 emails from just one staffer.
"If it takes them that long to get me 200 emails, it'll be next year before they're finished," Miller said. "Again, it shows inefficiency. It shows one of two things — either, one, they're extremely inefficient, or two, they're continuing to hide something."
Miller added that the department is "stonewalling" members of Congress. And for now, that's as much as many of them are willing to say.
{{ BIZOBJ (video: 4957) }}