Why Congress Can't Fix Our Crazy Chemical Safety System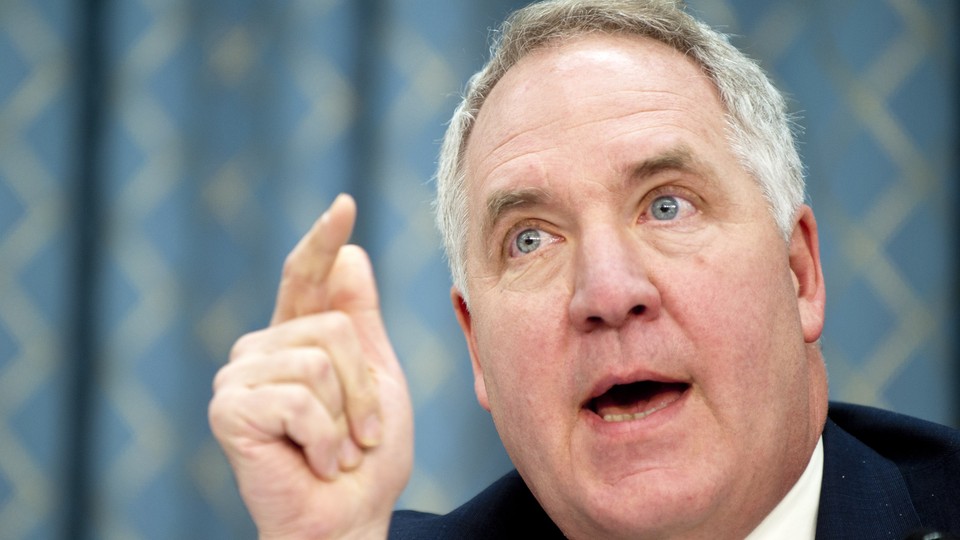 How broken is the nation's chemical-safety system? Of the 80,000 or so chemicals currently used in commerce, the Environmental Protection Agency has only tested 200 since Congress gave the agency its marching orders nearly four decades ago.
And of the 200 tested chemicals, only five have been banned or regulated.
That porous safety net comes courtesy of a law that everyone — from doctors to industry groups, Democrats to Republicans — agrees needs fixing. But despite a bright start on a reform bill and the best of intentions this term, it's taken just 12 months to go from bipartisanship to bickering, and what was once a promising push for chemical-safety reform may stall in its tracks.
Or, as John Dingell, the retiring former House Energy and Commerce Committee chairman, said of the old law: "This is a piece of legislation that has sat around and I think will probably sit around until hell freezes over."
The Toxic Substances Control Act (TSCA) passed in 1976 and hasn't been touched since, the only major environmental statute to not get a congressional update. It's riddled with vague language and weak authority that has left EPA largely powerless when it comes to potentially toxic chemicals.
But fixing it has proven difficult. The furthest any reform bill got was last session, when legislation from late Democrat Frank Lautenberg of New Jersey — the Safe Chemicals Act — cleared the Senate Environment and Public Works Committee in 2012. The measure, however, never got a vote on the Senate floor.
Hope was renewed last spring thanks to an unprecedented bipartisan deal between the liberal stalwart Lautenberg and conservative Sen. David Vitter of Louisiana. The pair's Chemical Safety Improvement Act wasn't perfect to either side, but the opportunity appeared to be. And across Capitol Hill, the House was holding a series of educational hearings on the problems with TSCA, with high hopes for a bipartisan agreement in that chamber.
Flash forward to now: The Senate bill is on hold while staff retool the language to please green groups and some Democrats who say the bill would preempt state laws, doesn't protect vulnerable populations, and doesn't give EPA enough strict authority. And though sponsors say the measure is gathering momentum, no new draft has publicly emerged since a hearing on the bill in July.
A House draft bill is moving, but appears to have fallen victim to the traditional left-right squabbling that could cast a pall on its bipartisan hopes. A hearing Tuesday before Energy and Commerce's Environment and Economy Subcommittee considered Chairman John Shimkus's recently revised discussion draft for a reform bill, but also quickly slipped into a heated argument about who was being ignored in the bill-writing process.
Typical bickering in which Democrats said they were being pushed out of the process — despite Republican Shimkus's plea to not "go through the process of junior-high 'he said, she said' " — is only part of the problem. It may be that the underlying text of TSCA is so topsy-turvy that any rehab job creates problems.
The chemical industry, while it broadly supports TSCA reform, has naturally balked at proposals that would require too much regulation of their product or the disclosure of confidential information they say would pose a risk to trade secrets. And green groups have pushed hard to maintain tougher state laws in states like California or Vermont that do more than EPA, while Republicans and industry have warned about a potential patchwork of rules.
Meanwhile, stakeholders seem to be drawing different conclusions from the same language. Shimkus, for example, says the updated draft will protect some state laws, a must-have for health advocates. But green groups and Democrats say that aspect of the bill would, in fact, cut so deeply as to affect laws related to disclosure of the chemicals used in fracking formulas.
And the bill removes TSCA's original language requiring that EPA choose the "least burdensome" regulation, which environmentalists have said prevented the agency from regulating asbestos, but nobody can seem to agree on whether new requirements would leave EPA in the same position again.
It was summed up by Republican Rep. Bill Cassidy of Louisiana, who said the TSCA talk always makes him feel "turned around, because it seems as if people are disagreeing on things that should be common knowledge."
Richard Denison, a senior scientist with the Environmental Defense Fund, said that the last time an overhaul of TSCA was tried was Lautenberg's Safe Chemicals Act, which didn't garner much support from the right. "So the notion arose of writing a bill that was closer to TSCA but fixed its core flaws," Denison said.
"I think negotiations in both houses are seeking to bring the bills back to where the fixes they include that are clearly intended to address key flaws in TSCA will actually deliver those fixes. I'm still optimistic we can get there," Denison added.
A markup of the House language is expected next month, which leaves little time for the two sides to come together on language. Green groups say the House bill as written is worse than current law and it's unlikely to draw the bipartisan support sponsors say they want without changes.
It's a state of affairs that left House Energy and Commerce ranking member Henry Waxman of California asking to "consider scaling back the ambition of this effort" to "focus on where we can find agreement."
"We need a law to protect the public from these exposures," Waxman said. "But this process isn't working. We need to bridge our differences, not accentuate them."