Why Abortion-Rights Activists Should Fear the Supreme Court
A high-court ruling is seen as a likely last-ditch effort to stop sweeping antiabortion legislation passed in Texas and other states. But counting on a win is a very risky gamble for the law's opponents.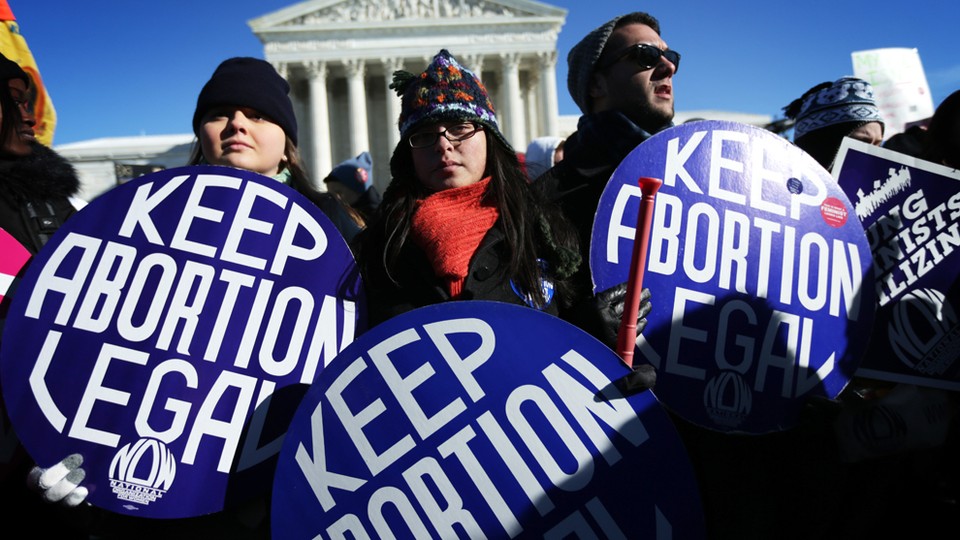 The abortion-rights movement is on the verge of a massive gamble.
The movement is trying to roll back a wave of state laws that have successfully curtailed access to abortion, and their best hope for doing so — perhaps their only hope for doing so — is likely a ruling from the Supreme Court. Advocates could soon get their wish: A Texas antiabortion law appears headed to the high court as soon as its next session, and a ruling against it could put other states' abortion restrictions on the shakiest of legal ground.
But it's also a move that could backfire: The advocates have no guarantee the Court will rule in their favor. The panel is divided and exceedingly difficult to forecast, and it could issue an unfavorable ruling that would not only sanction the Texas law — but also pave the legal way for new antiabortion laws nationwide.
"I think it is a huge risk," said Heather Busby, executive director of NARAL Pro-Choice Texas. "My concern is that at least four, if not five, justices don't have the same level of empathy for the burdens women face that we see on the ground."
Abortion-rights advocates have always picked their legal battles carefully, trying not to elevate cases they're likely to lose. But they've asked the Supreme Court to intervene in Texas once already, unsuccessfully petitioning the justices to stop the law from taking effect before a lower court ruled. The advocates hope a second trip in front of the Court would yield better results — and they have a lot to lose if it doesn't.
"The stakes are fantastically high," said Tom Goldstein, partner at Goldstein & Russell and the cofounder and publisher of SCOTUSblog. "A signal from the Supreme Court one way or the other would be watched closely by state legislatures. To the extent pro-choice advocates are looking forward, [hoping for a Supreme Court ruling] would be making a serious mistake. But they may view themselves as having no choice."
Of course, a Supreme Court case would also present threats for the antiabortion movement: They could lose the Texas law — in whole or in part — and also others. But abortion-rights advocates are risking even more, legal analysts said.
Both sides agree the case would not present a clear opening for the Supreme Court to revisit Roe v. Wade — the landmark case that established a woman's right to have an abortion. Instead, the relevant case would be Planned Parenthood v. Casey, in which the Court said states can impose limitations on abortion as long as they don't create an "undue burden" to abortion access.
Casey was decided in 1992, and for two decades the Court has been largely mute on what constitutes an "undue burden." The risk for abortion-rights advocates, then, is that the high court could say Texas's restrictions don't rise to that level — clearing the way for other states to erect hurdles as high or higher than the ones in Texas.
Those restrictions have already succeeded in dramatically limiting access to abortion in Texas.
When fully implemented in September, the law will ban abortions after the 20th week of pregnancy, limit drug-induced abortions, require doctors providing abortions to have admitting privileges at a hospital within a 30-mile radius, and require all abortions be performed in ambulatory surgical centers.
There were 44 abortion clinics in Texas in 2011. About 20 are open now, and before the law's final restrictions take effect in September, that number is set to drop to six.
Abortion-rights groups say the law obviously places an "undue burden" on women seeking abortions, but legal scholars aren't sure the court will see it their way.
"There is a sense that the current Supreme Court is less sympathetic to abortion rights than the Court that decided Planned Parenthood v. Casey, which was clearly less sympathetic than the Court that decided Roe v. Wade," said Jonathan Entin, an associate dean at the Case Western Reserve University law school.
Justice Anthony Kennedy is the only member of the Casey majority who's still on the Court, and a ruling on Texas's restrictions would probably also come down to him. Legal experts feel confident that the other eight justices would split evenly along partisan lines.
Casey upheld several abortion restrictions, including a 24-hour waiting period and informed-consent requirements. Of the restrictions challenged in that case, only a spousal notification requirement was deemed an "undue burden."
"Whether Texas will ultimately win is hard to say, but the restrictions Texas has adopted are ones that might have a chance of being upheld on the basis that they don't explicitly prohibit abortion. They impose a lot of restrictions and regulations that a fair number of abortion clinics can't satisfy," Entin said.
And the law's supporters believe the Court will land on their side.
"For those in the public square who say we shouldn't regulate abortion — they're dead wrong," said Ovid Lamontague, general counsel of Americans United for Life, a law and policy organization that worked on parts of the Texas legislation. "As current law exists, states have the ability — and I would say the duty — to regulate abortion."
Presently, states have taken varying approaches to restricting abortion, with varying results in the courts. The result is a patchwork of inconsistent rules across the country: If a lower court strikes down or upholds a particular state's restrictions, the result is only binding within that court's jurisdiction.
But if the Supreme Court puts its stamp of approval on Texas' regulations — or any others — it would offer a road map of legally sound abortion restrictions that governors and state legislatures could adopt with little fear of seeing their laws overturned by the legal system.
Proposals similar to Texas's legislation have passed or are being considered in other states, including Alabama, Wisconsin, Mississippi, Louisiana, and Missouri. And even more states — Arizona, Indiana, and North Dakota, among them — have passed measures cracking down on abortion in other ways. Some of those efforts are tied up in legal battles, but the states' decision to pursue them signals that they might be among the first to take up their own versions of Texas' restrictions.
Nevertheless, abortion-right advocates will continue to press through the legal system.
A District Court ruled that most of Texas's law is largely constitutional, balking only at the provision requiring providers to have admitting privileges at a nearby hospital. Abortion-rights advocates have since appealed the case to the 5th Circuit Court of Appeals, from whom all parties are still awaiting a ruling. But the Appeals Court already rejected abortion-rights groups' plea to block the law from taking effect during the legal battle, a decisions that is seen as a sign that it will likely uphold the restrictions.
And if the 5th Circuit does rule in favor of the law as expected, that's when abortion-rights supporters are expected to appeal to the Supreme Court.
They've already tried their luck with the Court once, asking it to block the law from taking effect. The Court declined that request, but Justice Stephen Breyer — one of the Court's liberals — indicated that the justices would be open to considering the merits of the Texas law.
"The underlying legal question — whether the new Texas statute is constitutional — is a difficult question," Breyer wrote. "It is a question, I believe, that at least four members of this court will wish to consider, irrespective of the Fifth Circuit's ultimate decision."