Why a Tom Wolf Win Is No Surprise: Money
In a primary race where few issues separate the candidates, money will predict the outcome.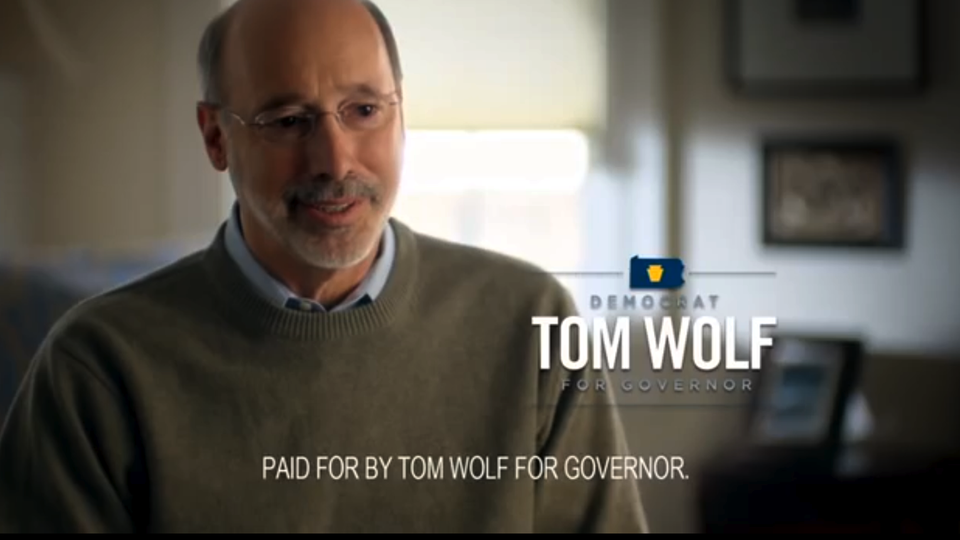 Nine times out of 10, the candidate with the most money wins, and the Democratic gubernatorial primary in Pennsylvania is shaping up to be no exception. The question heading into Tuesday's primary isn't whether self-funded candidate Tom Wolf will win, but by how much.
The businessman and former state revenue secretary pledged to put $10 million of his own money toward his bid early on, beating his rivals to the airwaves when he aired his first television ad in late January. Since then, he's kept up a persistent drumbeat of media buys, tackling topics from his personal narrative to education.
Wolf's spending advantage has proven particularly useful in a primary where few issues divide the candidates. Wolf's TV ads left his rivals with little wiggle room to stake claims on voters, and heading into primary day they're slated to suffer because of it. The most recent poll from Muhlenberg College gave Wolf a 23-percentage-point lead over Philadelphia-area Rep. Allyson Schwartz, while state Treasurer Rob McCord and former state Environmental Protection Secretary Katie McGinty trailed farther behind.
"They agree on 93 percent of the issues that matter most to voters," said Terry Madonna, the director of the Franklin & Marshall College poll. He has tracked the gubernatorial race since it got underway and also moderated two Democratic candidate forums in the spring. "The nuances are so minute that I'm having trouble figuring out what they are."
The college's tracking polls have found education to be primary voters' most important issue, but even there, the differences lie only in the periphery. "They all want to use a severance tax on natural gas to fund education. The only argument is on the rate of the severance tax," Madonna said.
"We could go through any issue: gay rights, gay marriage, abortion, gun control, the environment, Medicaid expansion," Madonna continued. "The other three have not been able to find issues to work with voters, so they went through their own personal narratives, but there's not enough of a difference there to speak of, either."
Madonna says he isn't alone in his inability to tell the candidates apart on the issues. He recalled a moment during one candidate debate when Philadelphia Daily News columnist John Baer slammed his fist on the podium and yelled, "Can't I find something one of you disagrees on?"
The only variance is that Wolf used his deep pockets to get his message out first, and more voters know who he is because of it. His money allowed him to hire top-tier Democratic consultants like the media firm Shorr Johnson Magnus, which produced ads for President Obama's 2008 campaign and for Virginia Gov. Terry McAuliffe's in 2013.
Wolf has run a total of 15 television ads, nearly all of which aired in the state's largest and most expensive market, Philadelphia. He'll have run nearly as many ads there as all of his primary rivals combined — no small accomplishment, because the Philly market reaches about 40 percent of the state's voters.
"His media strategy to this point has been brilliant," said former Democratic Lt. Gov. Mark Singel. "By smart use of television, he has incorporated his brand into the mind of the Pennsylvania voter."
Singel, a Wolf supporter, highlighted one example: His candidate was the only one with ads running during the heavily watched Winter Olympics in February. "Wolf caught them right when they were just forming their opinions," Singel said.
Schwartz and McCord tried to lob personal attacks at Wolf over his business and his character, but they mostly backfired. In the end, a Democratic unity rally will come together swiftly and without fanfare; state Democrats are united in their desire to unseat Republican Gov. Tom Corbett. Madonna says he's asked around the state for one single example of a Democratic political leader who has something negative to say about Wolf. "You can't find one."
Singel endorsed Wolf in early May, but said, "All four of them would be better than capable governors, there's no question about it. The question becomes who's going to win the campaign sweepstakes, and who can run a campaign."
By that standard, Wolf has already won.