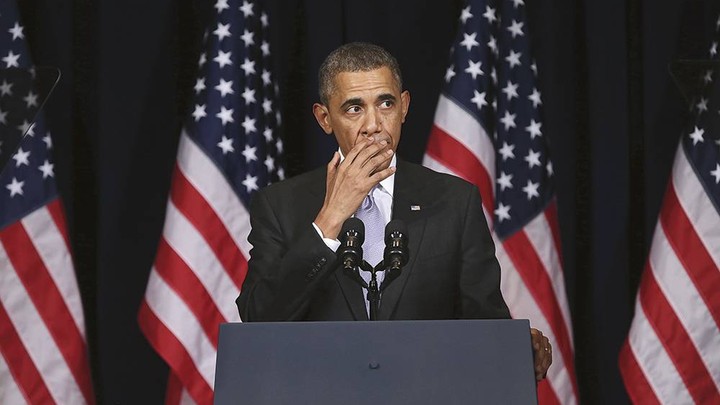 The pollster, a Democrat with several House and Senate candidates on this year's ballot, did not hesitate for a second this week before blurting out an answer that captured the anxiety of so many Democrats running in 2014. Asked if he is concerned that it has taken the White House a while to settle on a coherent political message, his answer was sarcastic: "You mean, like five or six years?" After laughing, the pollster added more softly, "I can't explain what they are doing or why."
He is not alone. Many Democrats are worried. They know the history of how the parties of second-term presidents suffer in the midterm elections. They know the "shellacking" they took in 2010 when they were held to account for their support of President Obama's policies. And they know their electoral fates are tied inextricably to that of a president mired in the low-40s in voter approval. They want him to take charge of his party's political destiny with a strong message. "The Democrats nationally don't have a message at all," complains veteran Ohio Democratic strategist Jerry Austin. "That's what is troubling."
Inside the White House, they don't minimize the concerns. After all, they read the same polls. But, according to a top adviser to Obama, they have a few simple words for Democrats: Help is on the way. They insist that the president is ready to throw himself into the campaign. More important — because many endangered Democrats are running in states where Obama's unpopularity precludes any personal campaigning — they insist he is ready to hammer home a message that any Democrat can easily embrace.
The same adviser acknowledged to National Journal that it has taken longer than planned for the president to effectively push the message. "The last seven months have been awfully hectic," the official said. "Health care and Ukraine took up a lot of air. The president hasn't had a lot of time to make a political argument."
That doesn't mean he hasn't tried. The campaign kickoff was supposed to come on Feb. 28, when the president addressed the Democratic National Committee's winter meeting at the Capital Hilton. "You'd better be ready to go," Obama declared that afternoon before outlining the themes and issues he believes will lead to victory in November.
But few seemed to be listening that day. Washington was more concerned with the pro-Russian gunmen seizing key buildings in Crimea and with the president's 90-minute phone conversation with Vladimir Putin. Last Thursday, during fundraisers at private residences in San Diego and Los Angeles, Obama tried again to lay out the Democratic strategy. Again, almost no one outside the events was paying attention.
"You haven't really seen us make the argument yet," the official said. "We are gauging the flow of the year. When we get past West Point and past Europe" — Obama will address the commencement ceremony at the Military Academy on May 28 and will make a six-day trip to Poland, Belgium, and France the next week — "then there will be time to focus on this. We will get the message out."
However, the challenge — often flubbed by both parties in off-year elections — is having the message match what the voters want to hear. So far, 2014 has not been a banner year for inside-the-Beltway talk meshing with outside-the-Beltway concerns. Republicans have spent resources investigating Benghazi for a ninth time and frequently voting to repeal the Affordable Care Act. Democrats have not been much better, focusing on the spending of the Koch brothers. The problem is that these messages are aimed more at partisan bases than at ordinary voters. Benghazi and the IRS scandal "are there to give conservative Republicans a reason to get up and get out of their houses to vote on Election Day," says longtime Republican strategist Rich Galen. On the Democratic side, fundraisers insist that every time a senator attacks the Kochs, money pours into the campaign committees.
But none of this reaches the average voter. Getting it wrong and misreading the electorate can have disastrous consequences for a party, most recently demonstrated by the Republicans in 1998, President Clinton's sixth year. Instead of focusing on the economy — as Democrats did — Republicans were fixated on Clinton's personal scandals and spent the year trying to impeach him. Voters broke with history and rewarded Democrats. David Winston, who polls for the House and Senate GOP leadership, keeps reminding Republicans of that. "The potential is there this year," he says. "But it doesn't mean you can't have a bad strategy and can't blow it. Just go back to '98. There we were sitting in the sixth year of a Democratic president. And the political folks picked the wrong strategy. That can take a good year and turn it into a bad one."
Winston is happy when Republicans boil their message down to four words: "Where are the jobs?" He points out that in 2010, 63 percent of voters said the economy was their top issue, and they went for Republicans by 11 points. The second top issue was health care, cited by only 18 percent. And they voted 51 percent to 47 percent for Democrats. "It was the economy that won it for the Republicans," he says.
Democrats agree and are eager for the president to be more forceful in making the case that they are the defenders of the middle class. They have a five-word question: "Whose side are you on?" To Jerry Austin, it's simple: "The party that delivers a message about what needs to be done for jobs and the economy and is basically a single note on that, they are the ones who are going to win." That the president has not yet effectively made that case is why many Democrats are so concerned.
We want to hear what you think about this article. Submit a letter to the editor or write to letters@theatlantic.com.