Which Lawmakers Are the Most Well-Traveled?
Take a look at these congressional jet-setters and the organizations that show them the world.
One of the perks of being a senator is that people actually care about your opinions — and will spend thousands of dollars on you to inform them.
Every year, think tanks, advocacy groups, and other nebulous institutions shell out hundreds of thousands of dollars to fly members of Congress to events around the world. Lawmakers are required to disclose this type of privately funded travel.
To be clear, these aren't taxpayer-funded trips, nor are they trips to broker peace agreements with foreign leaders. They are more often opportunities for private organizations to educate (and in some cases, curry favor with) powerful lawmakers on their issue of choice.
The website LegiStorm has tracked private funding for lawmakers' travel since 2000. The data include travel money that organizations have given to both Senate and House members. Over the last 14 years, the American Israel Education Foundation has spent more than $9.4 million on travel for members of Congress. The Aspen Institute's Congressional Program — established in 1983 by former Sen. Dick Clark — isn't far behind, spending $9.2 million on trips since 2000. The majority of those funds went to Democrats.
This chart shows which organizations have supplied the most travel funds to lawmakers in the current session of Congress: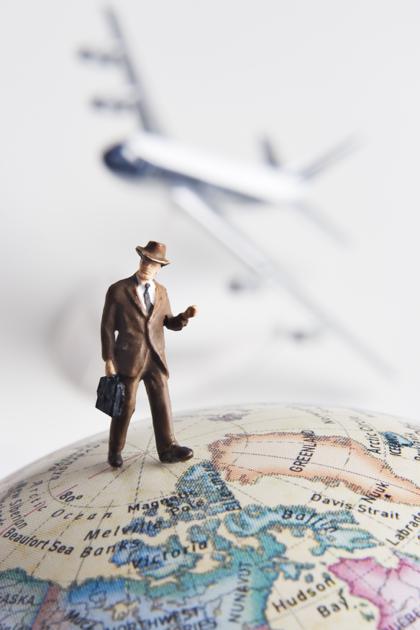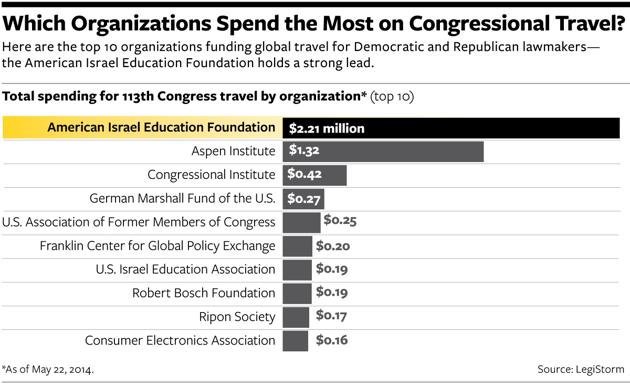 The AIEF, which came in first, is the charitable arm of the American Israel Public Affairs Committee, or AIPAC — a pro-Israel lobbying group.
"AIEF-sponsored trips help inform members of Congress about the importance of the U.S.-Israel relationship through firsthand experiences in Israel, briefings by experts on Middle East affairs, and meetings with Israeli political leaders," a spokesperson for AIEF said in a statement to National Journal.
So far in the current session of Congress, Sen. Tom Harkin, D-Iowa, has received the most travel funds from private groups, compared with his fellow senators. Through the Aspen Institute, Harkin has traveled to Ethiopia, Japan, and Colombia for policy conferences.
"Senator Harkin has found foreign policy trips conducted by the nonpartisan Aspen Institute to be highly educational and useful for his duties as a senator," a Harkin spokesperson told National Journal. "These study groups offer members of Congress substantive discussion on important areas of the world."
The Aspen Institute's Congressional Program sends members of Congress to conferences around the world to discuss policy — with a scenic backdrop — through grants from charitable foundations. Since 2000, (when LegiStorm began tracking this data) Sen. Tom Udall, D-New Mexico, has received more travel funds from private organizations than other currently serving senators. Over the past 14 years, Udall has traveled to Italy, Switzerland, Tunisia, Brazil, Mexico, Turkey, Spain, Finland, and China — all on the Aspen Institute's dime. Trips taken by Udall alone, not including staff, totaled more than $160,000.
"As a member of the Senate Foreign Relations Committee, Senator Udall takes seriously his responsibility to New Mexico and the nation to understand the complex global issues facing our world today," a spokesperson for Udall told National Journal. "Global conflicts still make the world a dangerous place, and Senator Udall is constantly working to ensure he maintains a serious grasp of the security issues around the world. Aspen Institute educational programs don't cost the taxpayers a dime, and he has never missed a vote to attend them."
Sen. Roger Wicker, R-Miss., who served in the House before joining the Senate in 2007, came in second after Udall in travel funds received. Wicker has received $143,000 in private travel funds since 2000.
"The development of U.S. foreign policy does not occur in a vacuum. It requires a comprehensive understanding of global issues," a spokesperson for Wicker told National Journal. "Visits with foreign leaders, health experts, and economists are critical to shaping policies that benefit all Americans."
This type of subsidized jet-setting is hardly rare behavior. Since the beginning of 2013 — when the current session of Congress began — the American Israel Education Foundation has spent more than $2.2 million on travel for both Democratic and Republican lawmakers. The Aspen Institute comes in second, having spent more than $1.3 million on trips for members. And the Congressional Institute, a nonprofit founded in 1987, has spent $420,000 on trips for Republican members of Congress, and none on Democrats.
This type of data is skewed toward veteran lawmakers, who have had more time in office to see the world. It's impossible to say how much relative newbies will travel over the course of their time in office — oh, the places they'll go! — but if their more senior counterparts give any indication, organizations will happily pay for their plane tickets and accommodations for years to come.
Still, some veteran lawmakers have had considerably less of their travel financed by outside groups. Private organizations have only spent $584 on private travel for Sen. Dianne Feinstein — who has served in the Senate for 21 years — since 2000. And Sen. Richard Shelby, who joined the Senate in 1987, has only taken one privately funded trip over the same time period — an event in Montgomery, Ala., in 2004. It cost $338.
As National Journal's Shane Goldmacher reported in January, Israel is the most-visited country by members of Congress and staff on privately funded trips. And while the trips' purpose is business, there is plenty of time for play, too:
Backers of the trips say they are saving U.S. taxpayers' dollars. And, of course, all the private trips are supposed to be strictly educational and fact-finding missions. But many itineraries include ample time to relax, visit museums, tour national parks, and whiz through major tourist attractions. The lawmakers are typically chauffeured from site to site, with all meals paid for and evenings spent at top-notch hotels.
Dan Glickman, the executive director of the Aspen Institute Congressional Program, said their conferences don't try to reach consensus on issues or lobby members of Congress, only to allow "a civil, off-the-record and impartial format" for lawmakers to "build trust and respect across the aisle in this era of hyperpartisanship."
The U.S. Association of Former Members of Congress — which came in fifth in travel funds allotted to lawmakers this session — has spent $248,000 on travel since 2013, and $1.1 million since 2000. Peter M. Weichlein, the organization's CEO, said the trips are well worth the cost.
"We see great value in members of Congress traveling together, because it is one of the few opportunities left where Republicans and Democrats can spend some time together and get to know one another on a more personal level," Weichlein told National Journal.
So if you want to plan a trip to sunny São Paulo — and don't mind some light wonkery mixed in with your sightseeing — a good first step might be running for office.