What You Need to Know About Tuesday's Midterm Primary Winners
The results are in from yesterday's midterm primaries in six states.
This article is from the archive of our partner
.
The results are in from yesterday's midterm primaries in six states. And while the big takeaway everyone seems to be going with is that the GOP "establishment" won against the Tea Party once more, we all know that narrative doesn't really surface a lot of what was really at play in some of these races. So here's a breakdown of some of the winners and losers from last night's results.
Pennsylvania
Pennsylvania's GOP Gov. Tom Corbett is very unpopular among voters. So a lot of people were watching the Democratic primary for the office to see who would get the nod to challenge him. That, as it turns out, was self-funded candidate Tom Wolf, a businessman who ran as an outsider in the way that wealthy businessmen often run as outsiders for elected office. Democrats are backing Wolf hard against Corbett, while the Republican Governors Association has already released a statement referring to the Democrat as a "a job-killing liberal." So this general election will be pleasant.
But that's not actually the only interesting race from Pennsylvania. Brendan Boyle won the Democratic primary in Pennsylvania's 13th District against former Rep. Marjorie Margolies. Margolies, as Politico noted, is an in-law of the Clinton clan, and had backing from the influential family against Boyle. So her loss could also count as a "loss" for the Clinton fundraising machine, if you're keeping tally.
As it turns out, Boyle has already attracted some negative attention from several national pro-choice groups for decision to run on a pro-choice platform, despite his anti-abortion voting record as a state legislator. Coming to the conclusion that his newfound devotion to reproductive rights was political, rather than personal, two major reproductive health groups campaigned against Boyle in recent weeks, even handing down an "anti-endorsement" of his platform. In a Tuesday evening statement, NARAL addressed his victory by saying "we expect him to abide by his new-found commitment to these issues. He made promises to voters, and you can be sure we'll be watching closely to see that he keeps them."
Arkansas
Democratic Sen. Mark Pryor has been in a forever campaign against Republican challenger Rep. Tom Cotton. Both of them won their respective nominations unopposed. Pryor is seen as a very vulnerable Democrat in the Senate, in a midterm year that could tip the Senate into Republican hands. In December, facing a difficult campaign in the midst of all the Obamacare enrollment issues, Pryor released a 30-second ad where he basically just held a Bible on his lap.
Cotton, meanwhile, is a Tea Party candidate... kind of. As the New York Times noted, he's kind of in the Ben Sasse model of Tea Party: Ivy league pedigree, wealthy, but running as a populist everyman. And he's been backed pretty hard by the Republican establishment. As a congressman, Cotton has a very conservative voting record, often voting with the more conservative wing of the GOP in the House. He voted against Hurricane Sandy recovery funding. He voted against the farm bill, despite, as the Arkansas News noted, widespread support for the legislation among his constituents.
Oregon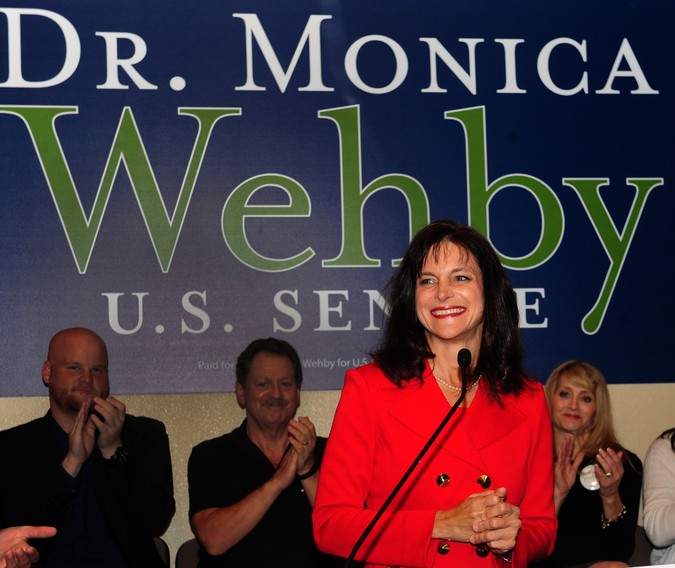 Monica Wehby won the GOP primary to face off against Democratic Sen. Jeff Merkley, despite some last-minute stories about her personal life that threatened to throw the nomination to another candidate. Wehby, just days before the primary, was the subject of two news reports claiming that she "harassed" her ex-husband during divorce proceedings, and "stalked" her ex-boyfriend last year.
Wehby, a pediatric neurosurgeon, is personally "pro-life" but politically pro-choice. "I believe this is a personal decision between a women and her family, not a woman and the federal government," Wehby said in January. Beyond that, she's running a GOP campaign against Merkley that should be familiar by now. The Democratic incumbent, she says, is extremely liberal and supports the idea of a "massive bureaucracy-" style government, as the Oregonian reported.
Meanwhile, the Oregon state legislature's Republican nominees took a hard turn to the right yesterday, as several conservative candidates picked up the party's backing for November. Democrats currently control both the state House and Senate, but the state Republican party is trying to change that.
Georgia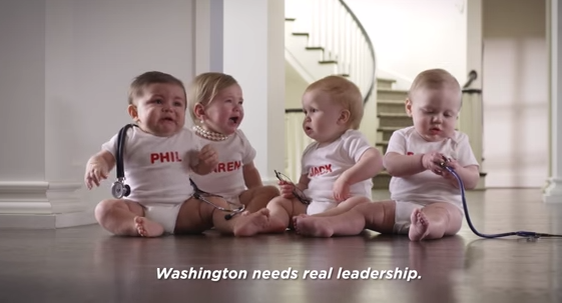 It's runoff time! Rep. Jack Kingston and businessman David Perdue will run against each other in July to decide who gets the GOP nomination for the Senate seat vacated by retiring Sen. Saxby Chambliss, a Republican. The winner will take on Democrat Michelle Nunn. As the New York Times notes, Nunn could win against either Perdue or Kingston, but she would have stood a much better chance against any of the Tea Party candidates who didn't make it to July's final round for the nomination.
Neither Perdue nor Kingston are particularly amazing at campaigning, with ONE EXCEPTION. Perdue released a kind of stunning 5-minute infomercial attempting to convince voters of his "rich outsider" cred by, among other things, showing the modest house in which he grew up. And then he repeatedly depicted Kingston and his other rivals as actual crying babies.
Kentucky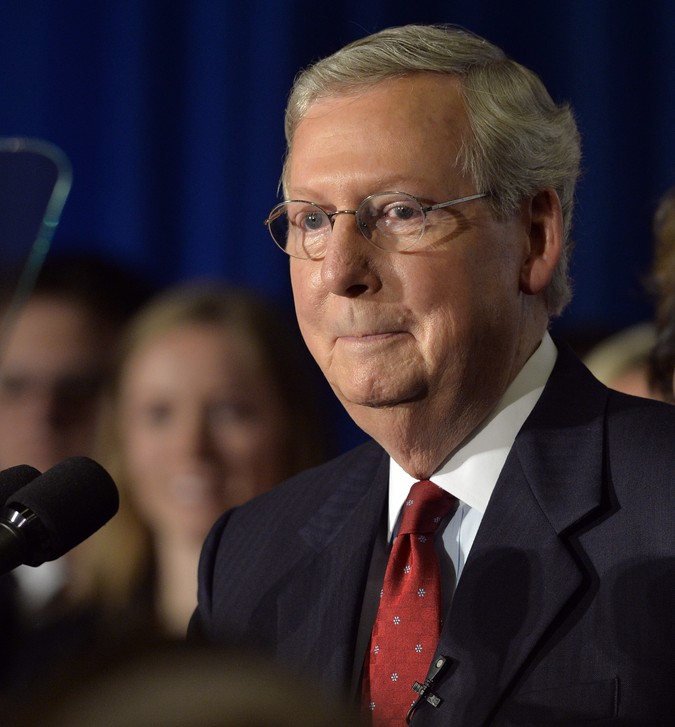 We know he's the headliner of the "establishment wins!" narrative coming out of yesterday's primaries, but to be honest, there's not a ton to say about Kentucky's most-watched race. That's because even Senate Minority Leader Mitch McConnell's unlikely Tea Party challenger Matt Bevin knew he wasn't going to win this one.
That, however, doesn't mean we can't learn anything from it. In order to help ensure his election day margin of victory, McConnell's camp campaigned viciously against Bevin. And the incumbent isn't done yet: now that Bevin is cast aside, he can get down to the business of campaigning solely against Democratic challenger Alison Lundergan Grimes, who has national backing to face off against McConnell's machine in the state.
Idaho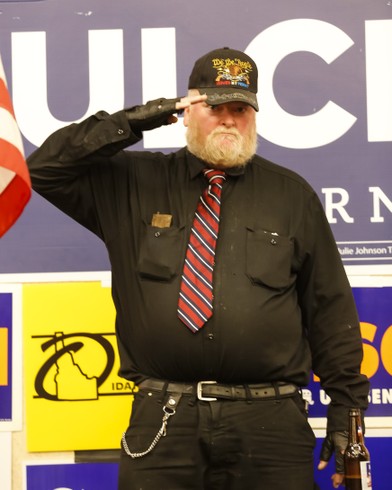 Incumbent Rep. Mike Simpson's seat is safely Republican, but that doesn't mean he was safely going to keep it for himself. Simpson was challenged by Bryan Smith, a Tea Party candidate with a lot of backing from national conservative groups. Unlike Bevin, Singer was a serious challenge to Simpson's incumbency. But not in the end. Smith had the Club for Growth, FreedomWorks, and other Tea Party groups helping him out, as the Washington Post noted, but Simpson simply had a lot more money at his disposal for the primaries, especially after the Tea Party made it clear that they were going to throw a lot of resources at Smith. Simpson also had the backing of the the U.S. Chamber of Commerce and Mitt Romney.
Oh! And the governor's race. Incumbent Gov. Butch Otter won the nomination from his Republican Party. It's a defeat for his Tea Party challenger state Sen. Russ Fulcher, but it is also arguably a defeat for the whole internet, because neither of the actual outsider candidates, Walt Bayes and Harley Brown, will advance, even after a recent amazing gubernatorial debate featuring all four candidates went viral.
This article is from the archive of our partner The Wire.