VA Official: There Are No Secret Waiting Lists
While admitting problems, a Veterans Affairs official tells a House committee that Phoenix officials were just trying to improve access to care.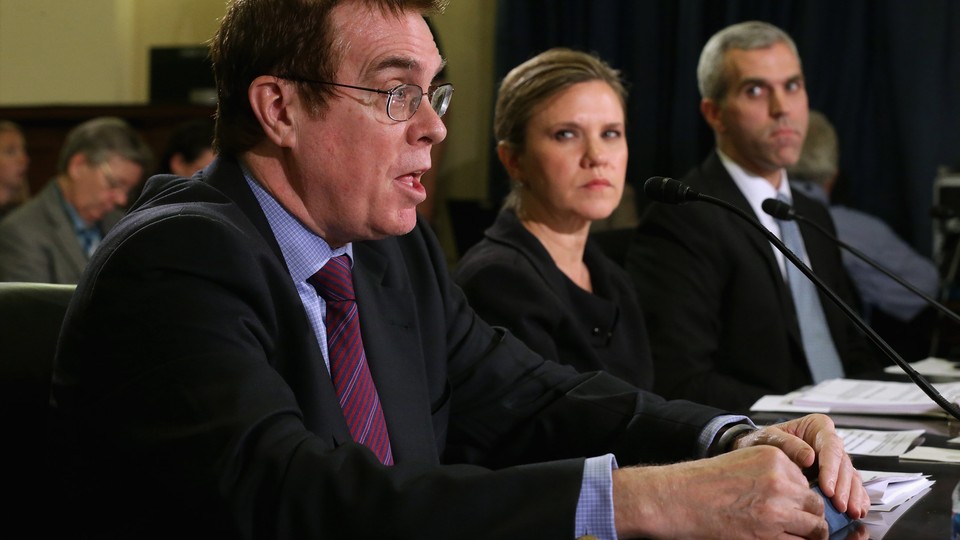 During a testy and at times emotional four-hour hearing late Wednesday night, an official with the Veterans Affairs Department told the House Veterans' Affairs Committee that reports of secret waiting lists at the Phoenix Health Care System are false.
"I was not able to identify any lists that I thought were secret," the VA's Assistant Deputy Undersecretary for Health for Clinical Operations, Dr. Thomas Lynch, told members Wednesday.
Lynch went on to explain that the lists were actually produced automatically by the VA's data system when an appointment was canceled so that it could be rescheduled. Once a new appointment was made, the lists were destroyed, Lynch said, because they contained "patient-identifying information," including Social Security numbers. Several members asked Lynch for the names of those responsible for destroying the documents, but he said he did not know.
In all of those cases, Lynch told reporters after the hearing, the appointments were canceled and rescheduled due to either clerical issues or the staff's determination that they could see the veteran on an earlier date.
A preliminary report issued by the VA's inspector general earlier on Wednesday found evidence of inappropriate scheduling tactics at the Phoenix VA that resulted in long delays and placed some of the blame on the fact that the department ties low wait times to staffers' bonuses. Several media outlets have reported that those long lines for service resulted in at least 40 deaths, although the IG has not yet confirmed those figures.
Lynch agreed that the association between low wait times and bonus checks had led to problems at facilities across the country, but he added that intentions at the Phoenix facility were good. "I think that the management in Phoenix were making an honest effort to try to improve veterans' access. I think they were trying to improve the timeliness in which care was being provided," he said.
Lynch testified that he has been to the Phoenix facility three times in the past two months, where he met with officials, including the director and several schedulers. But he added that he did not meet with any of the whistle-blowers in the case, a statement that caused an uproar among members on both sides of the aisle on the House committee.
Lynch also said that he brought his wife with him on the first trip so that the two could celebrate Easter weekend together, which Rep. Dina Titus, D-Nev., called inappropriate. "I would just ask you, Doctor, to tell me how you could have possibly thought it was appropriate to turn such a critical, serious mission into a personal holiday?" she asked.
House Veterans Affairs' Committee Chairman Jeff Miller, R-Calif., said after the hearing that he isn't buying Lynch's argument. "There are secret lists. There are multiple lists at some facilities that we have found."¦ So this whole idea that this is a misunderstanding is a red herring. To try to claim that what they were doing was trying to provide quicker health care for veterans, let the facts speak for themselves. Veterans were not getting health care in a timely fashion," Miller said.
Lynch did say that he agrees with the inspector general's initial report, which was released earlier Wednesday and showed that the Phoenix Health Care System grossly overreported how quickly veterans were receiving care. That investigation found that, on average, a subsample of veterans waited 115 days for an initial appointment, while the Phoenix department reported that the average was 24 days. The VA recommends to its health care facilities that veterans wait no more than 14 days for an appointment.
The same report showed that 1,700 veterans at the Phoenix facility were still on a waiting list. Lynch told the committee Wednesday that each of those veterans would receive a call by Friday to schedule an appointment, or would be referred to an outside medical facility (where care would be paid for by the department) if their local VA system lacked room to see them. The department is currently conducting an inventory of wait lists nationwide and will make similar outreach efforts in the next few weeks, he added.
The hearing capped off a difficult day for relations between the Veterans Affairs Department and Capitol Hill, as a waterfall of members called for Secretary Eric Shinseki's resignation, including a growing number of Democrats.
And members of the House Veterans' Affairs Committee were no friendlier. Democrats and Republicans on the committee expressed increasing frustration that their subpoena for documents related to the wait-list issues has not been fulfilled, adding a level of strain to the proceedings. Rep. Mike Coffman, R-Colo., even went so far as to add the names of all three department officials who testified Wednesday to the list of those who should step down from their jobs.
Rep. Phil Roe, R-Tenn., got particularly colorful, telling Lynch: "What I don't understand is, as a veteran, as a doctor, as a practitioner, how you can stand in a mirror and look at yourself in a mirror and shave in the morning and then not throw up knowing that you've got people out there "¦ [who] can't get in."
The officials vowed Wednesday to make an audit available to members of Congress concerning facilities located in their home districts in the coming weeks. Meanwhile, the Office of the Inspector General is expected to issue a full report on issues at the Veterans Affairs Department sometime in June.