U.S. Politicians Are Finally Paying Attention to Nigeria's Abducted Girls
"#BringBackOurGirls," Hillary Clinton tweeted Sunday.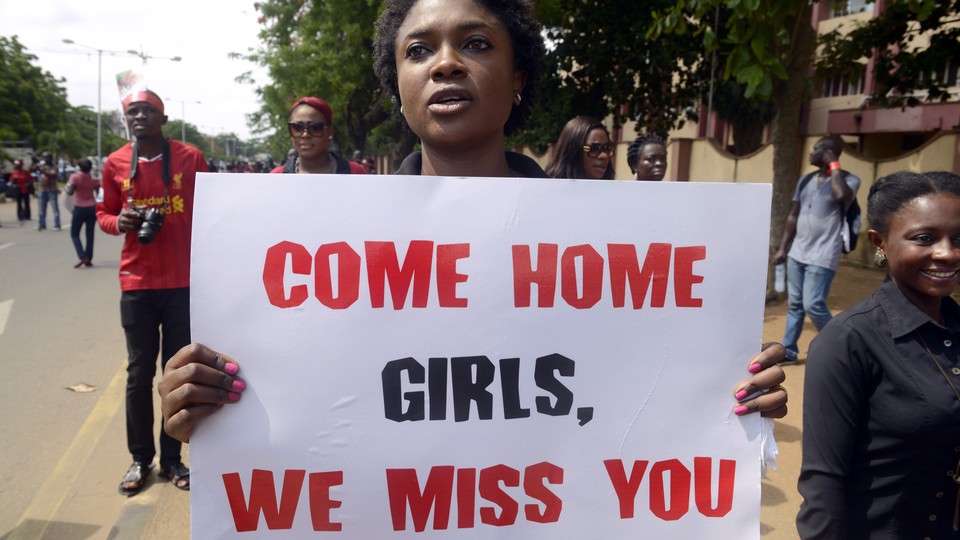 More than 200 girls are missing in Nigeria after a terrorist group abducted them from their boarding school with the intent of selling them into slavery or child marriages.
The girls, who are between 16 and 18 years old, were about to take their final exams at the Government Secondary School in the northeastern town of Chibok in Nigeria. But at midnight on April 15, members of the terrorist group Boko Haram broke into the school and abducted 276 female students.
From the Guardian:
They shot guards and abducted about 200 students, who were loaded into trucks and, it seems, taken off into the forest. Two groups of the girls, perhaps 30 in all, managed to escape. The rest have simply disappeared.
Initially, the story was largely ignored by much of the Western news media. But a push for the United States and other countries to take action against Boko Haram seems to be fomenting. A Change.org petition calling for world leaders to band together and rescue the girls has amassed more than 330,000 signatures. Protesters gathered in Washington and New York City over the weekend to speak out against the girls' abduction.
And on Twitter, the hashtag #BringBackOurGirls has accumulated nearly 1 million messages. "Access to education is a basic right & an unconscionable reason to target innocent girls," Hillary Clinton tweeted on Sunday. "We must stand up to terrorism. #BringBackOurGirls"
Eight more girls, ages 12 to 15, were abducted Monday night. President Obama said Tuesday that the U.S. would contribute to the effort to find the girls.
Boko Haram has unabashedly taken responsibility for the abduction. "I abducted your girls," the group's leader, Abubakar Shekau, said in a video released Monday. "Just because I took some little girls who were in Western education, everybody is making noise. Let me tell you: I took the girls.... I repeat, I took the girls, and I will sell them off. There is a market for selling girls."
Since 2009, the Islamist insurgency in the region led by Boko Haram has left thousands of people dead, the BBC reports.
On Tuesday, the women of the U.S. Senate called on President Obama to take action. They asked the administration to apply the same sanctions to Boko Haram — which reportedly has ties to al-Qaida — that the U.S. has imposed on al-Qaida and other terrorist groups on the United Nations Security Council's sanctions list.
"In the face of the brazen nature of this horrific attack, the international community must impose further sanctions on this terrorist organization," a letter from the female senators reads. "Boko Haram is a threat to innocent civilians in Nigeria, to regional security, and to U.S. national interests."
And its moral interests, too.