U.S. News Says It Won't Include Sexual-Assault Stats in Its College Rankings
Despite push from Congress, U.S. News says it's rankings are focused on academics.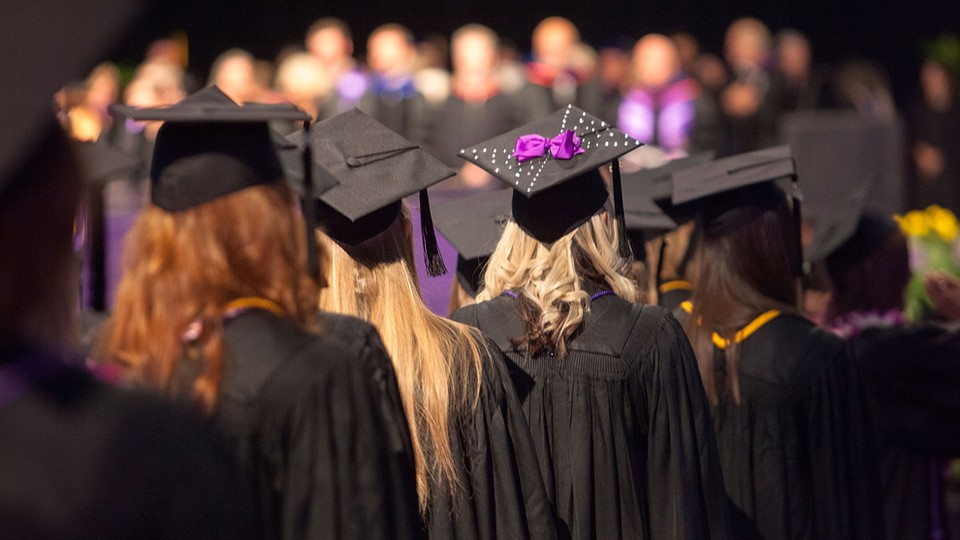 U.S. News & World Report will not include campus sexual-assault data in its annual college rankings this year, despite pleas from members of Congress.
The publication, which serves as a one-stop shop for many high school seniors and their parents seeking information on prospective colleges, announced in a blog post that it will feature the Education Department's sexual-assault data on the individual pages for schools. The blog post also included the Education Department's recently released list of the 55 colleges and universities that are currently under investigation for their handling of sexual-assault cases.
But U.S. News also said that it will not include that data in its methodology for ranking colleges, arguing that the information provided by the Education Department is "not usable to measure relative campus safety among colleges," U.S. News spokeswoman Lucy Lyons said.
U.S. News Editor and Chief Content Officer Brian Kelly elaborated: "Any crime data anywhere is tough to collect, as you know. And campus crime data has been for many years particularly notorious for being unreliable. The reporting is sketchy, the definitions of crimes is sometimes sketchy, schools are inconsistent in what they report, students are inconsistent with what they report."¦ And you know a lot of schools are still not reporting it accurately. So we're not doing it as a comparative. You can't compare apples to apples [here]."
However, even if better data were available, U.S. News's own data director, Robert Morse, adds on his blog, the publication would not include sexual-assault information in its algorithm. "Campus safety is not among the factors U.S. News believes is directly tied to academic quality, and we believe that it should not be part of our main ranking methodology, even if it could be measured," Morse wrote last week.
Reps. Jackie Speier, D-Calif., and Patrick Meehan, R-Pa., who were among 12 House members who sent a letter to U.S. News last month asking that the data be included, said that the publication had not alerted them of its decision. But Speier expressed disappointment.
"I think that they misjudge their readership," Speier said, after hearing of the decision. "The very first question on campus tours that is asked by parents in the Q&A sessions is, tell us about what you're doing about safety for girls on campus.... There's a huge wake-up call in this country by parents who are very alarmed by the fact that 20 percent of college co-eds will be either sexually assaulted or [experience] an attempted sexual assault ... during their college career. And that is significant. And if U.S. News & World Report doesn't think that that's a significant element in ranking the universities, then they'll hear from their readers, I'm sure."
Meehan said he was "encouraged" by the publication's decision to include any sexual-assault ratings on its site, but added in a statement: "My hope is that U.S. News & World Report will a develop a means to measure the responsiveness of colleges and universities to incidents of sexual assault and the availability of resources critical to victims like counseling and medical care. The objective is to incentivize a victim-centered approach among colleges to addressing sexual violence on campus."
Meehan said he is hopeful that the move is the first step in a longer conversation with members of Congress about the issue.
Kelly agrees that sexual-assault statistics are a major concern for parents and students during the school-search process, but he argued that they are among a number of factors that fall outside of the purview of the rankings, which are focused solely on academic standards. However, Kelly said that alongside the sexual-assault information included on each college page in U.S. News's 2014 rankings (which come out in early September), they'll provide information on how parents and students can learn more about crime and safety on a particular campus. "It's up to you, the parents and the students to pursue that," Kelly said.
But he also added that, while the decision not to include sexual assault in the rankings applies "for the foreseeable future," it could change as data improves. "We take this very seriously. We're not saying we won't deal with this."¦ We continue to follow this. We know it's important. Just sometimes data can't do what you like it to do," he said.