Is This the End of the GOP Civil War?
Establishment favorite Thom Tillis easily defeated the Rand Paul and Mike Huckabee factions of the Republican Party in North Carolina, showing how Tea Party fortunes have changed.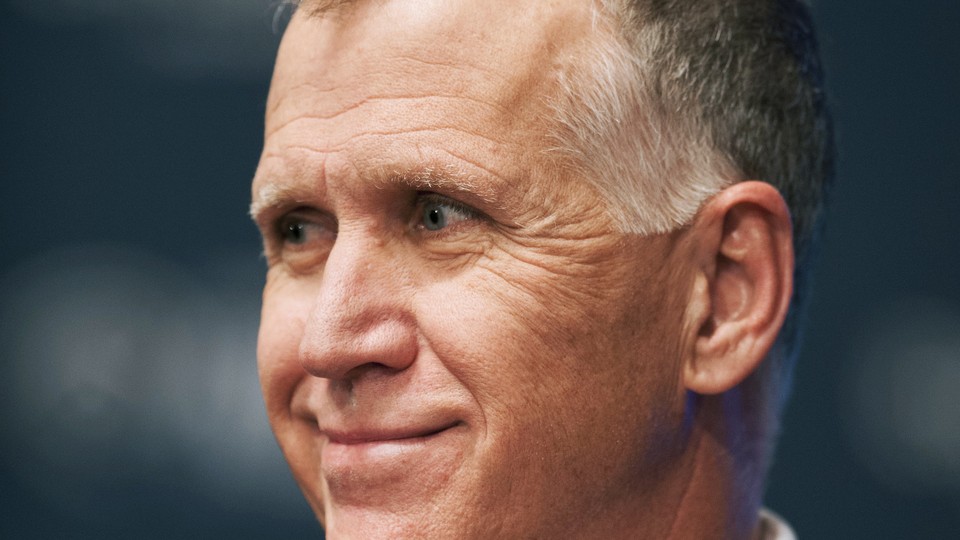 CHARLOTTE, N.C.—Is this what remains of the Tea Party? In front of the NASCAR Hall of Fame here on Monday, a few dozen activists milled around in the bright sun, waiting for their man: Greg Brannon, a physician and activist seeking the Republican Senate nomination in Tuesday's primary, who would be joined at the rally by Senator Rand Paul. A couple of yellow "Don't Tread on Me" Gadsden flags, attached to a white gazebo, flapped listlessly.
You can rest assured that the Tea Partiers have not appreciably changed. I struck up a conversation with a woman with spangly gold fingernails named Sharon Doyle, who spends her free time holding "Impeach Obama" and "Remember Benghazi" signs on highway overpasses a couple of times a month. A caregiver for the elderly who's had cancer and back surgery, she can't afford health insurance through her employer, but she refuses to visit the federal health-insurance website for ideological reasons. Of the Republican frontrunner, state House Speaker Thom Tillis, she had only disdain—"He's a RINO. I don't trust him"—and said she wouldn't vote in November if he became the nominee.
This has become a familiar scene in American politics: the fractured GOP wracked by the demands of a cranky right-wing base. But Tuesday might be remembered as the night it changed. To a degree not seen before since the advent of the Tea Party five years ago, the Republican establishment took on the warring factions that have given the GOP so many ulcers in recent years—and won. With 94 percent of the vote counted Tuesday night, Tillis had cleared the 40-percent runoff threshold, taking 45 percent of the vote to his nearest competitor's 27 percent.
In the month ahead, similar contests will unfold in several more states, including Kentucky, home of Senate Minority Leader Mitch McConnell. The establishment—defined here as the traditionally corporate and institutional GOP—hopes to keep up the full-court press begun in North Carolina and run the table, theoretically producing the slate of nominees that will give the party the best possible shot at taking the Senate.
The fault lines between the primary candidates in North Carolina were clearly drawn. Tillis was supported by Mitt Romney, Jeb Bush, and North Carolina's governor, Pat McCrory; Brannon by Paul and Senator Mike Lee; and the third-place finisher, evangelical pastor Mark Harris, by Mike Huckabee. The Chamber of Commerce, Karl Rove's Crossroads committees, and the Koch brothers' Americans for Prosperity poured millions of dollars into pro-Tillis and anti-Hagan ads in a strategic, coordinated assault. (Democratic committees also sought, unsuccessfully, to knock Tillis down.) Brannon had the support of FreedomWorks and the Tea Party Patriots. Harris was accused of soliciting campaign donations from the pulpit. Tillis's plan was not to engage them, but by the end he was attacking his Republican opponents to ensure the primary didn't go into a potentially draining second round.
But if the establishment approached this fight with overwhelming force, the Tea Party did not put up much of a fight, its well-funded national organs spending scant money against Tillis. And if Tillis represented the Republican establishment—something he denies, of course; it is not a label anyone embraces—he also represents the party's new, post-Tea Party mainstream. He was endorsed by National Right to Life and the National Rifle Association. As House speaker during a time when Republicans took over North Carolina's government for the first time since the 1896, he oversaw a dramatic slate of rightward policies, from tax cuts to voter ID, that he terms a "conservative revolution."
It was hard for opponents to paint Tillis as a liberal when actual liberals were picketing his initiatives on the steps of the statehouse in Raleigh on a regular basis. If this race is any indication, the "Republican civil war" storyline so beloved of pundits in recent years may have to be retired. The Tea Party has got what it wanted, in large part—a party that, out of fear or respect, meets its desire for conservative standard-bearers—and it has run out of easy targets like the ones it toppled in 2010 and 2012.
Tillis did some last-minute campaigning Monday night, mostly for the media's benefit, knocking on doors to get out the vote in a country-club neighborhood in Huntersville, a prosperous suburb that is in his legislative district. Yes, the candidate claiming not to represent the establishment was literally campaigning on a street of McMansions adjacent to a golf course, dressed in khakis, a Jos. A. Bank blazer, and black penny loafers. At the first house he approached, a 66-year-old construction project manager named Dan Mastrogianni told him, "I think you know we need a change, and I think you could be the right person."
Spry and genial, Tillis chatted with reporters for a few minutes on the sun-dappled sidewalk. He attacked Hagan for the Senate's inability to pass a budget; when I pointed out that the Senate did pass a budget last year, he claimed it had only been one that "went nowhere," when in fact the president signed a budget agreement between the House and Senate in December. Later, Tillis's campaign manager assured me Tillis was aware of the agreement.
With Tillis's win, Hagan has lost what could have been her biggest asset: Brannon, a first-time candidate with a recent securities-fraud judgment against him. Brannon's speech at the NASCAR museum made abundantly clear he did not have the star quality of, say, Ted Cruz. Tanned, with an abundant gray bouffant, Brannon riffed on death panels, said "Liberty is a verb," and declared, "There are three crimes in the Constitution: treason, piracy, and counterfeiting. The Fed does all three."
Given Brannon's lack of polish, Paul's decision to appear with him was a bit puzzling. "What North Carolina needs is what America craves," Paul said. "Not another rubber stamp. Not another go-along, get-along politician. Not another cog in the wheel. What America needs is a dragon slayer, and that is Dr. Greg Brannon."
As Paul began his customary diatribe against Republicans who would "dilute our message," a voice rose from the crowd, which had swelled to about 100.
"We want to win, though!" it said. These days, even among the Tea Party, purity only gets you so far.