This Wisconsin Democrat Wants to Hand out KKK-Style Hoods at a GOP Convention
He's calling them "Republican Party hats."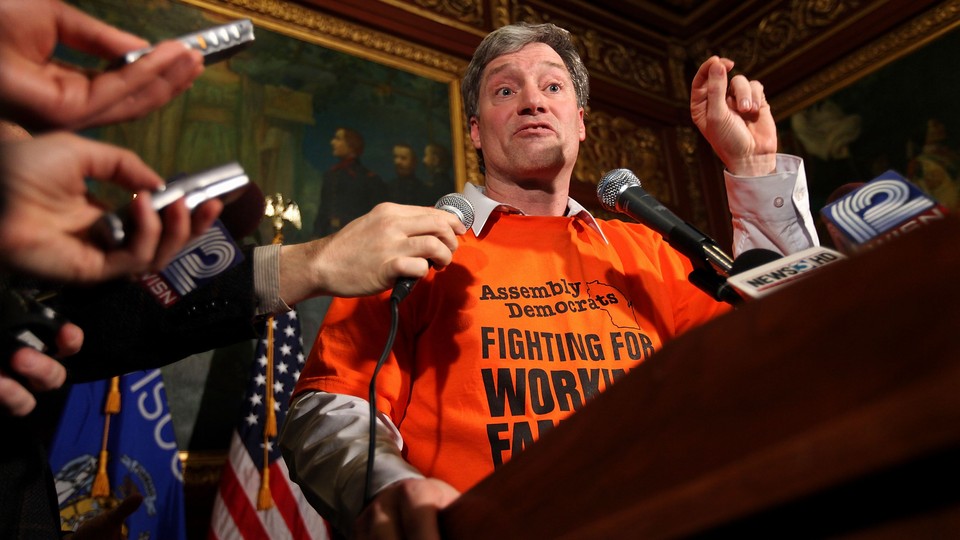 One Wisconsin politician — who plans to run against Gov. Scott Walker for governor — is going to great lengths to annoy Republicans in the state.
State Rep. Brett Hulsey, a liberal Democrat who represents the Madison area, told reporters he plans to bring Ku Klux Klan-style hoods to the state's GOP convention in Milwaukee this weekend. He even tweeted a photo of the "hoods":
(Brett Hulsey/Twitter)
Does Hulsey think he's offended others? He doesn't seem to care. "What I find offensive is Gov. Walker and the Republicans' racist record," he told the Wisconsin State Journal. "They're the ones considering the resolution to leave the United States." (Indeed, state Republicans will vote this weekend on a motion to affirm Wisconsin's right to secede from the country.)
When an Associated Press reporter asked Hulsey if he was trying to be serious, funny, or provocative, Hulsey answered, "All of the above."
Hulsey has become an emblem of the state capital's bizarre political microcosm. When Walker introduced his anti-public-sector-union legislation in 2011, Madison residents rose up in force, occupying the state Capitol for weeks at a time and generally making life hell for Republican state lawmakers. One protester memorably poured an entire beer on the state assembly leader's head.
Hulsey announced he would run for governor on April 21. But so far, his campaign strategy can only be described as "clownish" — literally. Last month, Hulsey pledged to send a man dressed in a chicken costume around the state to harass his Democratic primary opponent, Mary Burke, if she did not agree to debate Hulsey.
Hulsey has also called upon confederate Civil War reenactors to show up at the GOP convention to protest the secession resolution. "I want to bid Governor Walker and the Wisconsin Republicans farewell, and hope they enjoy the Confederacy," he said. "I have lived and worked in the South and would rather they leave Wisconsin than take us backward and turn us into Wississippi."
Despite these publicity tactics, Hulsey is not likely to gain much attention from Wisconsin voters in the fall — not outside of Madison, at least.