The U.S. Is Pouring Millions Into Latin America's Fight Against Coffee Disease
A devastating fungus could reduce coffee production in the region by up to 40 percent in the next few years.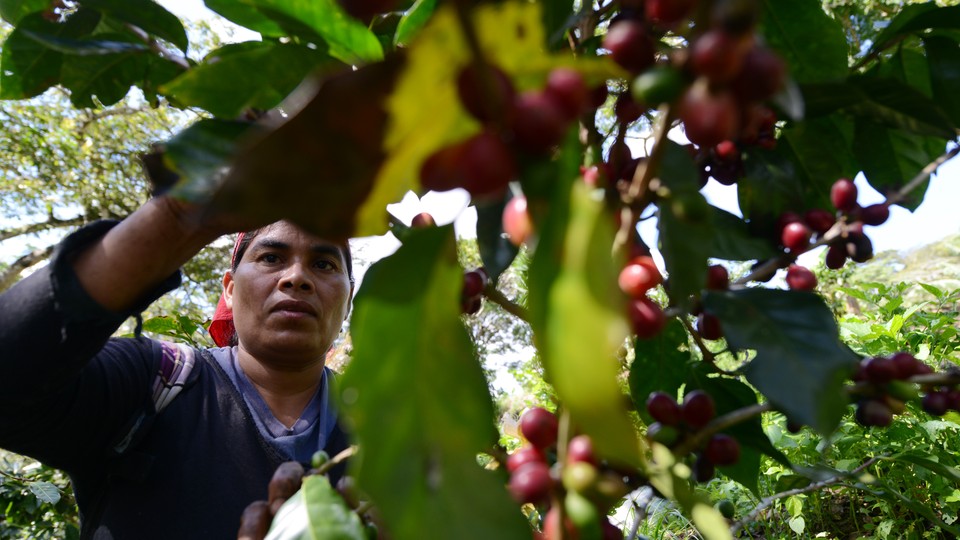 A fungus that has already caused more than $1 billion in damages to the coffee trade in Latin America is threatening to inflate the price of high-end coffee beans — and the United States is worried.
The U.S. Agency for International Development has announced a $5 million partnership with Texas A&M University's World Coffee Research to combat the fungus, known as coffee rust, the Associated Press reports. The disease is especially damaging to the Arabica beans used in most specialty coffee in the U.S.
The new partnership brings the total USAID investment in the effort to reverse the effects of coffee rust to $14 million. "Fighting epidemics like coffee rust empower entrepreneurs and create sustainable livelihoods for families," said USAID chief Raj Shah, "helping entire communities become self-sufficient."
According to a statement from USAID on Sunday, the blight could reduce coffee production by 15 percent to 40 percent in the coming years. The agency called this outbreak "the worst in Latin American history," estimating that it would affect the livelihoods of about 500,000 coffee farmers in the region. Causes of coffee rust vary, according to World Coffee Research, and include "climatic and pathological interactions" as well as farmers' widespread use of rust-susceptible coffee plants.
But American involvement has less to do with keeping the price of lattes low and more to do with the potentially disastrous economic effects for Latin American countries. USAID is especially wary that the resulting food insecurity and poverty could leave coffee workers susceptible to the illegal drug trade and surrounding violence, especially in countries such as Guatemala, Honduras, and El Salvador.
It hasn't been a good year for coffee production so far. A recent drought in Brazil has resulted in higher prices and decreased production of Arabica beans. Ric Rhinehart of the Specialty Coffee Association of America told AP that smaller coffee companies have already seen the effects of the decrease in supply, noting that some varieties of coffee may become very pricey or disappear altogether.