The 'Strangest, Most Exhilarating Gig' He'll Ever Do
Joel McHale talks about comedy, politics, and how he's preparing to roast everyone at the White House Correspondents' Dinner.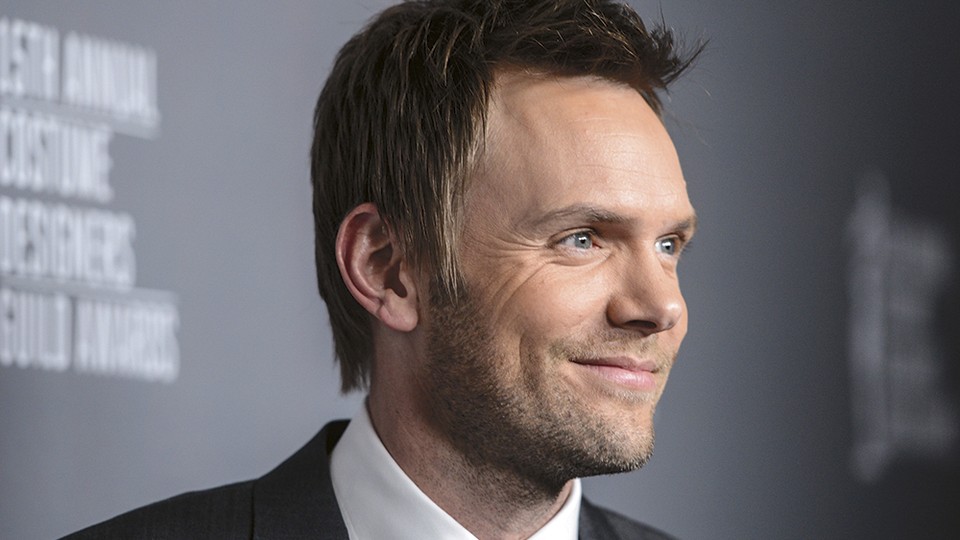 Joel McHale is trying something new, or at least a variation on an old theme. Saturday night, the comedian and star of NBC's Community will entertain at the White House Correspondents' Association Dinner. In the past, comedians have used the occasion to make pointed political commentary. McHale, for his part, is always in character. In his interview with National Journal, he dodged questions about his jokes with the skill of a martial artist. His only promise? No D.C. faction will be spared. Edited excerpts follow.
You've done lots of stand-up before, but probably not with the president of the United States. How does that affect you?
No, no, I do it all the time. We do it all the time together. [Pauses.] How does it affect me? Oh, I don't know, the leader of the free world is four feet away from me! I would say it affects me deeply. He also goes on before you at these dinners, and he's always done well in the past. He's a very funny guy. You've seen his performance on Between Two Ferns? The guy is really good at it! So that in itself is intimidating and kind of good.
This dinner is regarded among comics as one of the more challenging gigs around. How are you preparing? Are there any Washingtonians you've been running your jokes by?
I'm using a team of writers, and we are trying to come up with the funniest jokes we can and the most effective jokes that we can. That's my goal right now. As far as insiders go, no, I haven't called up John McCain and run jokes by him yet.
Jimmy Kimmel once told you he'd never been more nervous in his life than before his performance at this dinner. Did he give you any advice?
We went to dinner right after I got the gig. He was really cool about it — very, very nice. The best advice he gave was when he was like, "Just know it is the strangest, most exhilarating gig you will ever do." It's funny, because after I spoke to him, I spoke to Conan O'Brien and I spoke to Seth Meyers and Craig Ferguson, and they all said the same thing independently: that it's the most exhilarating, weird gig you'll ever do.
In the past, some comedians have picked more on one party than the other. Are you prepared to make jokes about both parties? Well, of course. It would be weird if I didn't.
What are your personal politics like, and do you feel this dinner requires that you put those values aside?
I'm in the Whig Party — the party from the 1850s. And definitely not! Those values are going to be front and center. My Whig tendencies will be on full display.
You said you've been to this dinner before with your father. What did you learn that night?
Yeah, I brought my dad. This was years ago when Bush was in office. I learned my dad knows who Pamela Anderson is, and is happy to announce it loudly. He was like, "There's Pamela Anderson!" I was like, "Shush!"
Without giving your jokes away, is there a politician who gives you the best material to work with as a comedian?
Not that I'm gonna tell you.
Some comics have complained Obama is harder to make fun of than some other presidents we've had. Do you buy the argument?
I think that's an old thing going back to when he first entered office. Now that he's been there for six years, making policy and leading the country, there's plenty of material to work with.
The humor in Community isn't particularly political in nature. Do you feel like you're flexing a bit of a new muscle in doing this?
Just because Community isn't a political show doesn't mean I can't do political humor. Yes, it's flexing a different muscle, no doubt. But it's not as if someone was like, "Uh, go speak Spanish now!" And I'd be like, "But I don't know Spanish!" And they'd be like, "Good luck!" It's not like that.
What do you think of D.C. and in particular the culture surrounding this dinner? A lot of people say it's become too celebrity-centered.
Oh, D.C. loves it! The traditional thing is that it's called "nerd prom": It's where they mix. I don't know who said it's become too Hollywood. I would love to meet those people. I have not heard that. But I think D.C. is beautiful, and I love bringing my family there.