The States Where Obamacare Could Still Go Badly
Several states are in danger of seeing big premium increases.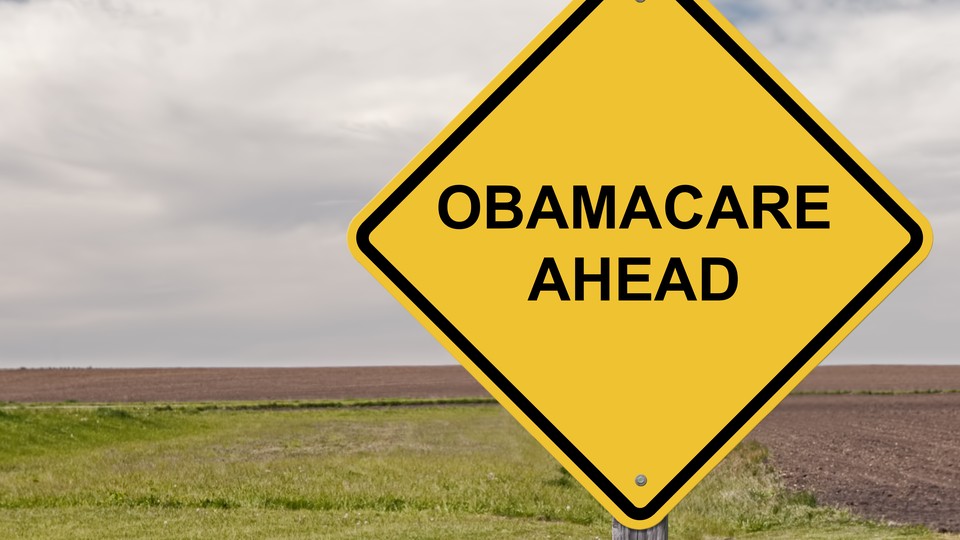 Despite Obamacare's strong national enrollment numbers, several states are at risk for big premium hikes.
Each state is its own insurance market, and they had wildly different experiences during Obamacare's first open-enrollment window. So although nationwide statistics are important for judging the law's political success, the substantive tests for the law's future mostly lie with the states — and some of them aren't looking so hot.
Predicting premium increases is an inexact science to say the least, but health care experts see a troubling number of red flags in certain states. Perhaps the most vulnerable is West Virginia — the home state of Sylvia Mathews Burwell, who's awaiting confirmation as the next Health and Human Services secretary.
"West Virginia sticks out as really worrisome," said Caroline Pearson, vice president at the consulting firm Avalere Health. "Their exchange is not having great luck."
Premiums will go up, on average, across the board — premiums go up every year. But a range of factors could drive higher-than-average increases in certain places. States that fell short of their overall enrollment goals, and where the people who did enroll are mostly older and sicker, are more at risk for large premium hikes. So are states that don't have much competition among insurers.
"If you lose on all of those, then you're really looking bad," Pearson said.
And West Virginia lost on all three fronts this year. It only got about 60 percent of the way to its total enrollment target, Pearson said. And it has the worst mix of young adults in the country — just 19 percent of people who picked a plan through the state's exchange were young adults, who are presumed to be healthier and thus help keep premiums in check.
Completing the trifecta, there's only one insurance carrier — Blue Cross Blue Shield — in West Virginia's exchange.
Hawaii is another consensus pick, and some experts say the state might never be able to support its Obamacare exchange. Hawaii was near the bottom for total enrollment, signing up just 15 percent of its eligible population, and had the second-worst mix of young adults. The state's exchange also suffers from the fact that Hawaii had a low uninsurance rate to begin with — meaning there's a smaller pool of potential customers there, which makes the state less attractive to insurers.
"Hawaii looks problematic. They could have viability problems," said Larry Levitt, senior vice president for special initiatives at the Kaiser Family Foundation.
Levitt added another factor that could drive up some states' premiums: whether they went along with President Obama's decision to let insurers un-cancel certain plans that don't comply with the Affordable Care Act.
The consumers who are most likely to keep their once-canceled plans are people who got a good deal under the pre-Obamacare system — generally younger, healthier people who enjoyed low premiums and who make too much money to qualify for the health care law's subsidies. Letting them renew their noncompliant plans keeps a healthy population out of the exchanges.
"That's the one I hear most often from insurers, and I think that's right. It certainly is a factor," Levitt said.
Ohio and Arizona, both of which allowed plan extensions, are on Levitt's list of states to watch for big premium hikes. He and Pearson mentioned Iowa, which allowed a two-year extension for canceled plans and was the second-worst state at enrolling its eligible population.
Health care analysts are also keeping an eye on premiums in Maryland, Mississippi, New Mexico, and South Dakota, where officials had to beg and plead just to get one carrier into the state's private market.
It's impossible, though, to say with any certainty whether a particular state will see an above-average price increase next year.
Premiums reflect medical spending, not just the demographics of state markets, and quickening growth in health costs — which many analysts are expecting — could lead to double-digit premium hikes irrespective of Obamacare enrollment.
Some states' risk factors could also change. After seeing the results of a stronger-than-expected first year, insurers that initially sat out the exchanges are thinking about expanding their presence. Analysts expect UnitedHealthcare — a massive insurer with hardly any exchange presence in 2014 — to enter several new state markets next year.
More competition could benefit several states that are at risk for big premium hikes primarily because they only have one or two insurers now. There are rumors of carriers entering the marketplaces in Mississippi, Iowa, and South Dakota, in particular.
"Those are major players with big marketing dollars, and if they decide to price low, that could jumble the market quite a bit," Levitt said.
And no one except insurance companies knows exactly what insurers predicted for this year. Whether a particular carrier needs to raise its rates depends on how well enrollment matched that company's own expectations — not on whether it lived up to standards set by the White House or the media.
So a company that set aggressively low premiums for 2014 might need to raise its premiums a lot if it ended up saddled with more claims than expected.
By contrast, a carrier that set aggressively low rates as a tool to capture more customers, and succeeded, might not need to pursue big hikes next year — especially if it's in a competitive market.
"If you've got a lot of carriers, you can afford to lose a few," Pearson said.
We also don't know how many people in each state signed up directly with an insurance company, rather than going through their states' exchanges.
Direct enrollments — which number around 5 million nationwide — are part of the same risk pool as exchange customers, but aren't included in federal-enrollment data. If off-exchange enrollees are healthier than exchange customers in a particular state, that state's overall risk pool would be better than official data make it look.